Men's Health
June is National Men's Health Month, and that includes mental health. Mental and physical health are both equally important and having conversations about ways to improve mental health is necessary.
As we discuss mental health, it's important to address the elephant in the room. Or maybe the more domesticated animal. Your dog.
Why Dogs?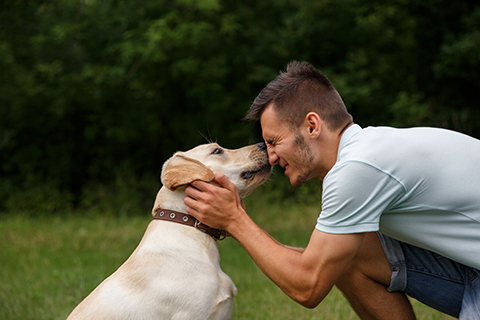 Anyone with a furry friend can attest to the joy they can bring to a home. After all, dogs are considered "Man's Best Friend" for a reason. Over the years, dogs have become companions to humans. Turns out, there's a reason that having your dog around may alleviate feelings of stress and loneliness. Studies show that canine companions directly correlate to improving a person's mental health.
While any dog can make the people around them feel doggone good, there are certain dogs that are trained to help humans in more specific ways. Service dogs are trained to work and perform tasks for one specific person who has a disability, according to the Americans with Disabilities Act (ADA). Service dogs can be anything from guide dogs who guide the visually impaired, or PTSD service dogs who alert and interrupt anxiety and panic attacks.
There are also dogs that can serve the purpose of providing emotional support. The ADA distinguishes service dogs from emotional support dogs based on whether the animal has been trained to perform a specific task or job directly related to the person's disability. These cuddly companions are exceptionally good at providing comfort to their owners.
Therapy Dogs
There are even teams of dogs that volunteer at various places with the intention of bringing comfort and ease to people going through a hard time. You may have heard about the dogs frequenting hospitals, therapy offices and even some police stations. These animals are considered "therapy dogs." They help to distract and comfort humans who may be struggling with trauma or illness.
One dog, named Parks, was recently brought to the Orlando Health Arnold Palmer Hospital for Children as a facility dog. According to Orlando Health, the 2-year-old Labrador retriever knows over 40 commands and spends his time comforting chronically ill children. Parks is one of many dogs who is trained to be there for anyone in need of a cuddle.
Even if your pet isn't the kind with a title, they are certainly helping your mental health. Every dog can alleviate stress and provide comfort to its owners. So, give your dog an extra cuddle today. Mental health is something that should be taken seriously and surrounding yourself with people — and animals — that make you feel safe and happy is a must.