Just a few weeks ago, the Chamber had the pleasure of hosting trustees to a luncheon at Universal Orlando's CityWalk, featuring guest speaker Kevin Thibault, CEO of Greater Orlando Aviation Authority (owner of Orlando International Airport) and former Florida Secretary of Transportation. Coincidentally, as I write this article, I am sitting at the Delta Lounge in Terminal B at Orlando International Airport; MCO to my fellow travelers.
MCO History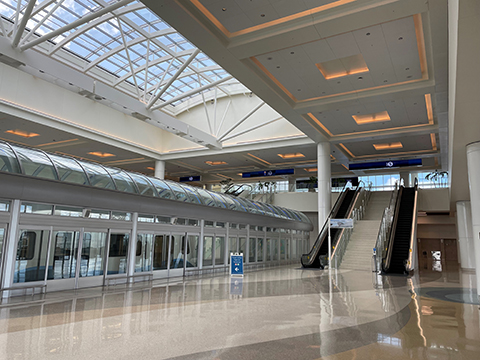 While listening to Kevin, I picked up a little detail that explains the initials MCO. I learned that our original airport was the McCoy Air Force Base and as plans developed to expand and relocate the airport, MCO was chosen as the name to honor Colonel Michael McCoy; MCO. Today, it is hard to imagine its past in comparison to what we have today, as the 7th busiest airport in the world. Yet, visionaries ignored the detractors, including a writer for the Wall Street Journal, who back in September 1981 predicted, we would never make it as an international destination.
Victory is sweet success, and it is important not just because tourists love our attractions and fly into MCO, but as residents, many like me transplant to Central Florida, so we need a world-class airport. We are fortunate to have MCO in our backyard to make our travel, nationally and abroad, easy and convenient. In fact, MCO is located within two hours for 50% of the population of Florida. The added beauty of this economic engine is that no local tax dollars fund the airport. Airlines, concessions, parking, car rentals and commercial enterprises fund it all.
The visionaries that understood the importance of our region back in the late 70s, also knew that over 12,000 acres would allow for the growth of air travel for decades into the future. Granted, we are not back to pre-pandemic levels, yet are well on our way to that and MCO will be prepared with its soon to open, South Terminal C on September 19th.
Expansion
This new terminal, in Phase1, will allow for 15 gates and up to 20 aircrafts. It will be more customer friendly with shops and restaurants featured on the "air side" to allow for people to go through security and then relax, eat and shop before boarding. Passengers will soon learn about the TSA 100% automated screening lanes, facial recognition for international arrivals and departures, and a state-of-the-art baggage handling system.
Another feature of the terminal is its connectivity to Brightline. This train hub will connect South Florida to Orlando in 2023 and ultimately to Tampa. As Central Floridians, we will be even more centrally located to everything within our state and with choices on how to get there.
I, for one, am thrilled to have MCO growing and in my backyard. Ever since I became a grandmother of an Ohio born grandson, and with my youngest son now calling himself a Bostonian, my travel out of our fantastic region has increased. Thank goodness for frequent flyer miles.
Enjoy your travels this summer and be safe.