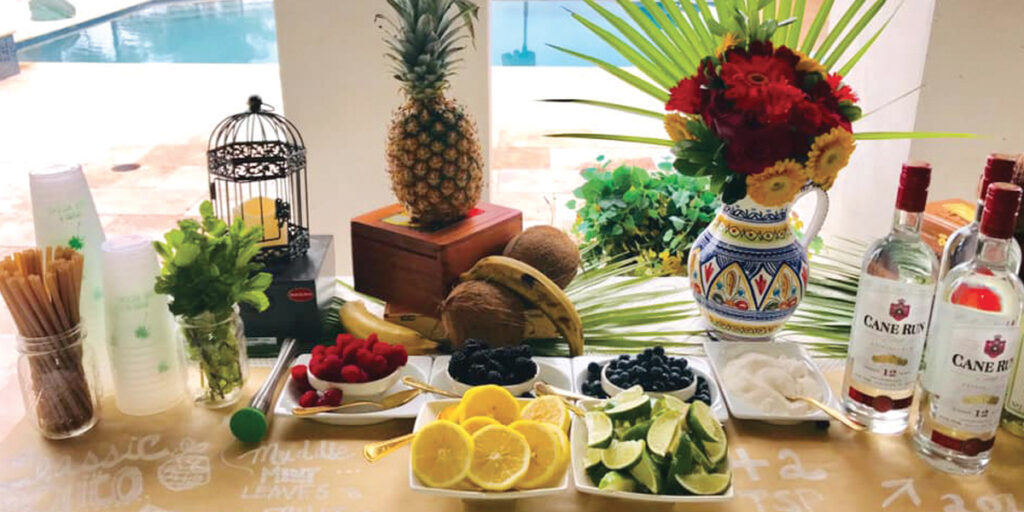 Choose Useful, Big Impact Items
For the outdoor area, the focus was on the quintessential Cuban cocktail, the Mojito. An elaborate, make-your-own Mojito station combined function with flair. As the focal point of the space, it allowed guests to gather and interact while preparing their cocktails. In this case, we used existing furniture, but a bar cart would be an equally stunning option. We kept the décor clean and authentic here — white conveys an airy, chic feeling while palm leaves and bright colors keep it lively. Burlap and paper runners simply convey the rustic theme. 
Balloons and More Balloons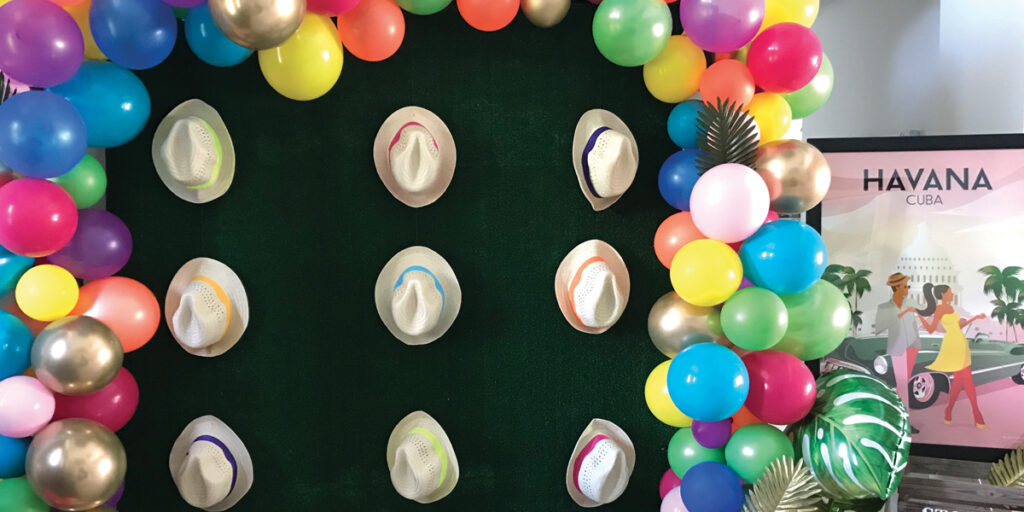 Balloons are a great way to convey color scheme. They take up space and make a big impression without breaking the bank. The combination of neon colors, shades of green and chrome gold transported guests to the tropics while keeping the balloon garland interesting and adding dimension. We added mylar palm leaves, faux palm leaves and gold to reinforce the theme.
Create an Entrance
We always add decor at the entrance of a venue. It's the first thing guests see, and that's where the experience begins. This photo backdrop was placed at the entrance of the party. Since a first impression sets the tone, we wanted to make sure it greeted guests with big, vibrant colors. We used fedoras, in keeping with the theme, as a subtle way to make it interesting when it wasn't in use.
It's All in the Details
For us, the party is in the details. Our planning process always begins with small details as inspiration. We take elements that highlight the theme and create a bigger picture from there. Here, we chose items that speak to Cuban culture — coffee beans, palm leaves, cigar boxes — that clearly translate the Havana Nights theme. We grew those ideas by combining them with complementary colors and creating bigger impact items, working with core details first to keep all the décor cohesive.