Although it's only been about nine months since the final game involving an in state team was played, the wait between college football seasons always feels like a lifetime.
Time-wise, the 2018 off-season was no different than any of the past. Life-wise, it was perhaps like no other.
It began with a National Championship celebration, something the state of Florida has become accustomed to every couple of years over the last few decades. However, at least up to that point, the celebration had never taken place in downtown Orlando.
There were head coaching changes, something the state of Florida and especially Gator fans have become accustomed to. However, this off-season saw well-documented wholesale changes at UCF, Florida State, and once again, at Florida, with all three institutions doing so for entirely different reasons.
The preseason AP Top 25 rankings were released on August 20th, and, as expected, featured three in-state programs: #9 Miami Hurricanes, #19 Florida State Seminoles and #21 UCF Knights. Noticeably absent, the Florida Gators will begin the 2018 campaign unranked.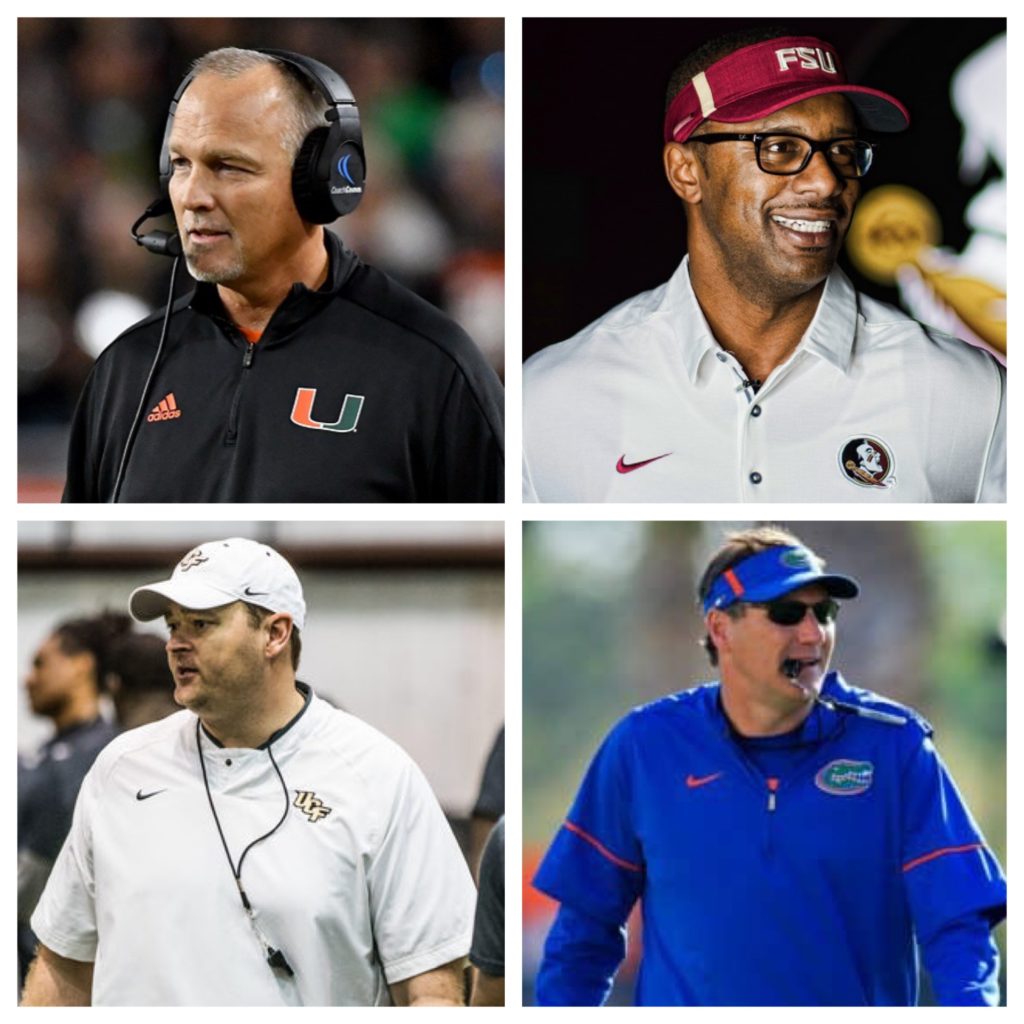 The following is a brief preview of the upcoming seasons for the Miami Hurricanes, Florida State Seminoles, UCF Knights and Florida Gators.
MIAMI HURRICANES – AP Ranking, #9
The Outlook:
Third years typically work out well for high profile coaches who take over top-tier programs, and that is exactly where Mark Richt finds himself in 2018. Last season the Hurricanes used the advent of the Turnover Chain to reinvent the swagger that was once synonymous with "The U". That swagger produced a 10-3 record – which at one point was a perfect 10-0, before a three game losing streak to end the season. Unfortunately for the 'Canes, that is something that has become somewhat synonymous with Mark Richt over the years.
Senior quarterback Malik Rosier returns having lost his top two wide receiving targets from a season ago. Junior wide receiver, Ahmmon Richards, is expected to take over top receiving duties. Rosier is joined in the backfield by running back Travis Homer, who led the team in rushing last season and looks to eclipse the 1,000 yard mark he missed by just 44 yards in 2017.
The Schedule:
Sun, September 2nd, #25 LSU (Arlington, TX)
Sat, September 8th, Savannah State
Sat, September 15th, at Toledo
Sat, September 22nd, Florida International
Thu, September 27th, North Carolina
Sat, October 6th, #19 Florida State
Sat, October 13th, at Virginia
Fri, October 26th, at Boston College
Sat, November 3rd, Duke
Sat, November 10th, at Georgia Tech
Sat, November 17th, at #20 Virginia Tech
Sat, November 24th, Pittsburgh
The Prediction:
10 wins, 2 losses – Miami will be showcased in one of College Football's kickoff classics with a neutral site game in Arlington, Texas against LSU on opening weekend. The Hurricanes are currently favored in every game this season and are a popular pick to be a participant in the College Football Playoff. A few difficult road games late in the season at Georgia Tech and Virginia Tech could make all the difference on whether the 'Canes will live up to the preseason expectations.
---
FLORIDA STATE SEMINOLES – AP Ranking, #19
The Outlook:
The writing was on the wall for Jimbo Fisher's departure in Tallahassee long before he threw out the Christmas tree prior the holiday occurring. Thus, the 'Noles disappointing 7-6 record from a season ago. Fisher can now afford endless amounts of holiday decorations thanks to Texas A&M, but it's Willie Taggart's job to redesign the interior of the Florida State football program. Taggart, a Florida native, accepted the position at FSU just 363 days after accepting the same position at Oregon in 2017. He was also the head coach at South Florida from 2013-2016.
Taggart inherited what appears to be quite a talented and experienced roster from Fisher. Junior quarterback Deondre Francois looks poised to return from a knee injury that he suffered in the season opening game last year against Alabama. James Blackman, who struggled early on in replacing Francois at quarterback, also returns for his sophomore season. The Seminole backfield is expected to lead by super sophomore, Cam Akers, who rushed for more than 1,000 yards and seven touchdowns as a freshman last season.
The Schedule:
Mon, September 3rd, #20 Virginia Tech
Sat, September 8th, Samford
Sat, September 15th, at Syracuse
Sat, September 22nd, Northern Illinois
Sat, September 29th, at Louisville
Sat, October 6th, at #8 Miami
Sat, October 20th, Wake Forest
Sat, October 27th, #2 Clemson
Sat, November 3rd, at N.C. State
Sat, November 10th, at #12 Notre Dame
Sat, November 17th, Boston College
Sat, November 24th, Florida
The Prediction:
7 wins, 5 losses – The schedule sets up for a hot start, but back-to-back ACC road games at Louisville and Miami could begin a second half slide. Games at Notre Dame and vs. Florida in the month of November could go a long way in evaluating year one for Willie Taggart.
---
UCF KNIGHTS – AP Ranking, #21
UCF's 2017 National Championship claim was the topic of conversation throughout much of the country this off-season and will continue to play a large role throughout 2018 as the Knights face what will likely be their toughest season in program history. Their 21st ranking in the AP Top 25 is the team's highest preseason ranking in school history, and the highest-rated (ready for it?), 'non-power five' team in the AP Top 25. That delineation of course, was more or less what kept the Knights from being included in the College Football Playoff a season ago. If the Knights are to remain the highest-rated non-power five team, they will once again earn the automatic bid into a New Year's Day bowl game that comes with the honor.
The well-documented complete coaching overhaul is now a thing of the past, and head coach Josh Heupel and company have inherited a roster that returns a majority of its talent, including 14 starters. The Knights will be led by junior quarterback and Heisman hopeful, McKenzie Milton. Milton was responsible for 42 touchdowns and more than 4,000 yards of total offense last season, and will be joined in the backfield by the lightning quick junior running back, Adrian Killins Jr. Last year's second leading wide receiver, Dredrick Snelson, looks to fill the void left by Tre'Quan Smith – who was selected in the third round of the 2018 NFL Draft by the New Orleans Saints.
Defensively the Knights will need to replace a slew of stars, beginning with last season's defensive leader, linebacker Shaquem Griffin. Griffin was selected 141st overall in the NFL Draft and is now alongside twin brother, Shaquill, on the Seattle Seahawks. The Knights depleted front seven also lost leading tacklers Chequan Burkett, Tony Guerad and Jamiyus Pittman. Cornerback Mike Hughes was selected 30th overall by the Minnesota Vikings at the NFL Draft. That list of departed players looks even longer, when you consider last year's defense finished the season ranked 94th overall.
The schedule was a major point of contention a season ago, and yes, the Knights remain a member of the American Athletic Conference. However, the addition of an ACC road game at North Carolina, a Friday night meeting at Spectrum Stadium with Lane Kiffin and Florida Atlantic, as well as a visit from the ACC's Pitt Panthers, looks to enhance the College Football Committee's respect, if in fact the Knights are able to run the table once again.
The Schedule:
Thu, August 30th, at UConn
Sat, September 8th, South Carolina State
Sat, September 15th, at North Carolina
Fri, September 21st, Florida Atlantic
Sat, September 29th, Pittsburgh
Sat, October 6th, SMU
Sat, October 13th, at Memphis
Sat, October 20th, at East Carolina
Thu, November 1st, Temple
Sat, November 10th, Navy
Sat, November 17th, Cincinnati
Fri, November 23rd, at USF
The Prediction:
10 wins, 2 losses – When you're the best, you get everyone else's best. Sure, that's cliché, but having never been in this position, it's also something Knights coaches, players and fans need to be prepared for from each opponent. The country can't wait to tell UCF they told you so, and they may not have to wait very long, as the Knights head to Chapel Hill in Week 3, only to return home and host Lane Kiffin and the Florida Atlantic Owls just six days later. Expect the Knights to be in the conversation for the season's highest-rated non-power five team, looking to once again make a splash on New Year's Day in 2019.
---
FLORIDA GATORS – Unranked
The Outlook:
The Gators enter 2018 looking to erase every possible memory of an abysmal 4-7 record a season ago. Now, any hope of returning to their most recent glory days rests on the familiar face of Dan Mullen, who served as the offensive coordinator under Urban Meyer when the Gators were winning national championships. This season will likely rest on the right arm of redshirt sophomore quarterback, Felipe Franks, who showed both potential and growing pains in eight starts as a redshirt freshman. Mullen has a reputation of being a quarterback guru, and Franks could develop into another excellent example of that along with names like Tim Tebow, Dak Prescott and Nick Fitzgerald. Franks will be joined by a platoon of running backs, led by Jordan Scarlett, who returns from a season-long suspension.
Defense has been the Gators true identity for a long time now, and 2018 doesn't appear to be much different. Todd Grantham takes over as defensive coordinator and brings a new 3-4 scheme to a unit who returns much of its top talent. Defensive ends Cece Jefferson and Jabari Zuniga, linebacker David Reese, and sensational cornerback tandem, Marco Wilson and CJ Henderson, look to keep the defensive reputation intact. The schedule sets up well for a potential turnaround season at Florida, as the Gators will play just three regular season games outside the state this year.
The Schedule:
Sat, September 1st, Charleston Southern
Sat, September 8th, Kentucky
Sat, September 15th, Colorado State
Sat, September 22nd, at Tennessee
Sat, September 29th, at #18 Miss St
Sat, October 6th, #25 LSU
Sat, October 13th, at Vanderbilt
Sat, October 27th, #3 Georgia (at Jacksonville)
Sat, November 3rd, Missouri
Sat, November 10th, South Carolina
Sat, November 17th, Idaho
Sat, November 24th, at #19 Florida State
The Prediction:
8 wins, 4 losses – Many years ago, an 8-4 expectation would be unacceptable in Gainesville, but if the Gators, as they say, are the only ones that can get out of the Swamp alive and can do so while putting points on the scoreboard, 2018 could be the pivotal turn around season they've been searching for a long time. The road could have its woes, as Mullen's return to Starkville, the cocktail party in Jacksonville, and Thanksgiving weekend in Tallahassee will be this seasons toughest tests. With Georgia expected to dominate the SEC East, a dream season for Florida would be participating in a New Year's Day or later bowl game.