AT THE TOP For the first time since the Super Bowl in February, football fans got a little fix last night in Dallas, Texas where the NFL Draft got underway. Much of the focus leading up to the Draft was on this year's crop of quarterbacks. With as many as five potential franchise quarterbacks available, […]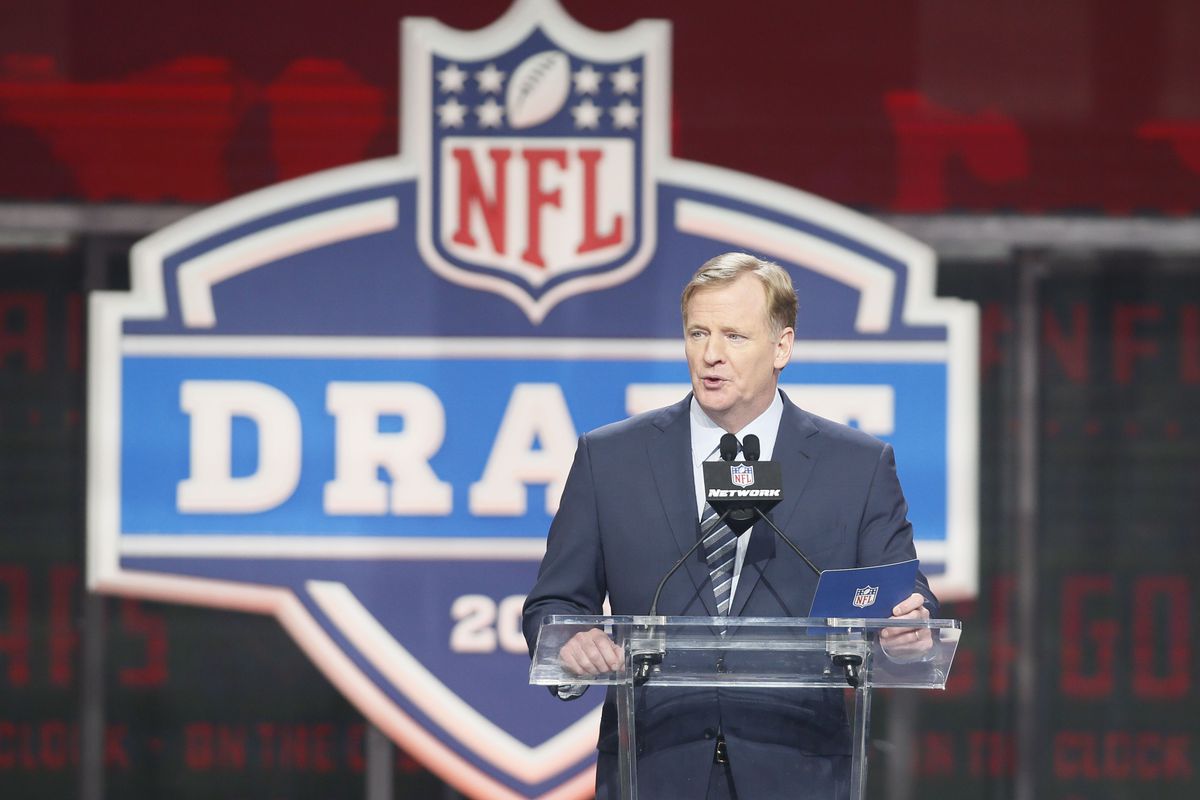 AT THE TOP
For the first time since the Super Bowl in February, football fans got a little fix last night in Dallas, Texas where the NFL Draft got underway.
Much of the focus leading up to the Draft was on this year's crop of quarterbacks. With as many as five potential franchise quarterbacks available, the seemingly annual first overall selection rights holders, the Cleveland Browns, appeared to have a can't-miss opportunity.
But as only they are capable of, the "Mistake by the Lake" put the "Bake by the Lake," selecting Oklahoma quarterback Baker Mayfield and passing on notable quarterbacks Sam Darnold of USC, Josh Rosen of UCLA, and Josh Allen of Wyoming.
Mayfield has proven to be equal parts magnificent and maligned. The Heisman Trophy winning quarterback was not only the perpetrator of a slew of on-field incidents last season, but perhaps took his hardest hit off the field when he was leveled by police while trying to run from them during a public intoxication incident.
AROUND THE STATE
Tampa Bay Buccaneers (NO. 12 via trade, Vita Vea, DT, Washington)
Originally slotted to select No. 7 overall, the Bucs were the beneficiaries of the Buffalo Bills desperation to find a franchise quarterback. The Bills traded their 2018 first round pick (No. 12), along with two 2018 second round picks (No. 53 & 56), and selected Wyoming quarterback, Josh Allen, with the Buc's 7th overall pick.
At No. 12, the Bucs continued their rebuild along the defensive front, selecting Washington defensive tackle, Vita Vea. Though the Bucs continued addressing a glaring need (and did so cheaper by moving down), Vea isn't the flashy, recognizable name you're typically hoping to leave the top of the Draft with. Perhaps the flashiest thing about Vea, who is of Samoan decent, was his extravagant combination of lei and long locks he sported Thursday night when receiving his jersey and photo-op with NFL Commissioner, Roger Goodell.
Miami Dolphins (NO. 11, Minkah Fitzpatrick, DB, Alabama)
Waiting patiently just outside of the Top 10, the Dolphins had a lot of directions they could have gone with No. 11. The injury to Ryan Tannehill last season led to some speculation that Miami may even be in position to take one of the premiere quarterbacks if things at the top of the Draft did not go as planned.
With Mayfield, Darnold and Allen all off the board, UCLA's Josh Rosen appeared to be the obvious choice. However, in typical Miami fashion, moments before their selection familiar foe, Jon Gruden, now the head coach of the Oakland Raiders, traded the No. 10 pick to the quarterback-starved Arizona Cardinals, who swiftly selected Rosen.
Miami selected Alabama defensive back, Minkah Fitzpatrick at No 11. The three-year starter under Nick Saban should add an intensity to a defensive unit that still has a lot of holes to fill.
Jacksonville Jaguars (NO. 29, Taven Bryan, DT, Florida)
Drafting from an unfamiliar position towards the end of the first round, the up-and-coming Jaguars seemed to stick to the same draft plan they've always used. Do we need him? Not necessarily. Did he play college football within 400 miles of Jacksonville? Yes. Take him.
As if "Sacksonville" needed to strengthen its defensive front, even Bryan himself admitted he was surprised it was the Jaguars who were on the other end of the phone call that changed his life.
"They've got a lot of Pro Bowl talent up front, so I was pretty shocked they picked me," Bryan said.
OTHER NOTABLE FIRST ROUND SELETIONS:
Florida State defensive back, Derwin James, was selected No. 17 overall by the Los Angeles Rams.
UCF defensive back, Mike Hughes, was selected No. 30 overall by the Minnesota Vikings.
Georgia running back, Sony Michel, was selected No. 31 overall by the New England Patriots.
Louisville quarterback, Lamar Jackson, was selected No. 32 overall by the Baltimore Ravens.
WHO'S LEFT?
LSU running back, Derrius Guice
Georgia running back, Nick Chubb
Auburn running back, Kerryon Johnson
UCF linebacker, Shaquem Griffin
Rounds 2 & 3 will continue Friday. Rounds 4-7 on Saturday. All telecasts across the networks of FOX, ESPN and NFL Network.
Comments