For nearly 20 years, Windermere Preparatory School has been committed to preparing students from PreK3 through 12th grade for global and personal success at every level of their educational journey. When it comes to electives and extracurricular activities, Windermere Prep sees the arts as a catalyst for innovation, discovery, experimentation and creativity. So, next month, the school will open a new fine arts center to provide more room for the expansion of its current arts programs.
About the New Fine Arts Center
With the opening of the Cypress Center for the Arts on Aug. 13, Windermere Prep visual and performing arts students will have a home in a state-of-the-art teaching and performance facility to develop their passion for the arts. It will provide a plethora of arts education opportunities that will spark individual creativity and artistic expression.
The center will house lower, middle and high school arts classes showcasing all students, as well as faculty and staff, while also offering the Central Florida community a venue to engage in the arts. In addition, there are plans for concerts, events and workshops that support cross-curriculum initiatives as the 2018-19 school year gets underway.
A Look Inside


The 1,000-square-foot lobby's innovative design allows patrons to enter the theatre from either house left or house right rather than the back of the house. This makes for shorter lines at the theatre entrance and easier navigation of the lobby space, which will feature a large video wall and a reception area.
Instruction for a variety of programs will happen at the Cypress Center. The building's east side will house three middle school and high school visual arts classrooms, a double kiln room, art supply storage and a scene shop. The west side of the building will feature a piano keyboard lab, two theatre classrooms that can be transformed into a Black Box Theatre, and dressing rooms complete with shower, sinks, restrooms and makeup stations.
The north side of the building will house the music department, which will consist of a large instrumental music classroom, a vocal music classroom, a large ensemble room, four practice rooms, costume storage and more. WPS piano, wind ensemble, concert band, strings, guitar, choir and IB Music students will have plenty of room to grow as musicians in the center's rehearsal halls, classrooms and practice rooms.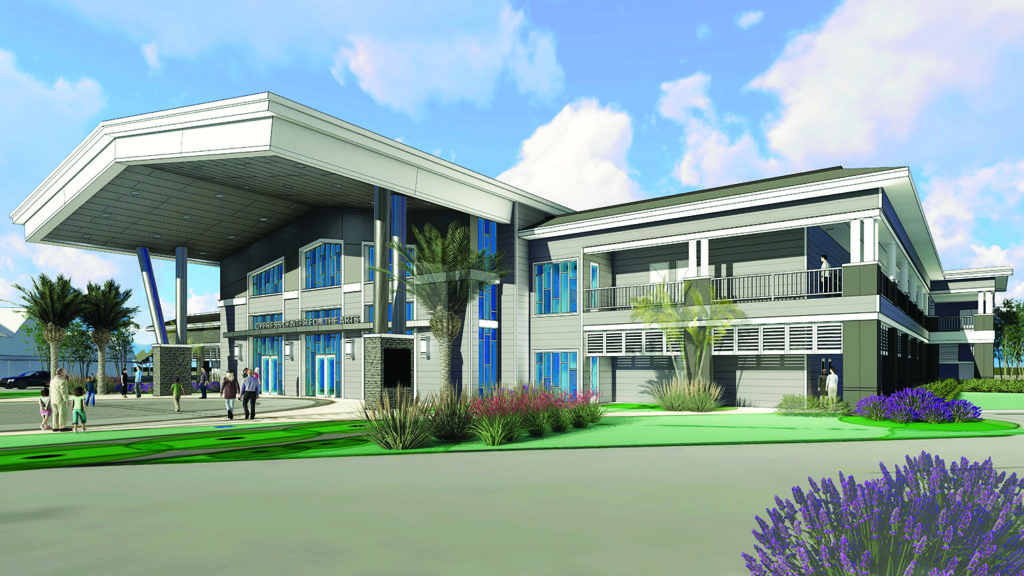 On the second floor, two 1,400-square-foot dance studios will provide plenty of space for middle and high school dance students, including IB Dance students, to experience a well-rounded dance education. This area will also feature house dressing rooms, storage closets, restrooms, a dance department office and an audio and light control booth.
All of the classrooms will surround the heart of the Cypress Center, which is the 550-seat theatre. The theatre will feature a 50-foot-wide proscenium opening with a depth of nearly 27 feet, along with plenty of stage wing space. A fly system will allow for stage changes at any time by quickly flying up or down sets, backgrounds or even actors. A 40-foot-tall soundproof partition wall can divide the house into two separate spaces so two events or activities can occur simultaneously.
Additional Growth at Windermere Prep
Windermere Prep has been named "Best Private School" in numerous publications for the last six consecutive years due in part to the prestigious academic and extracurricular opportunities for students. A key differentiator for Windermere Prep is that membership in the Nord Anglia Education global family of schools provides collaboration with The Juilliard School and Massachusetts Institute of Technology. Windermere Prep students are also able to enjoy more global experiences, including the opportunity for high school students to travel and perform volunteer services in Tanzania each year.
The Windermere Prep Middle School Program puts students through innovative projects such as the Roller Coaster Project, which combines the principles of science, communication, engineering and more as students work in groups to design, build, make operational and then present their model roller coaster project. The Middle School Program is widely acclaimed for transforming the challenging "in-between-ager" years of middle school from mania to magic.
A notable advantage of a WPS high school education is the opportunity that students have to work with a team of highly knowledgeable college counselors who have forged enduring relationships with college admissions offices throughout the United States and around the world. Educators get to know students in a manner that not only helps them to typically achieve admission to their first choice college or university of best fit but also contributes to the development of young men and women of good character, sound judgment, self-confidence and appropriate personal humility. WPS graduates are well prepared for undergraduate education and beyond.
6189 Winter Garden-Vineland Rd.
Windermere, FL 34786
407-905-7737
WindermerePrep.com
What else is happening at Windermere Preparatory School?
In addition to Cypress Center opening, WPS growth continues with other new additions and innovative programs that have resulted in soaring student success rates.
Highlights include:
Expanded capacity in both lower and middle school levels as a result of new construction and retrofitting on campus.
Expanded STEAM and STEM offerings through a variety of new labs and robotics.
Students who matriculate through the Middle School Program have shown readiness to tackle the rigor of the International Baccalaureate Degree Program in high school and experience great success.