When Hurricane Irma set her sights on Central Florida in September, residents did all they could to prepare. In the aftermath, the YMCA of Central Florida coordinated with local businesses to get supplies to individuals in the community and also opened up doors to all who were waiting for power to be restored. The kindness that the Y's staff encountered inspired a movement focusing on compassion among neighbors.
And that's the #YBeKind initiative. The Y is posing a question to Central Floridians: What are you doing to spread kindness in your community, and from Nov. 24 to Dec. 25, how are you giving back? Windermere resident Kyle Masson, 20, and his teammate James French, 25, one of the youngest teams in IMSA history and winners of the 2017 Rolex 24 Hours of Daytona race and season championship, have added their voices in the hopes it will gain traction on a national scale. They both have fond memories of time spent at the Y in their childhood – Masson on the basketball court and soccer field and French with swimming lessons.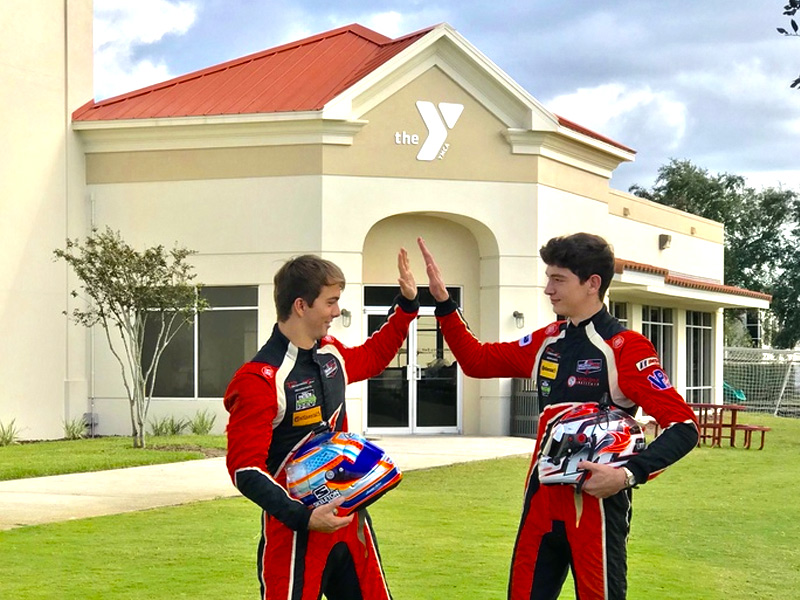 "Kyle and James were chosen from a long list of potential spokespeople for our #YBeKind initiative," says YMCA of Central Florida's Executive Vice President of Membership Experience John Cardone. "Who better to represent a movement based on spreading positivity than two young men who are out to make a difference as role models in our community and beyond?"
Masson is thrilled to have the opportunity to work on a professional level with the organization that helped grow his competitive spirit. "To me, it's about paying it forward," he says. "That's really the idea of the Y's campaign."
In his own pursuit of spreading kindness when giving back, Masson used his passion for motorsports as a catalyst, founding a racing simulator campaign for sick kids at Arnold Palmer Hospital for Children. He reached his fundraising goal and is now working toward donating two racecar simulators to the hospital to boost the children's spirits.
"My goal is to drive with them and engage with them," Masson says. "I want to provide the kids with a fun distraction and hopefully the motivation to get through their struggles."
The members of Masson's racing team are also supporting his efforts. French wants to invite kids to the racetrack so they can see what it's like to be in the driver's seat after experiencing it on the simulator.
"There have been some difficult times lately in the area with the storms and just crazy weather, so I think everybody could use a movement to lean on," French says of the #YBeKind initiative.
His childhood experiences at the Y helped to build a solid athletic foundation while shaping his desire to give back. The atmosphere of inclusion stood out along the way.
"The Y is for everyone," he says. "They don't exclude anyone."
Strengthening the community is the Y's cause, and they invite you to be a part of the movement. To inspire others to give back, post your act using #YBeKind. And through Christmas Day, the Y will gift you with no Join Fee when you share your story of acting in kindness for your community. Learn more at ymcacf.org.


THE PURSUIT OF SPREADING KINDNESS IN THE COMMUNITY.
Tell us how you helped strengthened the community and receive NO JOIN FEE FOR A LIMITED TIME


---