The decision to relocate can be difficult for anyone, no matter what phase of life you're in. Thoughts of leaving behind countless memories, friends, family and neighbors are just a few examples of the stresses than can be associated with it. Four years ago, my husband and I decided to leave our home in College Park for the opportunity to move into Winter Park Pines. This is the same neighborhood as my in-laws who were expecting the birth of our first niece. We loved our College Park home. However, the idea of one day having our own family and raising our kids along with their cousins was too hard to pass up.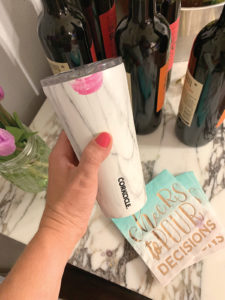 Creating a Winter Park Pines Tradition
Shortly after settling in to our new home, my sister-in-law and I saw tremendous value in expanding our little family. We wanted it to include as many of our new neighbors as possible. The goal was to establish a true sense of community, much like our parents explained about their upbringings decades ago.
After very few brainstorming sessions, we decided to create a care package. It would include an invitation to our first rendition of what has now become the Winter Park Pines Wine Walk. The packages held an assortment of seasonal foods and beverages. We left them on the doorsteps of our unsuspecting neighbors.
We were quite uncertain how these BOO-ze Bags, themed around Halloween, would be received. Now, after roughly a dozen Wine Walks, our community has become everything we envisioned and more!
What to Expect at a Wine Walk
A typical Wine Walk consists of visiting two to four pre-determined homes for an hour or more. Each neighbor prepares an array of food and beverage options, which serves as a progressive dining experience. Visiting different homes has allowed for a true sense of comfort. It provides an opportunity to showcase the uniqueness of each home – something that is special about Winter Park Pines.
These events are often scheduled on or around a specific holiday, making food and drink decisions a little easier. We now conduct four to five per year and have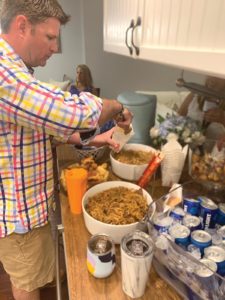 established an amazing community rapport!
Community Benefits
Among the many other benefits, the Wine Walk provides a safe alternative to a night out on the town. There's no need to worry about transportation. It has also allowed for some of the older neighborhood children to babysit for families with little ones who are participating in the festivities. The special bonds that have been created among adults have even spread down to the next generation, many of whom now consolidate into fewer homes where child care is being provided.
It's never too late for you to establish a similar tradition within your own community. We've learned over time that a little effort can go a very long way. Be proactive in creating the community bonds that surround your home. You'll be amazed by the results!
---
Check out some highlights from the most recent Winter Park Pines Wine Walk!
[huge_it_slider id="51 "]