One and Dundon?
With just two regular season games remaining before the playoffs were to begin, the Alliance of American Football abruptly suspended operations according to newly appointed league chairman, Tom Dundon. The suspension affects teams league-wide, including the Orlando Apollos. 
It was just last summer when the announcement that an eight-team "alliance" would form a new spring football league that would begin in February 2019. At the head of the operation, former NFL executive, Bill Polian, was partnering with American television and film producer, Charlie Ebersol. Charlie's father, Dick, is the former chairman of NBC Sports. Together, Polian and Ebersol painted a picture of a well-funded league that was in no way attempting to compete with the NFL. It was believed that Alliance began with at least three years of capital to bridge the obvious growing pains that have been the demise of many startup leagues in the past. The suspended operations prove that was simply not the case. 
Empty promises
Their initial visions were bought up by familiar names such as Hines Ward, the former NFL wide receiver who was named the director of player development. Head coaching positions were filled with mostly former NFL head coaches, with Orlando's Steve Spurrier, among the biggest of names. The league even entered its first week of the regular season having signed television rights deals with CBS Sports and Turner Sports.
With what seemed like a successful opening week, interest and intrigue was growing steadily for a league whose main selling point, its players, remained faceless. As early as Week 2, reports began surfacing that the league was struggling to pay its bills and that a computer glitch was to blame for many league employees, including players, not receiving paychecks.
Enter business tycoon and NHL team owner, Tom Dundon, who pledged a reported $250 million "investment". An investment large enough to immediately make him the league's chairman. Just six weeks later, after spending a reported $70 million of his original investment, Dundon suspended operations immediately.
End of an era
In what can only be described as a whirlwind, the Alliance of American football was gone even quicker than it started. It had just eleven games remaining, including the playoffs, to get through its first season. At the time of the suspension, the Orlando Apollos were a league-best 7-1, having clinched a playoff spot with its most recent win over the Memphis Express.
News of the suspension came as a sudden surprise to everyone associated with the league – including Apollos head coach, Steve Spurrier.
"Everyone was led to believe that the Alliance was well-funded and that we could play three years without making any money and this that and the other. Obviously, everything that was said was not very truthful." Spurrier told the Orlando Sentinel.
In an interview with WFTV's Christian Bruey, Spurrier was quick to point out another fact about the suspension. "On the other side, we've got to be champs right? We're 7-1 and the next teams are 5-3." On Friday, Spurrier posted a picture on his Twitter account of a memorialized football which also declared the Apollos league champions.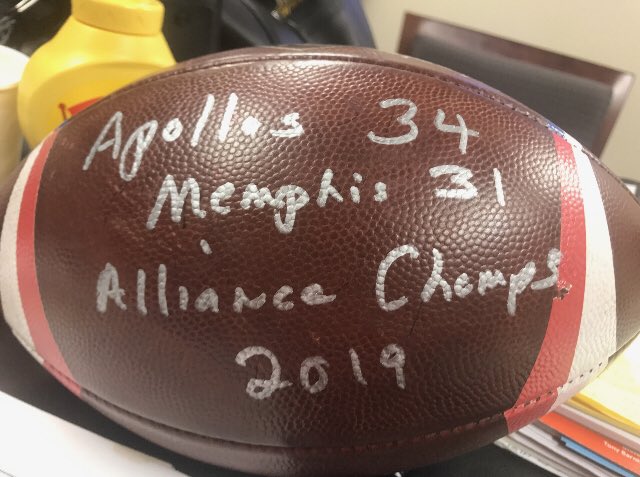 Home of failed football leagues
Its yet another disappointing finish to another failed startup league. Something the sport, and Orlando residents have seen far too often. The Apollos now join the defunct Orlando Rage (XFL), Orlando Predators (Arena Football League), Orlando Tuskers (UFL) and Orlando Renegades (USFL) as non-NFL football franchises that have called this city home for a brief period.
The next attempt for a new football league will be led by famous wrestling executive, Vince McMahon. McMahon will attempt to bring back the XFL, a league that also folded after just one season back in 2000. The XFL is expected to get underway in February 2020. At this time, Orlando is not expected to have a team in the league.