May 4th is the Kentucky Derby and May 5th is Cinco de Mayo. If you're looking to host, here are some mouth-watering appetizers – sure to impress your guests!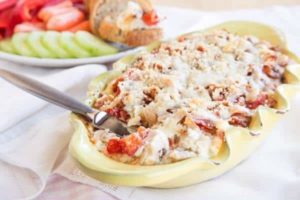 Kentucky Hot Brown Dip
Ingredients
8 oz. cream cheese at room temperature (I used light)
1/4 cup plain Greek yogurt I used nonfat
1/4 teaspoon grated nutmeg
6 oz. about 1 1/2 cups shredded white cheddar cheese, divided (I used Cabot Extra Sharp)
2 cups cooked and chopped turkey
one small tomato, seeded and chopped
6 slices bacon crumbled
1/4 cup grated pecorino romano cheese can also use parmesan
Crackers sliced baguette, vegetables for serving
Instructions
Preheat oven to 350°F.
In a bowl, stir together the cream cheese, yogurt, nutmeg, 4 oz. (about 1 cup) cheddar, and turkey until thoroughly combined.
Transfer to a glass baking dish and spread evenly.
Top with tomato, bacon, the remaining 2 oz cheddar cheese, and the pecorino romano cheese.
Bake at 350°F for about 30 minutes, or until hot and bubbly, and lightly browned.
Serve with crackers, baguette slices, and veggies for dipping.
Recipe via Kale & Chips: https://cupcakesandkalechips.com/kentucky-hot-brown-dip/#wprm-recipe-container-23301

Bourbon Meatballs
Ingredients
Meatballs
1 lb ground beef
1 lb ground pork
1/2 cup (1 sleeve, finely crushed) Ritz Cracker crumbs (you can use plain bread crumbs)
1/2 cup finely chopped onion
1/2 teaspoon salt
lots of fresh cracked pepper
1 egg
2 Tbsp olive oil (for browning the meatballs)
Bourbon Sauce
1 jar apricot preserves (about a cup, give or take)
1/4 cup brown sugar
2 Tbsp hot chili sauce (use mild chili sauce if you can't take the heat)
1/2 cup bourbon
1/2 cup barbecue sauce
1 Tbsp molasses
1/4 cup water
Instructions
Set oven to 350F
Put the meatball ingredients, except the olive oil, in a large mixing bowl, breaking up the meat as you put it in. Mix together, using the tips of your fingers to gently combine everything without compacting the meat. I like to do this in my stand mixer.
Form into small 1″ balls, I use a small scoop to make them nice and uniform.
Heat 2 Tbsp of olive oil in a skillet and brown the meatballs, working in batches. Transfer the meatballs to a baking sheet, and bake for about 10 minutes, until cooked through. (Check with a thermometer, it should read 160 degrees)
To make the sauce, combine all the sauce ingredients in a skillet and bring to a simmer. Simmer gently for about 10 minutes until thick.
Place cooked meatballs into the sauce, and let heat through until ready to serve. Serve on a plate with toothpicks, a drizzle of sauce, and lots of napkins. Serve a bowl of sauce on the side for extra dipping.
Recipe via The View From Great Island: https://theviewfromgreatisland.com/its-five-oclock-somewhere-friday-bourbon-meatballs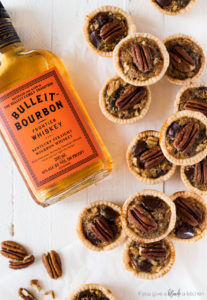 Mini Derby Pies
Ingredients
2 packages refrigerated pie crusts (4 pie crusts)
1 1/2 cups (187 g) chopped pecans
48 pecan halves for topping pies
1 cup (175 g or 6 oz) semisweet chocolate chips
1 cup (235 ml) dark corn syrup
1/2 cup (100 g) granulated sugar
1/2 cup (100 g) firmly packed brown sugar
1/4 cup (62 ml) bourbon substitute water if you prefer
4 large eggs
1/4 cup (56 g) unsalted butter, melted
2 teaspoons cornmeal
2 teaspoons vanilla extract
1/2 teaspoon salt
Instructions
Preheat oven to 325° F. Spray mini muffin pan with nonstick spray. Using a 2 1/2-inch round cookie cutter, cut out circles of pie crust dough and place in the muffin pan.
Sprinkle pecans and chocolate evenly in bottom of each pie shell.1 Set aside.
In a large saucepan, combine corn syrup, sugar, brown sugar and bourbon. Bring to a boil over medium heat and stir constantly for 3 minutes.2 Remove from heat and set aside.
In a medium bowl, whisk together eggs, butter, cornmeal, vanilla and salt. Gradually whisk about one-fourth of the hot corn syrup mixture into the egg mixture (this will help the eggs from solidifying)3. Transfer egg mixture to the large saucepan with remaining hot mixture, whisking constantly.
Pour two teaspoons of filling into prepared pie crusts, taking care not to overfill.4 Fill about two-thirds full (a small cookie scooper is a good measurement). Once filled, top each pie with a pecan half.
Bake at 325° for approximately 25 minutes or until pies are set and crust is golden. Cool in pan for 5 minutes, then remove pies and cool completely on wire rack.
Recipe via If you Give a Blonde a Kitchen: https://www.ifyougiveablondeakitchen.com/2016/05/04/kentucky-derby-pie/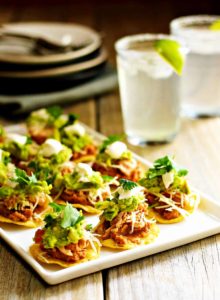 Bite Size Chicken Tostadas
Ingredients
14 1/2 ounce can diced tomatoes with juice
1 teaspoon ground cumin
1/4 teaspoon cayenne pepper or more
1/2 teaspoon chipotle chili powder
salt and freshly ground black pepper to taste
6 boneless skinless chicken thighs or 3 chicken half-breasts
Easy Guacamole
1 large avocado or 2 small, cubed
1/3 cup pico de gallo
2 tablespoons fresh lime juice
salt and freshly ground black pepper to taste
Tostadas and Toppings
60 2-inch round tortilla chips fewer if the rounds are larger
16 ounce can refried beans warmed
2 ounces shredded sharp cheddar cheese or Monterey Jack or Queso Fresco
sour cream or Mexican Crema
chopped fresh cilantro
Instructions
Stir tomatoes, cumin, cayenne and chile powder in a wide saucepan over medium heat. Add chicken thighs in a single layer (use 3 chicken half-breasts if you prefer), stirring to coat chicken with tomato mixture. Bring to boil. Reduce heat and cover; simmer 45 minutes, until chicken is tender and easy to shred. (Save tomato mixture for another use like tortilla soup or chili. It will freeze well if you don't plan to use it within a few days.)
Transfer chicken thighs to cutting board and shred. Then chop into pieces small enough to fit on the chips without hanging over the side.
Meanwhile, make the guacamole. In a large bowl, mash together avocado, pico de gallo and fresh lime juice. Season to taste with salt and pepper.
To assemble tostadas: on one chip, spread about a teaspoon of warm refried beans followed by a large pinch of chicken, pinch of cheese and a small dollop each of guacamole and sour cream. Sprinkle with fresh cilantro if desired. Repeat with remaining chips. (You can also do this assembly style, adding the layers in order to a whole tray of chips.) Serve.
Recipe via Pinch and Swirl: https://pinchandswirl.com/chicken-tostadas/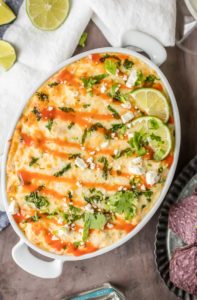 Mexican Street Corn Dip
Ingredients
16 ounces 2 blocks low fat cream cheese, softened
1/2 cup sour cream
2 cloves garlic minced
2 tablespoons franks redhot sauce or your favorite wing sauce
juice from one lime about 2 tablespoons
2 cups shredded pepper jack cheese divided
2 15 ounce cans corn, fully drained and rinsed
4 ounces low fat feta cheese (or Cojita Cheese, crumbled)
1 jalapeno pepper chopped (leave the seeds in for extra spice, or remove the seeds for a milder flavor)
2 tablespoons red onion chopped
1/2 cup fresh cilantro chopped
Your favorite chips for dipping
Instructions
Preheat oven to 350F
In a high powered blender or mixer, combine cream cheese, sour cream, garlic, hot sauce, lime juice, and 1 cup of the shredded cheese. Blend until fully combined.
Scoop the cream cheese mixture into a large bowl and add the remaining one cup cheese, the corn, feta, pepper, onion, and cilantro. Stir to combine.
Pour mixture into a prepared baking dish. Sprinkle with more cheese if desired.
Bake for 15-20 minutes or until cheese is hot and bubbly. Garnish with more cilantro, feta, and hot sauce.
Serve with chips and enjoy!
Recipe via The Cookie Rookie: https://www.thecookierookie.com/hot-mexican-street-corn-dip/#wprm-recipe-container-30854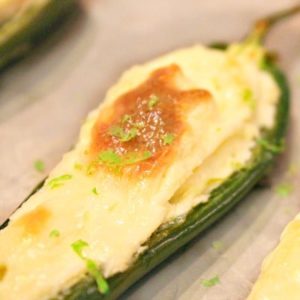 Lime Jalapeño Poppers
Ingredients
8 Jalapeno Peppers
1 cream cheese block (8 oz), room temperature
1 lime, zest and juice
salt and pepper to taste
Instructions
Preheat the oven to 400F
Slice in half lengthwise and remove the seeds from the jalapenos.
In a small bowl, mix the cream cheese with lime juice, salt and pepper until blended.
Fill each of the jalapeno halves with the cream cheese mixture. Sprinkle each pepper with lime zest.
Bake on a baking sheet coated with cooking spray for 15-20 minutes, until the jalapeno pepper is softened and the cream cheese is golden brown on top,
Remove from the oven and serve warm.
Recipe By Must Live Home: http://www.mustlovehome.com/jalapeno-lime-popper/#tasty-recipes-19610