By Kristina Giliberto
Hundreds of thousands of breast cancer diagnoses are made each year. This Breast Cancer Awareness Month, educate yourself and others about this disease as you support the organizations in your community that are working to do the same. 
Pink cleats on sports fields, pink kitchen appliances, pink hair, pink drinks, pink clothes, pink parades, pink signs, pink ribbons, pink pumpkins, pink cars … you get the idea.
My head doesn't spin anymore when October arrives. I've had the gift of time — eight years as a survivor — to navigate Boobtober.
After all, it was during awareness month when I became very aware of a tumor the size of a grape growing in my armpit. This tumor was missed by screenings and my doctor because of where it decided to set up camp.
By the way, while we are on the subject, don't forget to check your armpits when you do your self exams. It's a package deal. And if you don't do self exams regularly, start this very minute.
So I don't mind the pink hype because if you steer clear of companies out to make a buck off of sick boobs, heightened awareness is a good thing. How can it not be?
More women will make screening appointments. More women will remember to do self exams. (Again, if you don't do them regularly, start this very minute.)
Awareness saves lives.
Still, it does look like a Pepto Bismol explosion out there. Doesn't it?!
I think this calls for a top ten list. So in honor of Boobtober 2019…
The Top Ten Things Not to Say to a Breast Cancer Survivor
10. You must be so glad treatment is behind you. (Duh??)
9. Your headlights are on. Are those real or fake?
8. You don't have cancer anymore, so why are you still talking about it?
7. Did your hair grow back…you know…everywhere?
6. You must be so happy with your new perky boobs!
5. Wow, you're really letting your hair grow out. I liked it short.
4. You're so lucky you don't have to get mammograms anymore.
3. Why do you bother to eat so healthy? It didn't help you out in the first place.
2. I know for certain you will never have a recurrence. I just know it.
And the No. 1 thing not to say to a survivor is… (drum roll please)
1. Stage 1? Oh well, you didn't have it that bad.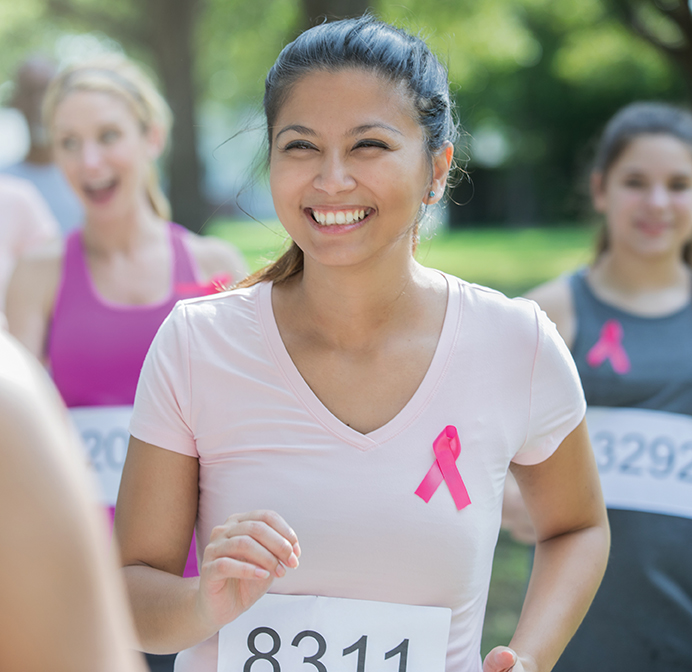 October is a month where we celebrate and honor those who have been affected by breast cancer, those who lost their battle and those who continue to pave the way to find a cure. Local nonprofits and businesses will be hosting events across Central Florida all month long to offer support this important cause.
October 4-27
"Bra-Vo" Breast Cancer Awareness Exhibit
Times vary
Mount Dora Center for the Arts
Free admission
View a selection of bust forms that artists decorated using the media of their choice. Proceeds from artwork sales will go toward breast cancer research.
October 13
Pink on Parade
7:30 a.m.
AdventHealth Celebration
At this 7th annual event, AdventHealth celebrates the brave women in our community battling breast cancer, survivors who have won their fight and those who shine on through their loved ones with Pink on Parade. So gather your friends, dress in your favorite pink attire and run or walk together in the fight against breast cancer. 
October 19
Rosé Garden Party
8-11 p.m.
Blue Martini at Pointe Orlando
$10 in advance, $15 at the door
At this all-pink charity event, guests are invited to sip on rosé and pink signature drinks, dine on a selection of tapas, enjoy live entertainment and participate in a raffle with designer items. Proceeds will benefit Florida Breast Cancer Foundation. Also, throughout the month of October, Blue Martini Pointe Orlando will donate $2 from each signature pink cocktail sold to FBCF. Garden party attire is encouraged.
October 26
Making Strides Orlando
7 a.m. check-in
9 a.m. walk begins
Lake Eola Park
This annual event unites communities behind the American Cancer Society's efforts to save lives from breast cancer. Survivors, supporters, caregivers and individuals currently battling breast cancer – men and women – will walk together until the final walker crosses the finish line.
December 21
Cure Bowl
2:30 p.m.
Exploria Stadium
Ticket prices vary
This NCAA college football bowl game matches up teams from the American Athletic Conference and Sun Belt Conference to compete and give back. Funds raised directly benefit the Breast Cancer Research Foundation, the largest private funder of breast cancer research worldwide.