Everyone knows when pumpkin spice season has arrived. Pumpkin spice lattes are everywhere and everything in the grocery store has an original as well as a pumpkin flavor. But fall is also all about the apple, and your cocktails shouldn't neglect this refreshing autumnal fruit.
That doesn't mean you should shake up an overly sweet Appletini or Washington Apple shot. It's all about warm spices like cinnamon when it comes to a modern apple cocktail and, of course, the apple cider. This fall, gather your besties and taste test these classic cocktails with an apple cider twist.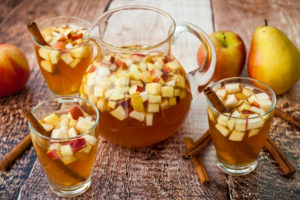 Apple Cider Sangria: Place your favorite autumn fruits, such as pears, cranberries and a selection of apples, at the bottom of a pitcher then fill it with a mixture of apple cider, white wine, club soda and a couple cinnamon sticks. You can even add some vodka or brandy if you like your cocktail on the stronger side. Don't forget to eat the boozy fruit when you've finished the pitcher.
Apple Cider Moscow Mule: Make your usual Moscow Mule with vodka, lime juice and ginger beer over ice then add apple cider and your preferred type of apple for a garnish. It gives just a touch of fall to this trendy cocktail.
Apple Cider Mimosas: This one requires one simple swap: apple cider in place of orange juice. Whether you prefer a full glass of champagne with a splash of apple cider or a half-and-half ratio, it will still taste like fall in a glass – especially if you add a cinnamon-sugar rim to the glass.
Apple Cider Margaritas: This recipe also calls for a cinnamon-sugar rim, and it offers some liberty in regards to the ingredients. All you really need is your favorite tequila, Triple Sec and apple cider, but you can sub in Grand Marnier and add a splash of lime juice if you want a hint of tartness.
For any apple cider based cocktail recipes you're making this fall that call for vodka, consider infusing your own apple pie vodka for another layer of flavor. All you need to do place sliced apples and cinnamon sticks in a mason jar then fill it all the way up with vodka. Seal it and refrigerate for at least 24 hours before serving.
Step aside, pumpkin spice. With these cocktails, this might just be the year of apple pie flavors.