The Dream
West Orange Habitat for Humanity dreams of a world where everyone has a safe, decent, affordable home to live and that begins right here in Central Florida. Since its founding in 1990, the nonprofit housing organization has made it a mission to put "God's love into action by building homes, communities, and hope."
This is achieved as Habitat partners with families in need of safe, decent, affordable homes in West Orange County, Florida, which includes Oakland, Ocoee, Winter Garden, and Windermere.
Criswell Court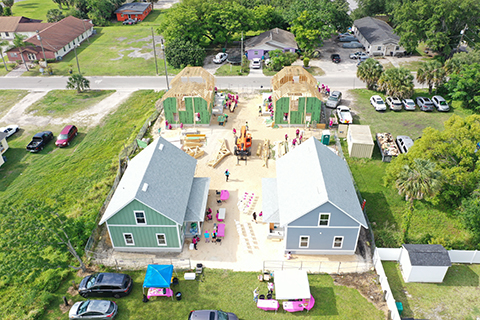 The most recent affordable housing community, Criswell Court, is in East Winter Garden and will soon be home to four hard-working families who have journeyed through the process of becoming homeowners together. By the time they become homeowners, these four incredible women will each have put in over 200 hours of sweat equity, taken financial literacy classes, and saved for an affordable down payment on their homes.
"I've never really been able to have anything that was just mine, something that I earned, something that I owned – and that will be the best feeling for me," says Habitat Homebuyer Partner Tiffany. "This is a chance for me to have somewhere that is more than just a house where I stay, or a place where I sleep…but is really my home! To be able to say, 'those are MY keys in the door' that moment will be life-changing for us."
Setting up for Success
And with 1 in 6 Florida homeowners paying over half of their monthly income on housing, owning a home is a far cry from reality for many families. Through unique partnerships, Habitat can provide affordable mortgages at 0% interest to qualifying families, making the dream of homeownership possible.
"Because Habitat is the mortgage holder, we are able to ensure that our homeowner's mortgages remain at no-interest and are never more than 30% of their monthly income," says Nicole Campbell, Communications Manager, West Orange Habitat. We prepare and equip our homeowners through Homeowner Education Courses and set them up for long-term homeownership success."
So, how can the Central Florida community assist with these efforts? Habitat could use your financial support, your voice, and your time to help more families build strength, stability and self-reliance.
To learn more about volunteer opportunities with West Orange Habitat, or to give online today, please visit westorangehabitat.org.