Unveiling the Trends for 2019
Your guide to this year's wedding fashion and beauty trends.

Walk down the aisle in style by saying yes to the dress (and the accessories and the shoes) that follow one or more of this year's hottest trends.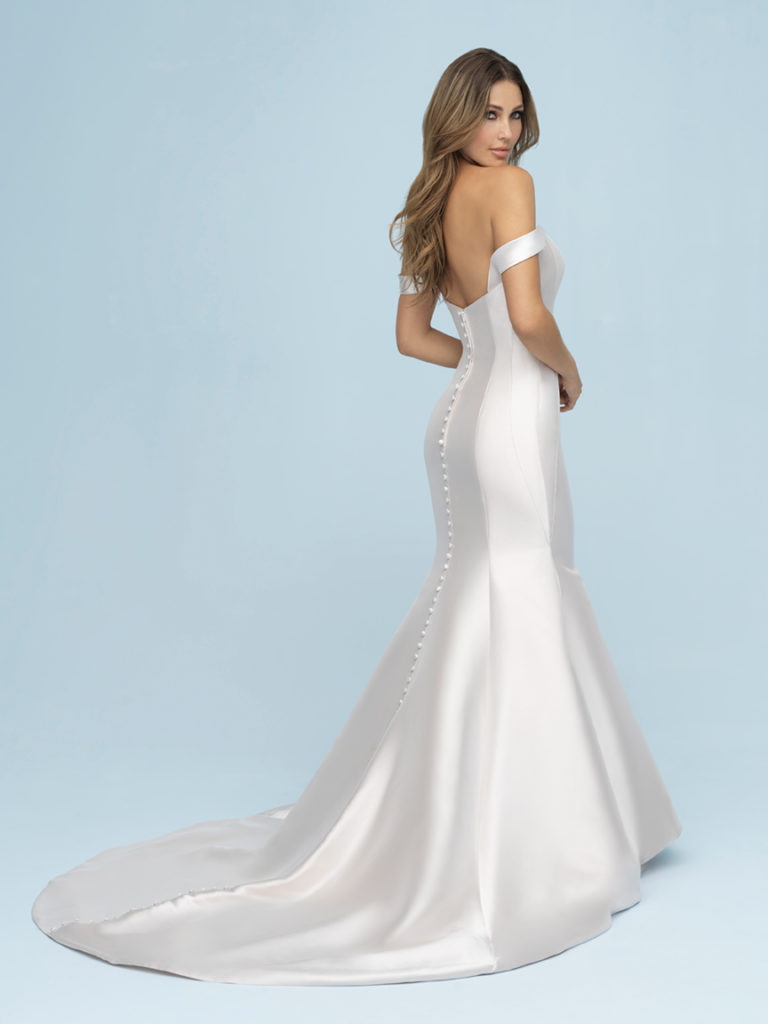 Designer: Allure Bridals
Trends for 2019: Emphasis on geometric appliques, delicate buttons, and soft, stretch lace and crepe fabrics.
Inspiration: Fast fashion is universal, so designs are not only available more immediately but designs seem to be pulled from more previously inaccessible places. We could be inspired by classic bridal designs, Instagram and a 1960s vintage bridal look all at once.
The buttons that run down the back of this mermaid-shaped Allure Bridals dress add a trendy touch to a classic wedding dress design.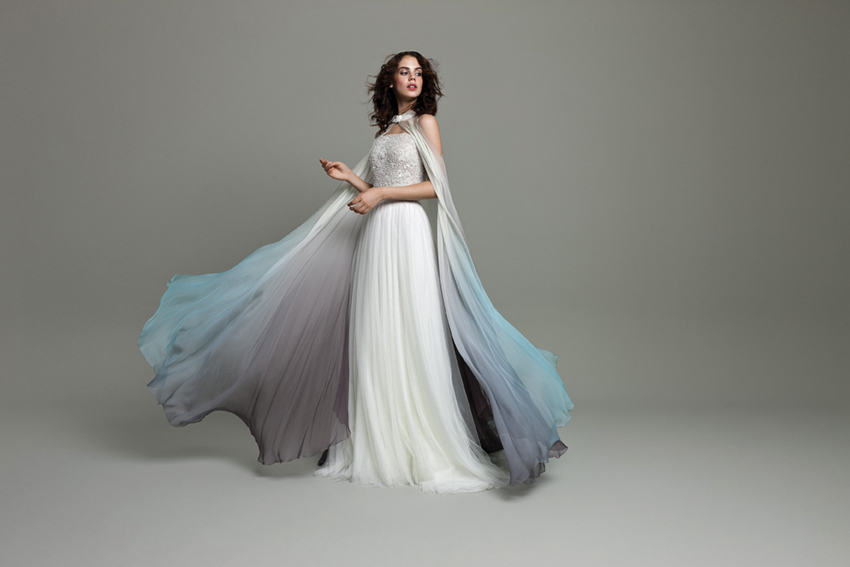 Designer: DAALARNA
Trends for 2019: Unique technology and styles, capes, interesting necklines and collars
Inspiration: I am highly influenced by new technological advancements and technical improvements. These are largely seen nowadays not only in the way we make our gowns but in the way fabrics are made.
A combination of the collar and cape trends, this dress by DAALARNA makes a statement. It also covers a bride's "something blue" requirement for her walk down the aisle.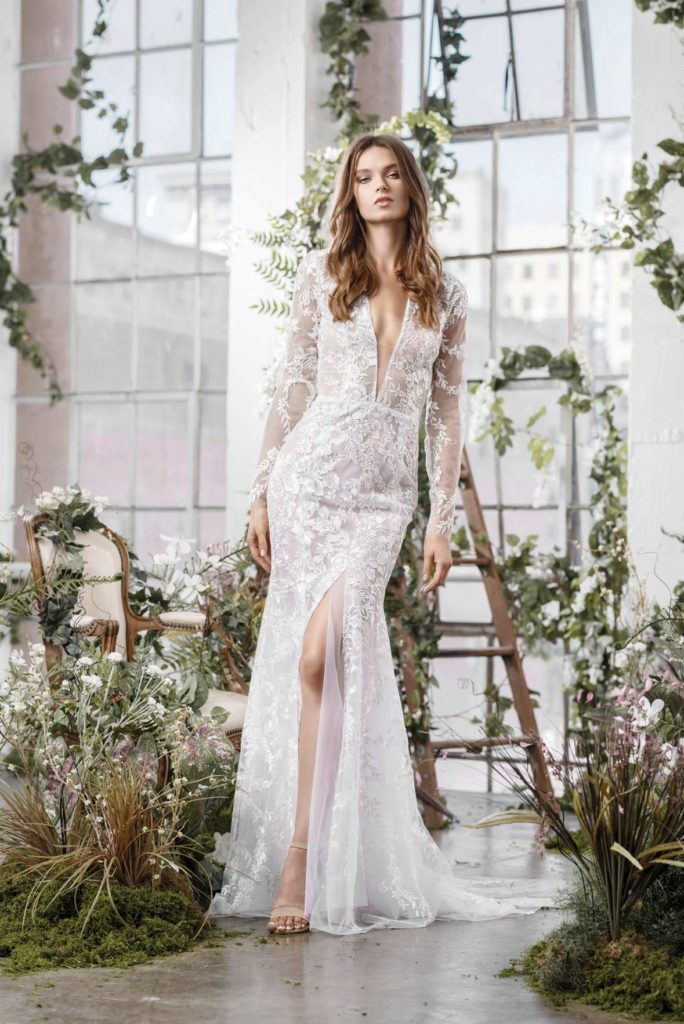 Designer: Katherine Tash
Trends for 2019: Colors such as soft blush, lavender and light blue in dip-dyed silks or custom embroideries; the naked dress (or the illusion dress); and tailored separates like tea length skirts, jumpsuits, silk slip dresses and blazers
Inspiration: I can't speak for any other designers, but I think social media has such a big effect on the fashion industry in general right now. I think we're at peak influencer, peak trend forecasting, and peak fast fashion.
This naked dress by Katherine Tash highlights the beading and embroidery in the design without adding bulky weight to the bride, allowing her to shine on her big day.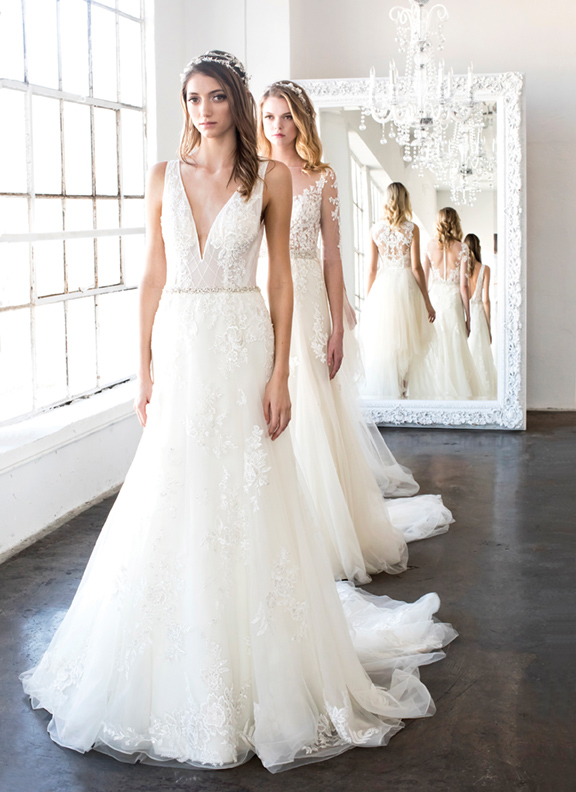 Designer: Winnie Couture
Trends for 2019: Illusion backlines and plunging necklines featured on figure hugging silk and lace gowns make a bride feel beautiful on the inside, which radiates outward for everyone to see.
Inspiration: We are and will always be influenced by the brides. Understanding that every bride is different, and being able to make every bride's bridal vision a reality is how this brand was born!
Making a statement with bold necklines and illusion backs has been a popular trend with brides that extends into Winnie Couture's 2019 designs.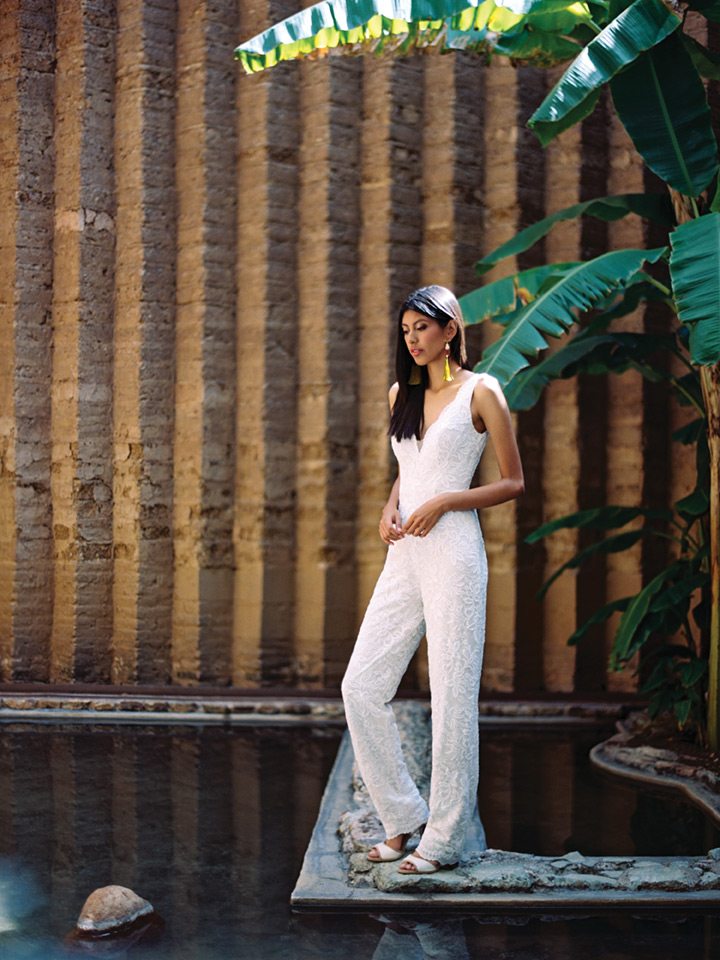 Fashion Highlight!
Whether you're looking for a more low-key walk down the aisle or want something more comfortable to change into for your reception, a bridal jumpsuit like this one for Wilderly Brides is a trendy way to show your own unique style.
---
Beauty Inspired by Royalty
The spring 2018 wedding of Prince Harry and Meghan Markle at Windsor Castle continues to inspire brides around the world. Markle's classic, timeless style made its mark on the wedding industry as a look that extends to every season, budget and bride.
Incorporate these three trends into your big day to transform your wedding into a royal affair.
1. Effortless hair: A modern center part and face-framing, easy-to-tuck layers were the centerpiece of Markle's simple updo. The rest of her hair was gathered in a loose chignon with minimal product holding it together- a look that her hair stylist described as a messy bun that was controlled.
2. Natural makeup: Markle's makeup included varying shades of brown eye shadow to create a smoky eye and a pop of color with a coral blush and tinted lip balm. Neutral palettes are a simple way to pick up a trend without looking too trendy when you look back on your photos down the road.
3. Royal accessories: Keeping your veil in place with a tiara is one way for brides to go for the full princess look. At Gianni Vincent Jewelers in Windermere, the Hope Tiara features a 5-carat, heart-shaped diamond in addition to other jewels. Ninety percent of the proceeds from special occasion rental costs benefit Runway to Hope to fund research, treatment and care for children fighting cancer.
---
What's Trending in Shoes
Designer: Jessica Bedard Shoes
Trends for 2019: Closed pump, matte satin and neutral colors
Inspiration: I usually look at old magazines. Trends usually come back every 20 years, so it's a good reference for me.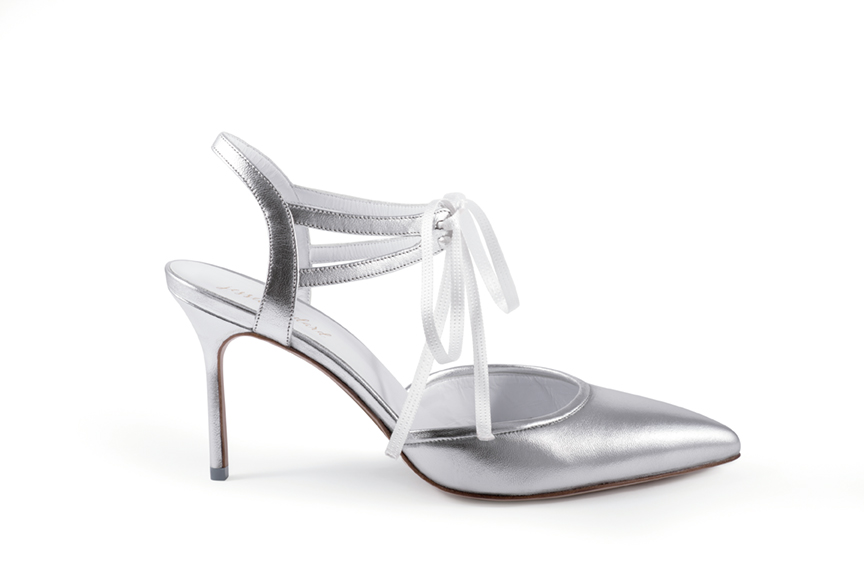 The classic ELLE Ankle Tie Pump represents all of Jessica Bedard's trend predictions for 2019 with its closed, pointed toe and satin finish in the perfect wedding neutral: silver.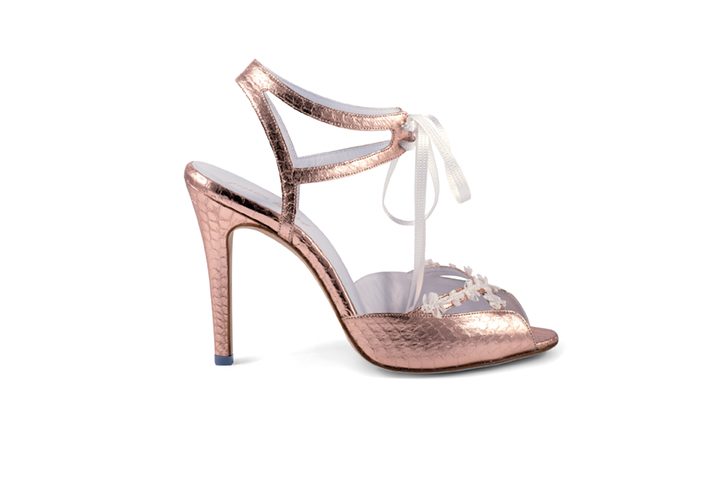 Unless a bride wants to make a statement with her shoes, the GIGI Peep-Toe Sandal in rose gold is best left to the bridesmaids. This trendy metallic shoe complements any bridal party color, from pastels to more bold shades.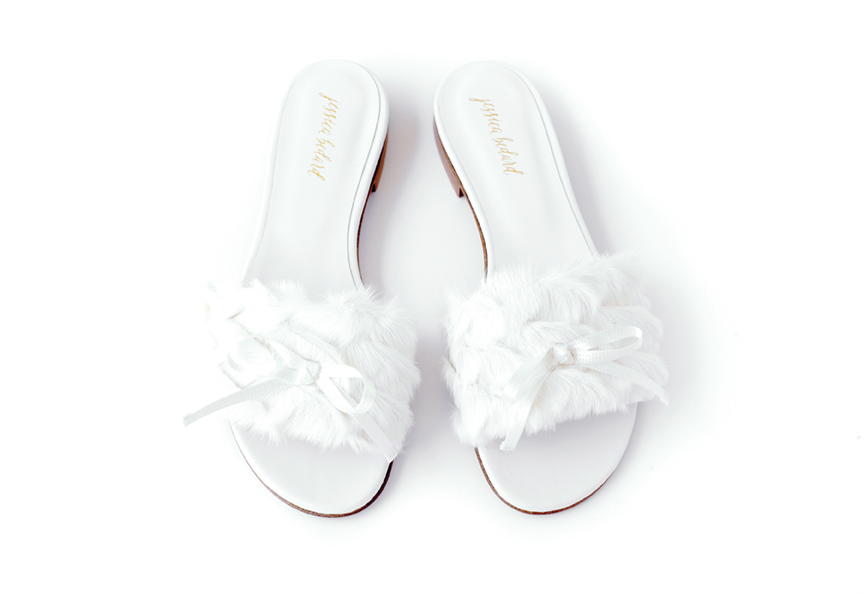 The ADELINE Fur Slide Sandal takes brides from day to night. It is a perfectly comfortable selection to wear as they are getting ready and to slip into for the reception.
Comments