The food trends of 2018 were marked by health, beauty and efficiency. With avocado toast, poké bowls and gluten-free foods, the general consensus is that people actually cared about what was going into their bodies and how it affected them in 2018. With health and fitness on the rise, Chef Emily Ellyn predicts similar trends in the new year, but with a twist.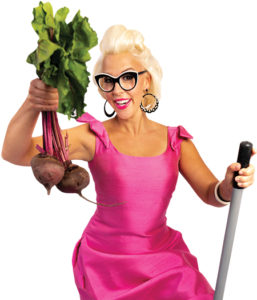 Ellyn is an Orlando-based chef and culinary expert known for her cameos on Food Network's "Next Food Network Star," "Cupcake Wars" and "Cutthroat Kitchen," and she is excited about the nature of food expected to rise in 2019. Not only will food items and beverages continue to be beautiful and Instagrammable, but the trends will focus on how people eat and why they choose what they do.
Conscious Eating
Stemming from the trend of health in 2018, the new year is likely to bring more veggie-centric plates to the table. Ellyn predicts that people will conserve on their meat intake and opt for more meatless products.
Based on her knowledge of cuisine from around the world and food trends of the past couple years, she expects the Reducetarian movement to experience a stark rise. The Reducetarian Foundation defines this movement as the reduction of the amount of meat that people consume in order to improve health, protect the environment and spare farm animals from cruelty. Marked by cutting back on the cold cuts and being conscious of where ingredients are coming from as well as how much product is being consumed, she believes 2019 will be the year of being mindful of what you're eating but also what you're buying.
"It's about being really conscious and doing the best for not only yourself but the greater good," Ellyn says.
Dedicated Dining
One of the top food consumption trends among Millennials is eating in, according to Ellyn. With the help of grocery delivery services and meal subscription boxes, people can prepare healthy meals and they can do it quickly. However, when they choose to eat out, they want to splurge.
"Millennials are demanding that when they do go out, they want an experience," Ellyn says.
It's about savoring a nice meal as much as it is about the ambiance that accompanies it. That, Ellyn says, is why pop-up restaurants are as intriguing as they are and why they will continue to be successful.
Another consumption trend is eating what is called "the fourth meal." Aside from breakfast, lunch and dinner, snacking is a large part of eating at home for many. Whether it's a coffee break or a quick run to the local bakery for a cupcake, this inexpensive eating habit keeps small businesses and bakeries alive. Since this is a low-cost eating behavior, it's expected that people will flock to higher-end food in fast-casual settings.
Ellyn notes that along with the fourth meal's fair cost and low expectancy for tipping,
there is currently a near nonexistent need to spend an exuberant amount of time at a restaurant. Similarly, enjoying a single beer while out is becoming just as acceptable as grabbing a whole bottle of wine. This trend is wallet and time-friendly, and that is why it will likely skyrocket in 2019.
Favorable Flavors
With beer consumption and health trends expanding, testing new flavors will be every chef's goal in the new year. Ellyn suggests the flavors of the 2019 will be funky, fermented and sour.
More people are enjoying the bitterness of coffee and the fermented nature of beer, so these styles of beverages are going to head into the food world, too. And it's not just about pairing – it's about learning how to implement the nature of the drinks into a meal. This food trend piggy backs the trend of Kombucha in 2018, and gut health will remain on the radar into 2019.
People are also moving away from the smoky flavor of meats because of the rise of marijuana and CBD oil. Ellyn says individuals who partake already receive enough of that flavor, so they're yearning for flavors that broaden their horizons. Chefs are up for the challenge.
"Because snacking is something on our radar, snacking with different international flavors will be big – from kelp chips to you name it," Ellyn says.
Wild greens are also going to be utilized heavily in 2019 to focus on making food items that people already love taste better. Dandelion, chicory and mustard will push kale and collard greens, providing new flavors to dress up the average salad.
Foraging will be a hot trend of 2019 as well, with mushrooms and truffles already being enjoyed. It's now about finding new items that come from the earth to spice up the food scene.
Smart Savoring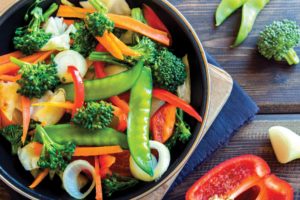 With veggies and grains being the main courses for 2019, Ellyn says people are literally "going back to their roots." Chef-farmer collaborations and the use of ancient grains like barley and oats have come about because people want natural food on their tables. The thought of genetically engineered ingredients has become taboo and uncomfortable for both chefs and foodies. It's what Ellyn calls a "back-to-the basics movement," where people want to eat food that comes from the land, not the laboratories.
From root to top and snout to tail, Ellyn stands behind the trend of using the entire plant or animal for meals. Foods that are mono-centric are expected to be the hot items. For example, when making carrot soup, instead of using the vegetable for just part of the recipe, use only the carrot but in many ways. Ellyn explains that adding fermented, sautéed, fried, baked and boiled carrots to the mixture creates a wide variety of textures and flavors with just one ingredient.
"The world is our oyster," Ellyn explains, and people just have to dig to find something new, innovative and game-changing.