Popular Winter Park gastropub The Ravenous Pig gets a makeover.
The Ravenous Pig, one of Winter Park's premier restaurants, looks forward to a refresh. Co-owners and chefs James and Julie Petrakis of JP Restaurants expect the new design to finish around mid-November and should not require the restaurant to close for a long time. 
Anna Woodman Interior Design, South Florida's premier commercial interior design firm, which also spearheaded the 2007 design of the original restaurant in its first location on Orange Avenue, is onboard to brighten up "The Pig." In collaboration with Maitland-based Blankenship Architects, Woodman says diners can expect a modern look with unexpected whimsical touches.
"James and Julie are so creative, which you can see clearly in the menu. We want that creativity to shine through in the updates we're planning," Woodman says.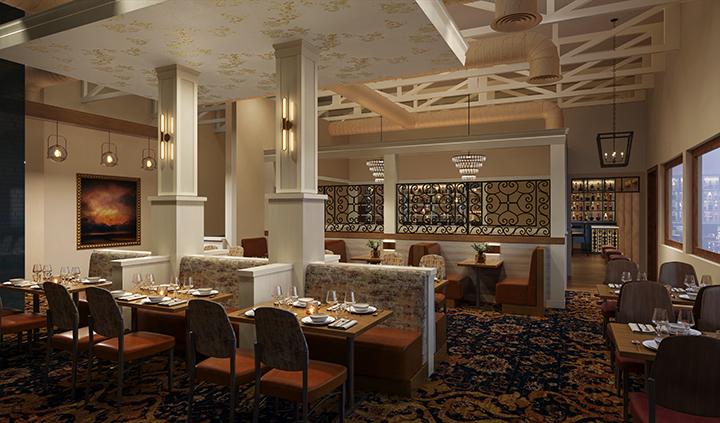 James says it is vital that the redesign happens without closing. "Our customers count on us for fresh, local, farm-to-table meals, so we will do this renovation while staying open as much as possible."
Also, by using area architects, JP Restaurants is supporting the local economy. Diners can expect the same great seasonal menu. Nothing will change there. James calls the menu a fresh take on new American fare, offering crispy pork belly, rock shrimp tacos, and Ponce Inlet red snapper (check the menu for seasonal availability).
James admits that The Ravenous Pig's original space on Orange Avenue back in 2007 had an intimate tavern feel that didn't quite translate to the larger space the restaurant moved into on Fairbanks Avenue back in 2017.
"We're undoing some of the things we did years ago," James says. Woodman agrees, saying the new look will be more colorful, fitting the approximately 6,000 square-foot eatery and beer garden.
"We're going to include custom millwork and fine artistic craftsmanship with a Charleston coastal vibe," Woodman says.
The refresh will include:
An open view of the kitchen.
A featured display of cutlery.
Punches of color alongside mementos will pay homage to The Ravenous Pig's history.
Other areas of the restaurant will see improvements as well. Most notably, the bar will feature an eye-catching Cambria quartz countertop with brass alloy veining and deep navy wood accents. Woodman also promises some fun surprises in the design of bathrooms. The outdoor beer garden will maintain its relaxed ambiance and design.
In addition to The Ravenous Pig, JP Restaurants includes Cask & Larder, a Southern-inspired concept at Orlando International Airport; Swine & Sons Provisions, a gourmet counter service restaurant and caterer on Orange Avenue; and the Polite Pig, a quick-service modern barbecue-style restaurant at Disney Springs.
Please visit TheRavenousPig.com for the seasonal menu and any updates on the renovation.