Join us for part one of a special three-part series focused on summer fun in Florida.
Rediscover the Sunshine State from Coast to Coast
Summer travel season has arrived. There's no better time to explore our beautiful state and all that it has to offer.
North Florida
Tallahassee
The state capitol is rich in history, playing a role in Florida and national politics since the creation of the first Capitol Building – a small log cabin – in 1824. Explore the Florida Historic Capitol Museum to learn about Tallahassee's political history, and make sure to visit the 22nd Floor of the Capitol Building for a panoramic view of the city.
While you're there…
• Discover Tallahassee during an outdoor adventure on one of the city's many trails, including the Lafayette Heritage Trail, Wakulla Springs Trail and the Lake Talquin State Park Trail. Each offers its own unique view, revealing the true beauty of Tallahassee. 
• Visit the oldest public cemetery in Tallahassee, the St. Johns Episcopal Church Cemetery, which is the final resting place for famous Florida governors and congressmen and even Catherine Murat, great grandniece of George Washington.
• Pick your own blueberries at Saladino's Red Barn Farms, an organic, family-run blueberry farm. 
Amelia Island
A world-class destination for golf, this two mile wide and 13-mile long island features five courses, resorts with golf schools and golf pros at the public course. This totals over 100 holes of golf that are surrounded by breathtaking views of the Atlantic Ocean and Intracoastal Waterway.
While you're there…
• Take a guided kayak tour of the island. You can choose to go on the barhopping tour, which takes you from sand bar to sand bar when the tide goes out to hunt for shells and play in the tidal pools. Or kayak by the Kingsley Plantation on Fort George Island, where you will learn about history, see many species of birds and maybe even see a dolphin jump or pass by a manatee. 
• Go horseback riding along the beach at The Kelly Seahorse Ranch, one of the few places in the country to offer this experience. 
• Visit Fort George Island State Park, where you can explore the natural habitat of the local animals while bicycling, hiking, kayaking or even traveling by Segway.Fishing and geo-seeking opportunities are available, too.
Central Florida
Clearwater
Clearwater Beach is known for its miles of beautiful beaches along the Gulf of Mexico – perfect for boating, fishing or just laying out – and the area has won plenty of awards for best beach. But a getaway here means more than just taking part in water sports and soaking up the sun. You will find all kinds of adventures at this island paradise.
While you're there…
• Visit Winter the dolphin at the Clearwater Marine Aquarium. Winter lost her tail after being trapped in a crab trap line and learned to swim with a prosthetic tail.
• Head down to the pier for the nightly Sunsets at Pier 60 festival. Crafters, street performers and musicians entertain along the pier as the sun dips below the horizon.
• On your way to and from Clearwater, stop at the Seminole Hard Rock Hotel & Casino to test your luck on the poker tables or slot machines.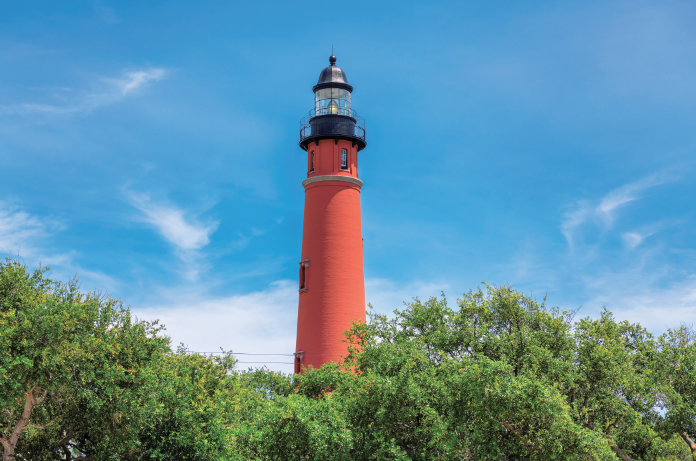 Ponce Inlet
This relaxed beach town near Daytona is the perfect spot for surfers as well as regular beach goers who just want to lie in the sand and soak up the sun. The town got its name from famous explorer, Ponce de Leon, who explored the area in the 1500s. Since then, Ponce Inlet has earned its reputation for being a quaint town where locals and visitors alike can get away from it all.
While you're there…
• Climb to the top of Florida's tallest lighthouse, the Ponce de Leon Inlet Light Station, where you will be able to see for miles. Be sure to stop at the lighthouse museum to learn about the area's history.
• Go deep sea fishing with a charter company in the area. You're sure to catch something delicious for dinner.
• Have a picnic at Lighthouse Point Park, a 52-acre park where you can also walk along the nature trails or go swimming.
South Florida
Boca Grande
A true diamond in the rough, Boca Grande is a small-town vacation destination for presidents and celebrities, as well as anyone looking to leave the world behind for a little while. Located on the island of Gasparilla, this barrier island in the Gulf of Mexico is seven miles long and has sandy white beaches, crystal clear water and is the perfect place for a relaxing beach getaway.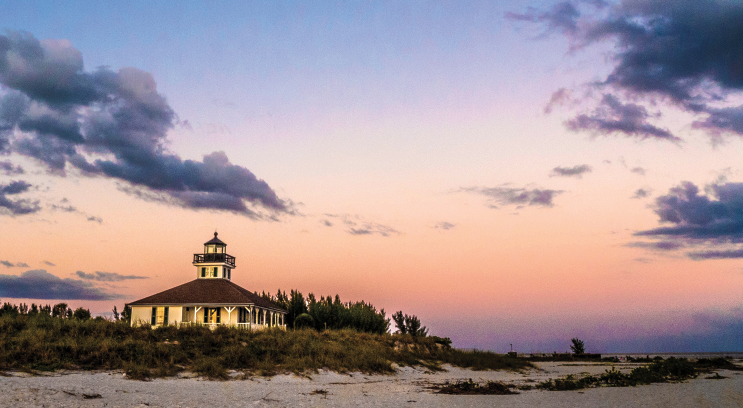 While you're there…
• Charter a boat for a day of fishing in the Boca Grande Pass and take part in some of the best tarpon fishing in Florida. 
• Rent a bicycle or golf cart – the preferred methods of travel for islanders – for a day of exploring the island from top to bottom. Stop for homemade ice cream in the middle of town or for a tour of the Boca Grande lighthouse, which is over 100 years old, at the southern end.
• During season, play golf at the historic Gasparilla Inn & Club, a par 72 course with scenic views of Charlotte Harbor.
The Florida Keys
A prime destination for plenty of fun in the sun, there is much to see and do along the 125-mile-long chain of islands that encompass The Florida Keys. From fishing and watersports to entertainment and restaurants that can be enjoyed along the drive, it's a trip that promotes both relaxation and adventure.
While you're there…
• Swim and interact with dolphins and go behind the scenes to see how the staff cares for them at Dolphins Plus in Key Largo.
• Stop for lunch at Robbie's Marina of Islamorada and feed one of the famous tarpon that visit their dock for a meal of their own. You may even get one to rise up out of the water to take the fish right out of your hand.
• Watch the sun sink beneath the horizon (and maybe see the famous green flash) from Key West's Mallory Square. 
Be a Tourist in Your Own Backyard
Orlando's attractions will continue to open their doors throughout the summer. Here's a short list of some attractions that have opened with more to come.
Disney Springs
Opening Date: May 20
Disney Springs began its phased opening with vendors such as The Polite Pig and Wine Bar George followed by some Disney properties like the World of Disney store. New procedures, including temperature checks, limiting capacity and requiring both employees and guests to wear masks, were put in place in accordance with CDC guidelines. Check the Disney Springs social media channels for more information on additional restaurant, retail and entertainment venue openings as they're announced.
Gatorland
Opening Date: May 23
Gatorland is a 110-acre theme park that combines Old Florida charm with exciting experiences, exhibits and entertainment. It features thousands of alligators and crocodiles, a breeding marsh with observation tower, a free-flight aviary, nature walk, a petting zoo, educational wildlife programs and one-of-a-kind shows including Gator Jumparoo, Alligators-Legends of the Swamp and Up-close Encounters. Popular adventure experiences inside the park include the Screamin' Gator Zipline and Stompin' Gator Off-Road Adventure. A new character, the Social Distancing Skunk Ape, is on hand to remind guests to stay 6 feet apart and wash their hands.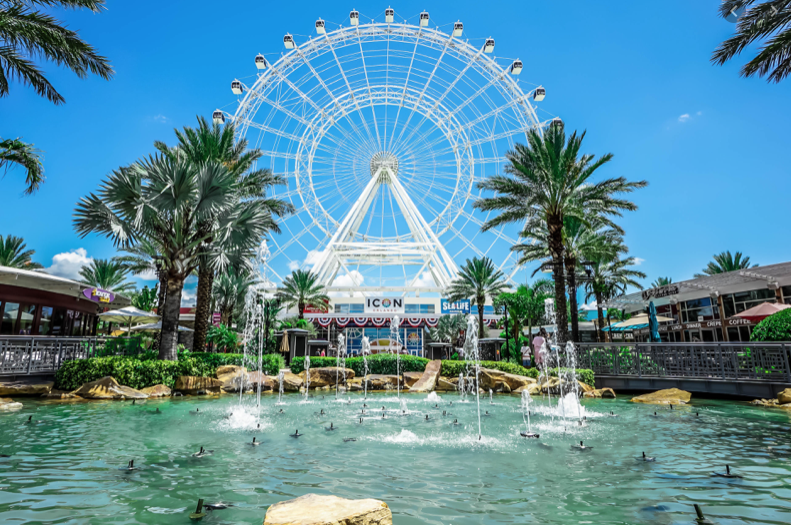 ICON Park
Opening Date: June 3
ICON Park™ is a 20-acre, walkable entertainment destination in the heart of Orlando's International Drive. A perfect place to ride, dine, drink and explore, ICON Park has more than 40 restaurants, funky bars, boutique shops and can't-miss attractions, all anchored by The Wheel, which stands 400 feet — 40 stories — in the air. Guests at ICON Park can visit SEA LIFE Orlando Aquarium, Madame Tussauds Orlando, Arcade City, 7D Dark Ride Adventure and StarFlyer Orlando, the world's tallest swing ride. ICON Park is now offering an all-access Play Pass that is full of family fun at their attractions and that offers discounts at some restaurant and retail spaces. 
Island H20 Live!
Opening Date: May 30
Island H20 Live! offers an immersive and interactive experience for people of all ages. Guests were welcomed back last month with new Safe-Splash Guidelines in place, such as verbal screenings and temperature checks for employees and guests, social distancing requirements and increased sanitation, among others. Face coverings are recommended for guests between rides and attractions; however, they aren't permitted while in the water or on the rides. Guests are encouraged to review the full safety guidelines online prior to arriving and to purchase a ticket online to ensure entry, as the water park is closed on certain days in June and could reach capacity on days that it's open.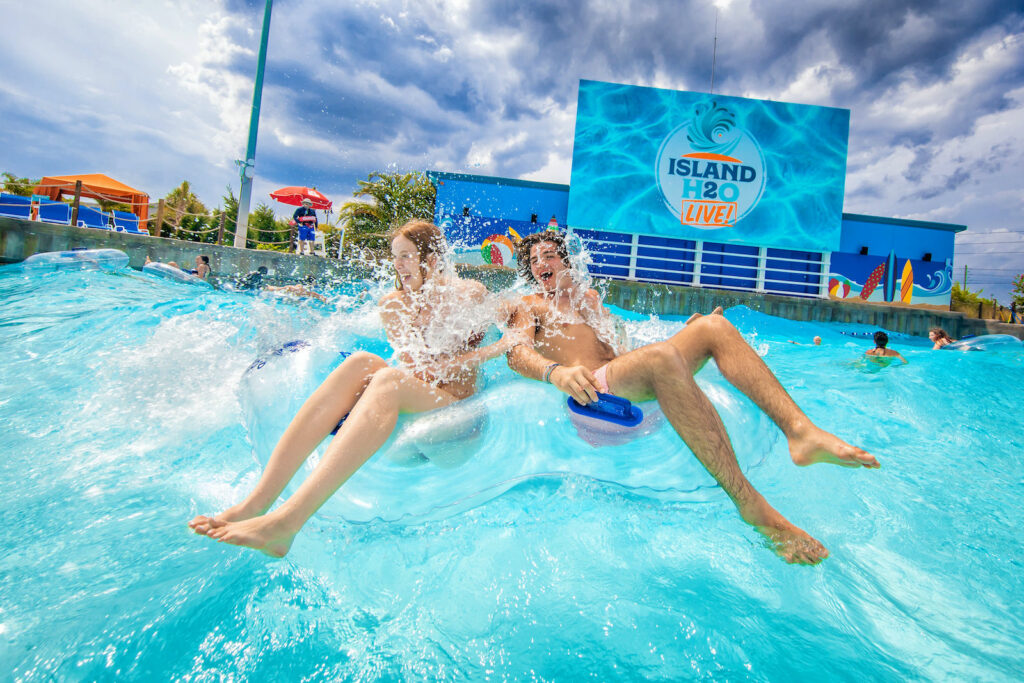 Theme Parks
Opening Dates: June 5 (Universal Orlando), June 11 (SeaWorld Orlando), July 11 (Magic Kingdom and Animal Kingdom) and July 15 (Epcot and Hollywood Studios)
One of the hottest topics surrounding Florida's re-opening plans involved one of the state's biggest tourism draws: theme parks. Park executives had to submit plans outlining safety procedures on the local level before they could be presented to the governor for final approval. All were approved with changes that include requiring guests to wear masks, temperature checks before entering, social distancing in lines as well as on rides, and mobile ordering and payments once inside. Openings will take place throughout the summer. SeaWorld and Disney parks will require guests to make reservations for the days they would like to visit.
Wild Florida
Opening Date: May 4
Wild Florida has been the place to be for animal encounters since the beginning of last month. Its drive-through safari, where you can see more than 100 native and exotic animals, opened first and has drawn visitors from across Central Florida. Now, there are also opportunities to feed a giraffe, explore the alligator park and take an airboat ride. Be sure to book your drive-through safari experience in advance, as it could sell out due to limited capacity, especially on weekends. 
Wonderworks
Opening Date: May 29
The upside down attraction on International Drive offers interactive fun for people of all ages. From a variety of educational Wonder Zones to a Glow-in-the-Dark Ropes Course and Laser-Tag, there are hours of fun to be had. Wonderworks opened with new protocols such as social distancing requirements, employee health screenings and mask requirements for employees (masks are encouraged for guests as well). Additionally, some of the interactive exhibits may be closed and there may be a wait time for same-day re-entry if guests leave the building.