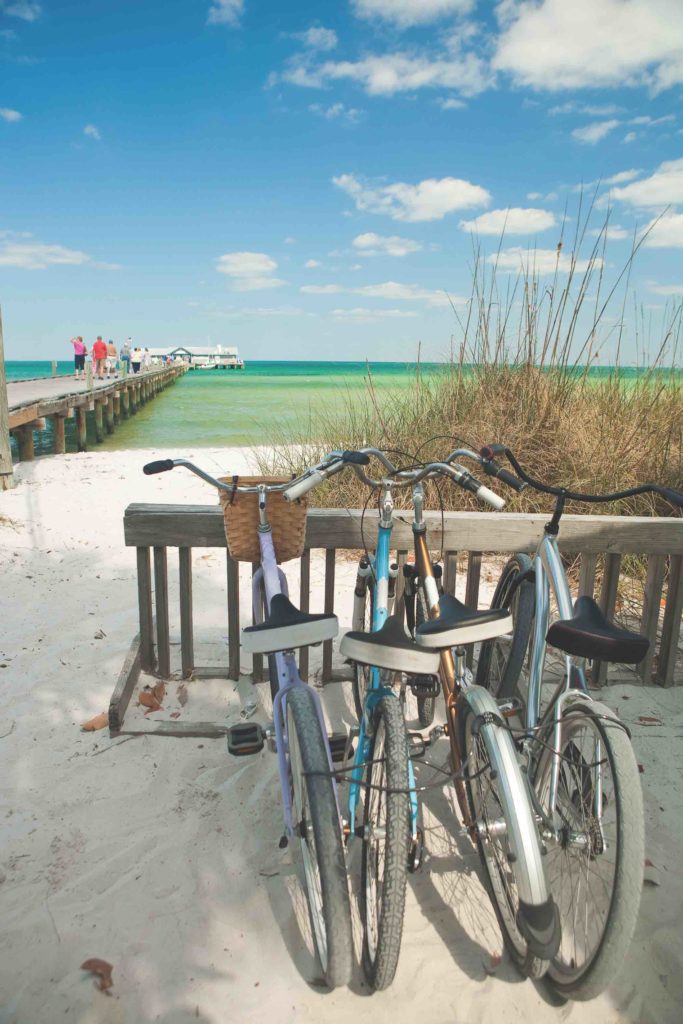 It's Spring Break season, but that doesn't mean your vacation needs to be a huge party. If you're looking to sneak away for a quiet weekend getaway, or enjoy a longer vacation with the whole family, Anna Maria Island has just what you're after.
Located along the beautiful Gulf Coast, Anna Maria Island has managed to retain an Old Florida feel, free from chain restaurants and tourist attractions. Instead of high-profile entertainment, a bike ride through the palm tree lined streets or a nap underneath a beach umbrella is on the agenda. Flip-flops and shorts are the style, and the trolley is the most-used mode of transportation. You can park your car and forget about it once you've reached this paradise.
Find a home away from home at the Mainsail Beach Inn, which offers comfortable two- or three-bedroom suites fit for the entire family. Each vacation rental features a gourmet kitchen with professional appliances, cookware and dishes; a washer and dryer; and everything you need for the beach. The coastal décor, with its seaside hues and hardwood flooring, gives a beach house feel. Step outside the front door and you're right at the entrance to Holmes Beach, perfect for splashing in the water, building a sand castle or searching for seashells.
Right across from Mainsail Beach Inn is the Beach Bistro. Offering beachfront dining, and even a room service menu exclusive to Mainsail Beach Inn guests, the service here is impeccable and the food luxuriously sinful. With "the best smoked salmon in the free world" on the menu, along with only the freshest grouper, domestic lamb and award-winning key lime pie – not to mention the best bar snack ever presented made with caramel, popcorn, bacon and mixed nuts – the Beach Bistro is a must-see while in Anna Maria Island. The locals you will meet here are quick to tell you about the place they call home and the gems that you should visit while in town.
Like Ginny and Jane E's, a quaint antique shop that also features a bakery, which is open for breakfast and lunch. Order an egg sandwich on a homemade bagel and a cup of coffee and pull up a chair among the shop's treasures to enjoy your meal. Or give The Sandbar Restaurant a try and check out the Sunday jazz brunch, which features a delicious island-style eggs benedict and live jazz music. Take a short drive to Brandenton to ride horses along the beach and into the waters of Palma Sola Bay, where you will be riding a horse that is actually swimming.
At the northern tip of Anna Maria Island is a secret known only to the locals: Bean Point beach. You will find it hiding behind a sign that simply states "public beach access" just down the street from City Pier (which is a great place to fish). This is a quiet and secluded beach that makes for a great place to go kayaking, swimming or just sitting in the sand and watching the sailboats pass. You can rent kayaks, stand-up paddleboards and other beach equipment at Beach Bums or head to City Pier for fishing bait. Make sure you do it before getting to Bean Point though, because once you get there, you won't want to leave.
Anna Maria Island hosts Easter activities like egg hunts at area restaurants and parades led by the Easter bunny himself. In May, one of the biggest events of the year takes place: Food and Wine on Pine. This year, save the date for May 3, when local chefs will showcase their best dishes made with fresh local ingredients and paired with wine and craft beer. It's not just about the food though. An art show featuring works by local artists and performances from talented musicians, combined with wandering actors portraying historical public figures from Anna Maria Island's past makes this event a must for any visitor.
Anna Maria Island was blessed with stretches of beautiful beaches and has made a name for itself as a small town with an Old Florida charm. So this spring, get away from it all for a little while and linger with the locals in this unique island town.