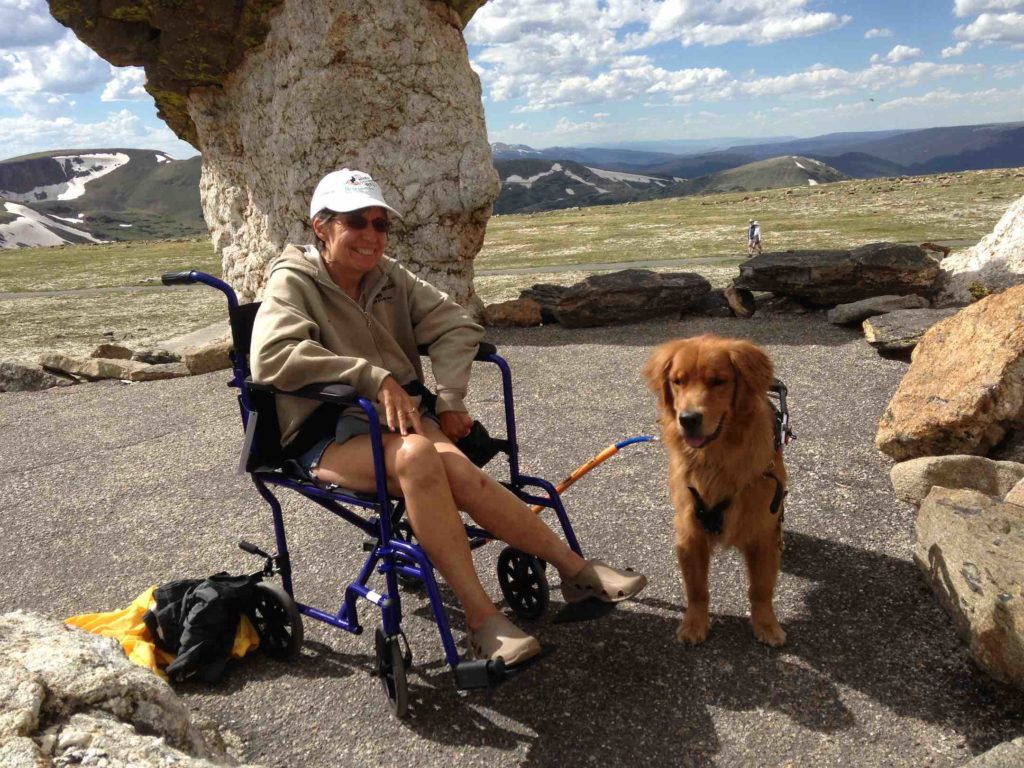 Little did Mike and Betsy Leon know 14 years ago when they formed Leon Engineering and invented the 1-Running-Dog Bike Tow Leash, that one day, their invention would become key-critical to their own family.
Shortly after the attacks on September 11, the Orlando couple, compelled to give back to society, took on the task of voluntarily raising service dogs to help those with vision and mobility disabilities. Their first dog, Tribute, was an unusually tall Labrador retriever with the normal amount of lab-puppy energy. An avid bike-rider, Mike found himself in a position with a hyper-energized pup and a daily five-mile bike commute to take his daughters to daycare. "We needed to exercise her so she would be calm before taking her to work or dinner – a socialization requirement for raising these special animals. We wanted the ideal case where she would sleep under the desk or table, rather than tipping it over. The exercise needed to be quick and satisfying to her to get to work by 7 a.m.," Mike says. Mike's epiphany was to combine the five-mile bike ride with the needed morning dog walk. But, a safe bike leash was needed for the endeavor.
"I put my engineering and product development experience to work and came up with a concept and built my first prototype. It worked so well, I continued trying it with other bikes, riders and dogs, perfecting it for 6.5 years without a scratch on a dog or rider, before putting it on the market via our website, biketowleash.com," Mike expresses.
The leash gives bikers and dogs, 20 to 185 pounds, the ability to exercise cohesively without the threat of injury to either the rider or the dog. It's produced locally, using materials from Florida and around the United States, and is assembled and shipped using local high school and college students (including the Leon's two daughters). The leash is the only American Pet Association approved safe dog-biking attachment.
As word of his invention spread, requests from around the world began to come in asking for adaptations to the leash from people with various mobility impairments. The leash, created in the need to facilitate the training of animals that will aid those with disabilities, has morphed into an aid itself. Mike's bike tow leash helps people worldwide, and locally, who are bound to a wheelchair. From slight alterations such as a shortening of the leash to keep the canine closer for better safety and control, to larger alterations, Mike and his team are meticulous in creating a leash that provides freedom to those who often obtain theirs from the help of a furry friend. Custom adaptors are made to mount to the standard BTL that even enable the dog to get fully behind its owner, allowing movement through narrow passageways.
"I created the wheelchair BTL for several reasons. First, the dog needs to walk, no matter your abilities. Second, I've witnessed many safety concerns with other products on the market, and knew I could come up with something safer. Lastly, my wife Betsy now has the need for these mobility devices for use with her service dog so we use the BTL daily as we come up with more and more applications for it," says Mike.
Whereas the standard BTL is a profitable entity, Mike and Betsy currently construct the custom products simply because they receive requests and know there is a need. Mike explains, "Special needs adaptors require a lot of customer communication and engineering time. (Often) these customers can't afford to pay the full engineered cost." The Leons aid the disabled community, driven by their primary goal to help as many dogs and owners work together as safely as they can.