With March Madness around the corner, guests at City Works Eatery & Pour House often ask how they can recreate our dishes at home. One dish we get asked for most is our signature buffalo chicken dip.
Not only is it delicious, but it's also gluten-free. With pulled buffalo chicken, bleu cheese cream, housemade giardiniera and corn tortilla chips, it's one of our most popular shareables. It's the perfect dish to serve if you're hosting a March Madness party.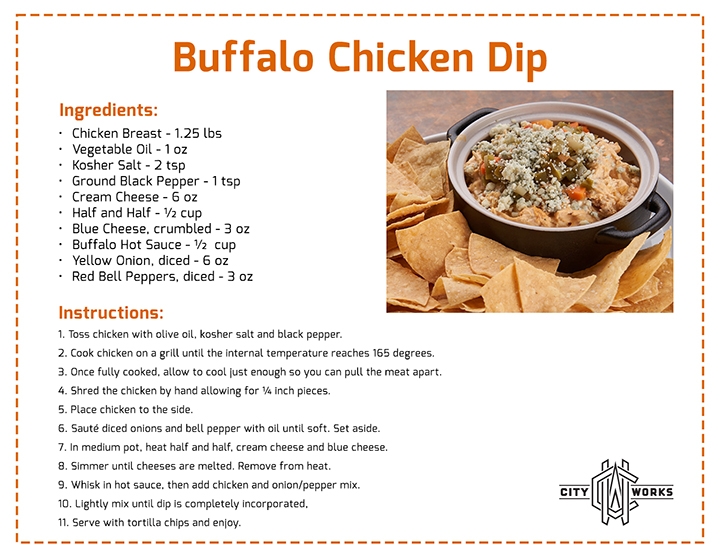 If you don't enjoy cooking, we are happy to do it for you! Visit and enjoy our brilliant twists on American classics, including Duck Nachos, Cheese Curds and Kung Pao Cauliflower.
Of course, game day is even more fun when you can get out of the house with family and friends. City Works offers the ultimate sports viewing experience with our high-definition TVs – including a video wall housing a 168-inch, high-definition video screen complemented by four 110-inch and 12 65-inch screens. Our energetic, friendly and upbeat vibe is perfect for cheering on your favorite team. We even have game day playlists to keep the action going during commercial breaks.
The viewing experience and exceptional food are just the beginning. We're also proud to offer craft cocktails, mocktails and 90+ beers on tap, with over 30 from local breweries.
Whether you want to host at home or dine with us, our event spaces and catering options can help alleviate the stress of hosting groups large and small. Our game day food is both delicious and perfect for a hungry crowd. When you have food this good, no matter how the game turns out, everybody wins!