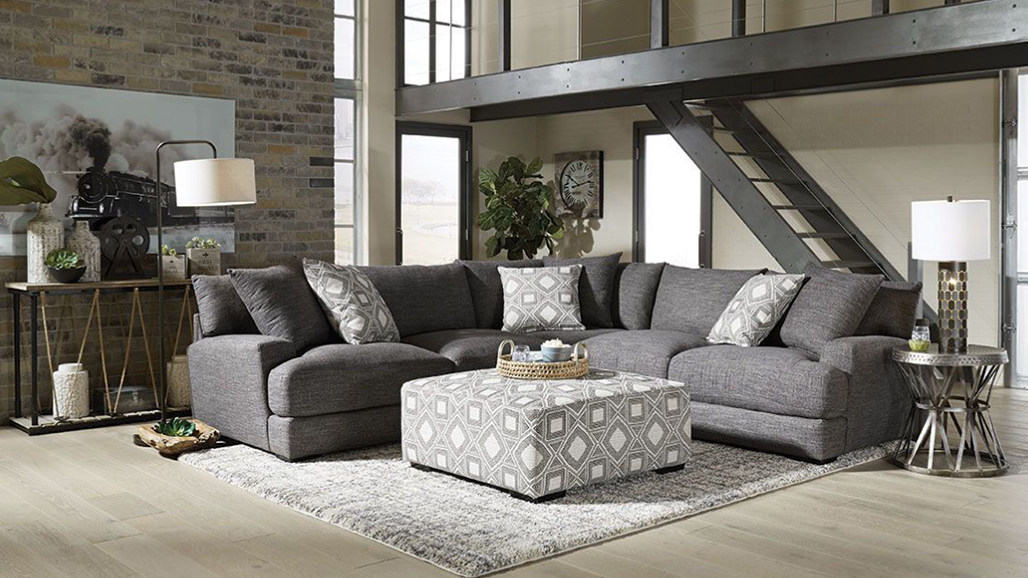 Whether downsizing as an empty nester or changing lifestyles, maximizing your space may be a challenge, but with a few decorating tips, you will feel right at home in no time. A smaller space likely means fewer rooms to clean and perhaps less yard work. But as with any life change, adjusting to a smaller space comes with time.
Downsizing does not have to cramp your style. A smaller space can still be both functional and stylish. As a lead designer with Badcock Home Furniture &more, here are expert tips to help you maximize your space.
Refreshing Your Living Room
The number one strategy for maximizing your living room, regardless of aesthetic, is to focus on the functionality of the most vital piece of furniture in the space: the sofa. Sectionals are the best sofa choice because they typically establish the functionality and aesthetic of a living room all on their own without additional pieces. Many rooms can no longer accommodate a sofa, a loveseat, or an accent chair. Modular sectionals provide the best option to build to the exact size of a room. Optional chaise lounges on either end give a space for newlyweds to cuddle or the kids to pile on. Buying a modular sectional to fit your space can allow a living room to double in seating capacity.
Detaching one end of a modular sectional can transform part of the sofa into a chaise, creating a separate chair or bench to be strategically positioned elsewhere in your home. The key is to open up a room and ensure guests feel included no matter which spot they choose to get comfortable. 
Hidden Storage
More storage is on every homeowners wishlist, but additional storage often requires sacrifices in design or the flow of a house. Luckily, some pieces provide a solution for both. Over the years, we have seen a traditional coffee table move aside in favor of a storage ottoman. These practical and stylish benches allow feet to elevate while storing blankets, board games, remotes and even toys. Whether searching for something long and slim or wide and round, storage ottomans serve as sleek, practical storage solutions in various sizes.
The Power of Add-ons
Every home hosts guests at some point, whether during a party with friends or the holidays with family. Many homes now utilize a kitchen island or an open counter area, making it easier to add three or four stools to accommodate larger gatherings. Counter-height stools that sit higher than a traditional dining chair is an additional option to seat guests around the kitchen island if needed.
Expanding Your Dining Room
Homeowners who are downsizing may move into a home that still comes with a dining room. For those that do not, a multi-purpose table with a "leaf" comes in handy. A table leaf is an additional piece that enables the table to expand. One leaf can accommodate two more people, while two can accommodate four more. It is good to be aware of this while shopping for a new dining table to ensure your table can expand.
A Couch Surfer's Dream
Finally, a timeless space saver is a sleeper sofa. These increased in popularity decades ago with the invention of the "foldable" mattress, but comfort did not exist. However, modern updates have seen the foam mattress and the hybrid foam and innerspring mattress become the norm for your pull-out sofa sleeper. A sleeper sofa offers a comfortable space to entertain guests while maximizing your space and making it easier to host last-minute, overnight guests.
Downsizing to a smaller home does not mean sacrificing style, storage, or the option to host guests. Smaller spaces require more innovative and intentional design, which can still provide an environment you, your family, and your friends will love.