Who doesn't love brunch? The time sipping mimosas with girlfriends energizes you for the week ahead. So when you have something to celebrate, whether it's a holiday or a milestone event, consider hosting a brunch party at home.

Top Five Tips
1. Set up a build-your-own bar for the beverages. Whether you go for a mimosa station with a variety of juices for your brunch or a Bloody Mary bar with a selection of liquors and accompaniments, you can set up a beverage station and forget about it. A coffee bar is also a nice option because it can be arranged for guests who want alcohol (just add Baileys or Kahlua) and for guests who don't (make several cream and sugar choices available).

2. Don't be afraid to serve premade goodies. Simply arrange a selection of croissants and pastries on a serving dish so guests can snack before the main event. Added carbs are always welcome at brunch.

3. Serve family style. Many hostesses do a buffet brunch, but serving the meal family style at the table creates a more intimate setting. Plan for one main dish, such as a French toast casserole or quiche, then include several sides, like a fruit and cheese plate and a potato hash with veggies, to give your guests variety.

No matter what you decide to serve or how you decide to serve it, a brunch party is the perfect way to celebrate any occasion.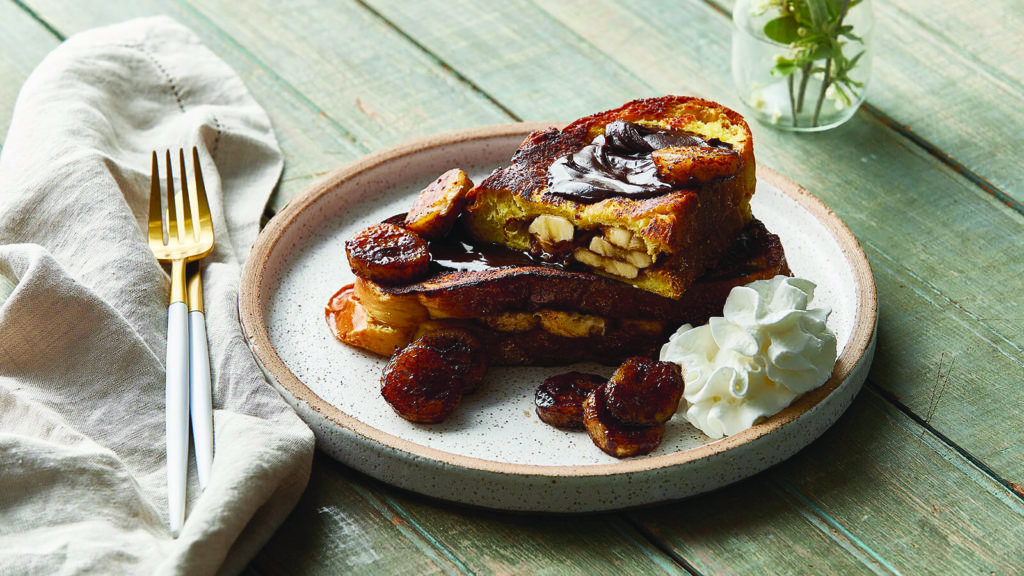 Banana Stuffed French Toast with Dark Chocolate
Brunch Recipe Courtesy of The Fresh Market

Ingredients:

1 loaf brioche bread, preferably a few days old
2 bananas, sliced
¼ teaspoon ground cinnamon
2 tablespoon brown sugar
3 large eggs
¾ cup milk
½ teaspoon vanilla
Kosher salt
2 tablespoon salted or unsalted butter
The Fresh Market Dark Chocolate Sauce
Whipped cream
Directions:
Begin your brunch recipe by cutting six, 1-inch slices of brioche bread (not using the ends), and carefully slice a pocket down the center, 3/4 of the way through the bread. Toss sliced bananas with cinnamon and brown sugar and stuff equal amounts inside each pocket. In a small bowl, whisk together eggs, milk, vanilla and a generous pinch of salt. Heat butter in a large skillet over medium heat. Dip each French toast piece in egg mixture, making sure both sides are moist. Place French toast in pan and cook until lightly browned on both sides. Remove from skillet and repeat with remaining pieces. (If you're cooking the French toast one at a time, place finished pieces in a preheated 200°F oven to keep warm.) Drizzle each piece with warmed chocolate sauce and a dollop of whipped cream. Serve for brunch immediately.