U.S. Veteran Profiles: Breaking Barriers
To serve in the Armed Forces is to sacrifice everything for one's country. Here are the inspiring stories of two U.S. veterans who broke through barriers.

To serve in the Armed Forces is to sacrifice everything for one's country. Here are the inspiring stories of two U.S. veterans who broke through barriers.
Service and Selflessness
During 22 years in the Army, Daila Espeut-Jones was known as a leader and trendsetter, reaching heights uncommon for women of color at the time.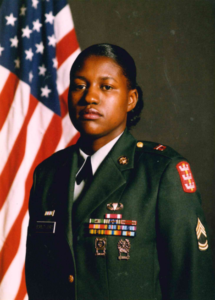 Born in Jamaica, Espeut-Jones grew up in a poor but loving family. She moved to the U.S. in 1979 when she was 15 years old to live with her mother and stepfather. The sexual abuse she suffered while living in Boston made her search for a way out. A woman at her first job sparked her interest in the military.
"It was fascinating how she used to talk about traveling the world and doing great things," she says. "I didn't know anything about the Army."
In 1982, Espeut-Jones completed basic training at Fort Dix in New Jersey then transferred to Fort Eustis in Virginia for advanced individual training. Six years at Fort Eustis, where she became a sergeant before turning 21, provided her with the "first turning point of being a woman" and cemented her place in the Army.
"Those six years gave me a time to grow, find myself, and make mistakes and try to correct them," she says.
Her first overseas assignment was in South Korea, where she managed an office of over 100 South Koreans who oversaw all vehicles, household goods and property coming into the country for soldiers. She eventually returned to the U.S. and served in the 18th Airborne Corps, 82nd Airborne Division, and Special Operations Command. Shortly after returning to Florida from Germany, the 9/11 terrorists attacks occurred and she was sent to Southwest Asia, where she was the only female on her team, before retiring in 2004.
"My proudest accomplishment over 22 years was being a 1st Sgt. You're put in charge of taking care of the lives of everyone who is assigned," she says. "I'm lucky to say that no one died under my leadership for the entire time that I was in the military."
Now, Espeut-Jones is committed to helping other veterans as the new president of the  Orlando's chapter of the Association of the United States Army. She encourages others to "think selflessly" and make a difference.
"The military shaped me to be a woman. It molded me," Espeut-Jones says. "I did bad and I did good, but I was able to make wise choices in order for me to be as successful as I am today."
An Unlikely Soldier
No one expected Paula Jones Edwards to join the military. A self-proclaimed girly girl who hated camping outdoors, she didn't fit the soldier type.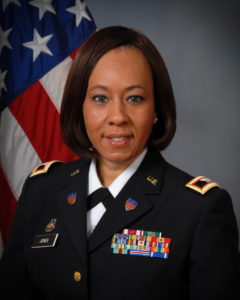 Born and raised in Chicago, Edwards grew up in a family of academics and professionals. This made her decision to enlist shocking to them. But since childhood, Edwards was always extremely disciplined and service-oriented. She was a First Class Girl Scout, and her love for her country ran deep.
"People asked my why I would want to join the military when I could do anything," she says. "I wanted to serve."
Despite her family's doubts, Edwards pursued her passion. She joined ROTC in college at 18, where her 30-person class eventually dwindled to six. She was commissioned two years later. Over the next 32 years, her commitment and dedication helped her rise to the rank of colonel. She spent the majority of her time in the Army's Public Affairs department, where she managed the careers and placement for other soldiers. She acted as assistant chief of staff of human resources/personnel, G1 for the 87th Army Reserve Support Command (East), battalion command of the 318th Public Affairs Operations Center, and company command of the Headquarters Company, 472nd Chemical Battalion.
"I got to see the highs and lows of what makes the Army run," Edwards says. "You give all the support to the soldiers who are out fighting."
Edwards' service took her to 42 states as well as countries like Iraq, Egypt, Germany, Hungary, Croatia and Kuwait. The relationships she formed along the way are what truly sustained her for over 30 years.
"You develop such good relationships with some people," Edwards says. "I did a lot of hard work and went a lot of places, but it was always about telling someone's story or volunteering to take on different tasks everywhere I went."
Like Espeut-Jones, Edwards faced personal struggles as a woman of color working in a field where she was a double minority. As she advanced in rank, there weren't as many people who looked like her. She was susceptible to inappropriate advances and harassment throughout her career.
"You just have to get used to being by yourself," Edwards says. "You can never appear weak."
It wasn't until after her retirement in 2015 that Edwards opened up about the harassment she faced. Through her involvement with the VA, she realized she was suffering from military sexual trauma. This diagnosis pushed her to practice self-care through therapy sessions and taking up yoga and tai chi.
"Some people are traumatized so badly they can't remember things," Edwards says. "I remember names, places and people. It's there and it's not going anywhere, but I couldn't let it stop me. If I had, I could not have gotten to the rank of colonel."
One of her proudest accomplishments is receiving the Legion of Merit medal, a prestigious award recognizing exceptionally meritorious conduct. As someone who was successful at surpassing expectations, Edwards recognized the importance of advocating for the underdog.
"I always saw myself championing for those who were underserved," she says. "I didn't get in just for education or travel – those are all things I could do without the Army. I got in to serve."
Thanking Our Veterans
Both Espeut-Jones and Edwards stress the importance of appreciating veterans not just on holidays but every other day of the year as well.
"Treat every day as if it was the Fourth of July – a celebration and recognition of what we have all done for this country," Espeut-Jones says.
It's as simple as giving a retired or active serviceperson a handshake, which can go a long way in giving back to those who have committed their lives to protecting us. Take a moment to find out how you can help veterans in your area or overseas. Whether you're donating your money, time or support, you are always impacting a life.
Comments