It's the most wonderful time of the year – pumpkin season! While your friends are consuming all things pumpkin spice, why not step up your pumpkin game by getting creative with the heart of the pumpkin: the seeds? 
Once you have removed the seeds from the pumpkin, submerge them in a large bowl of water and gently pull them from the pulp. Then place the seeds in a colander and rinse with cool water to remove any excess pulp. Arrange them in a single layer on a piece of parchment paper to dry then they're ready for cooking.
Here are our top five ways to use pumpkin seeds in everyday cooking.
1. Roast them for a healthy snack.
The simplest way to use the seeds would be to roast them with a bit of olive oil, salt and pepper. Once roasted, the seeds can be stored in a cool, dry and dark area for three to four months. Don't be afraid to get creative. Mix together some cinnamon and sugar and toss the seeds before roasting for a sweet treat. Take that one step further and mix in a bit of cayenne pepper for a sweet and spicy variety. The possibilities are endless.  
2. Garnish soups or salads.
Take those cinnamon sugar roasted pumpkin seeds (or the spicy variety if you would prefer) and top a savory bowl of butternut squash soup. They would also go great on your favorite salad to add a bit of crunch.
3. Make your own granola.
Roasted pumpkin seeds mixed with dried fruit, nuts and oats would make a great topping to your morning yogurt. Keep the fall theme going by adding some dried cranberries or cherries.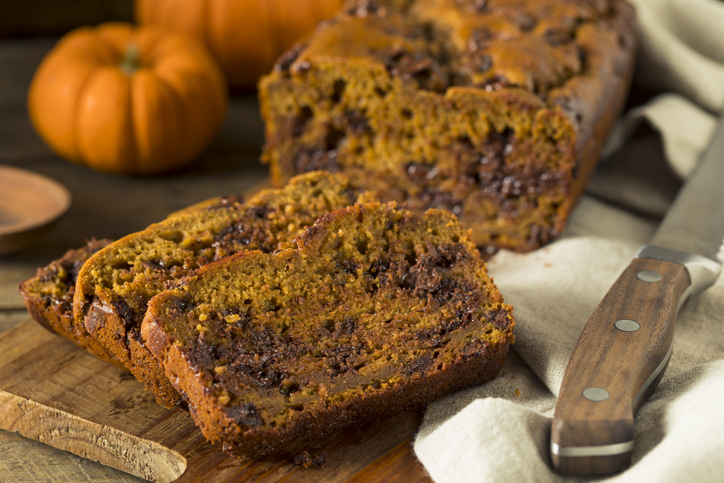 4. Add them to homemade pumpkin bread.
You can use both the pumpkin "guts" and the seeds here. Make your own pumpkin puree by blending the roasted flesh of the pumpkin (smaller baking pumpkins are best for this), and use it for your favorite pumpkin bread recipe. Then, top it with your pumpkin seeds for added texture. 
5. Make pesto sauce.
Substitute pumpkin seeds for nuts in your favorite pesto recipe and you have a unique twist on a classic.
Pumpkin seeds are a great source of healthy oils, magnesium and other nutrients. Next time you think about throwing them away, consider trying some of these delicious methods to add a healthy twist to some of your favorite fall recipes.