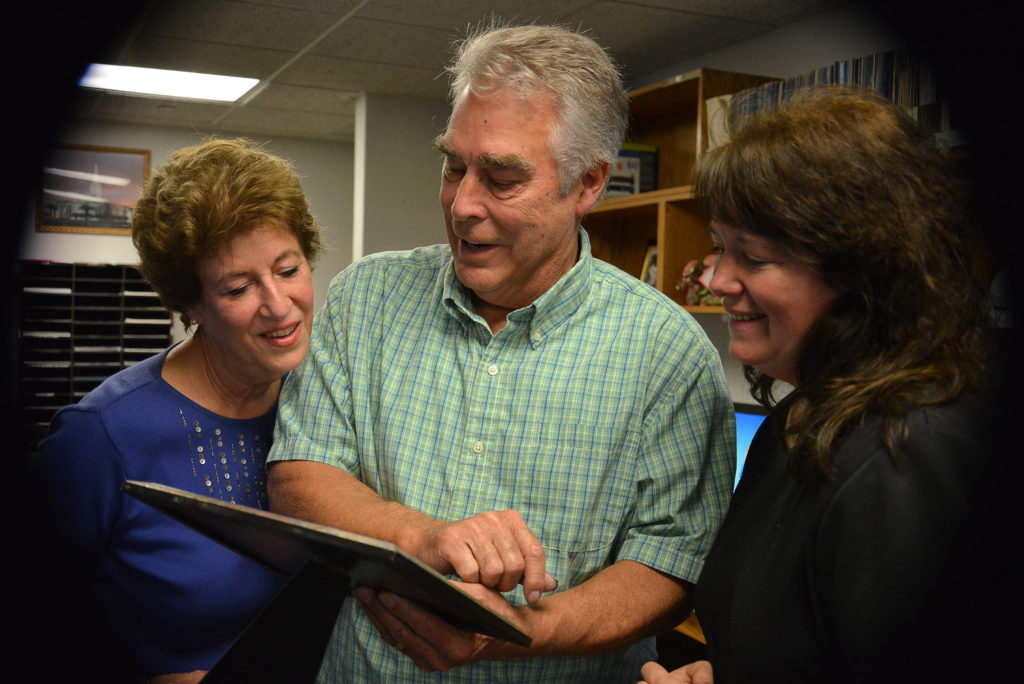 The Central Florida Genealogical Society (CFGS) put on its 17th Annual Family History Conference at The Church of Jesus Christ of Latter-day Saints recently, offering resources to make family genealogical searches easier. Mormons have long been known for engaging in genealogy research. It stems in part from a Mormon belief that deceased family can be baptized into the faith thus allowing families to find each other in the afterlife.
Incorporating five states — Florida, Arkansas, Georgia, Mississippi and Alabama — the conference has grown to be one of the largest of its kind on the East Coast. CFGS member Jim Greene says he's especially motivated by the idea that he is related to nearly everyone if he just looks hard enough. He advocates the idea of a global family tree.
Greene was able to identify himself on the global family tree at familysearch.org. and says he found that exhilarating. He believes that he is able to find a family relation between nearly everyone. "Within 10 generations, at least half of everyone in this room will find a [family] connection," Greene says.
While not everyone wants to find a way to be connected to everyone, some good resources for finding family history include: family Bibles, newspapers, U.S. censuses, birth and death certificates, tombstones, obituaries, church directories, genealogy websites, family history centers and public libraries.
Looking Into the Past
Marcelle Hobbs, a board member at the CFGS and Maitland resident, says her motivation for getting involved with the society was to learn more about her own family.
"My mom was from France, my dad was Armenian and I wanted to know how I fit in," she says. "Years ago, when I was a little girl, before my grandfather passed away, I asked him about his past. He mentioned that it was something that was too painful that he didn't want to talk about."
She found out that her grandfather and his brother were the only survivors in their family in an invasion of the Armenians by the Turks. Hobbs learned this information when she was just 10 years old and it stuck with her enough that she continued to learn about the massacre not from her history classes in school, but through her own research. "It's something I wanted to take upon myself to delve into. It's been a most rewarding and exciting experience," she says.
Resources Available in the Present
Hobbs says finding out more about your family tree can be as easy as typing a relative's name into Google. By doing this, she found out her grandfather was an M.D. in Chattanooga, Tennessee. "Statistics say four or five percent of the information is online."
If you don't know where to go from there, members of CFGS offer guidance by volunteering at the family center at The Church of Jesus Christ of Latter-day Saints located on Par Street. There are also family centers at other Central Florida church locations. Although the society is not affiliated with the church, the family center is open to the public and either a member of the church or one of the society's volunteers can help you navigate familysearch.org and ancestry.com. You can also look at microfilm and make copies of any information you find. Hobbs has used information gathered at these centers to fill in her family tree too.
Through her work with CFGS, Hobbs has not gotten all her questions answered, which is why continues to research her family. She commits time each week to the process in the hopes of finding out even more about who she is and what paths her family traced before her. She encourages others to do the same to open the door and find out who they are. "Studying genealogy helps you to understand you better," she says.
Sharing With the Future
During her search, Hobbs has collected family documents like birth and death certificates from her mother's relatives that date back centuries. The only thing is, they're written in French. To preserve these items for her children she has started translating them, and she keeps the fragile papers safe in plastic page protectors.
Through the years, Hobbs also learned a lot from her mother about her experiences in Paris during the World War I era. They took classes together to learn how to write memoirs too. In addition to writing historical fiction for the society, Hobbs also has documented stories of her own past with the help of her mother. She already has about 30 or 40 stories in her collection. For Hobbs, her writing has allowed her to "put bones on the skeletons" in a sense. And as a leader at CFGS, she will continue to preserve her past for future generations and help others to do the same.