Full Sail University graduate, Gary A. Rizzo, won an Academy Award (OSCAR) in the category of "Best Achievement in Sound Mixing" on Christopher Nolan's epic film, Dunkirk at the 90th Annual Academy Awards, which aired last night on ABC and was hosted by Jimmy Kimmel.
In total, 121 Full Sail Graduates were credited on 25 Nominated Motion Pictures across 19 Categories.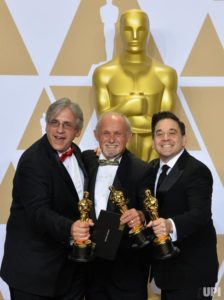 This was Gary's 2nd Academy Award win and his 5th nomination. Gary had previously won an Academy Award for "Best Sound" on the film Inception. Earlier during this awards season, Gary took home a 2018 BAFTA Award, as well as a Cinema Audio Society Award for sound mixing for his work on the same project. Gary was inducted into the Full Sail University Hall of Fame in 2009.
Check out ABC News to see Gary's powerful message to his children and his shout out to Full Sail University during his on stage acceptance speech last night (Rizzo begins at 00:23)