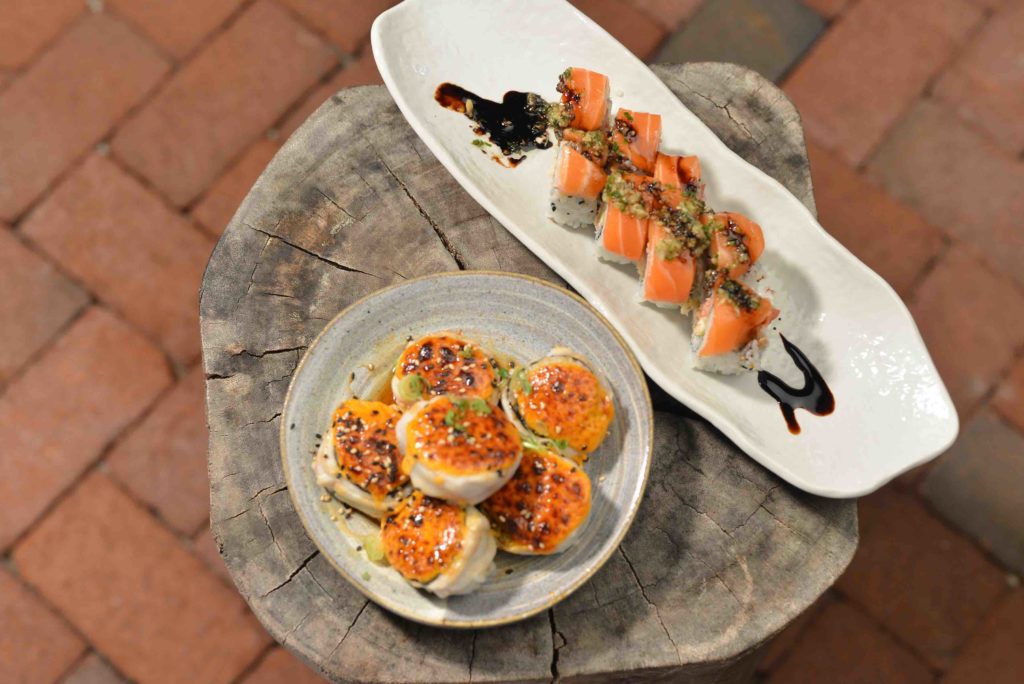 Welcome home to Dragonfly. This modern interpretation of a traditional Japanese izakaya (a casual place for after-work drinking and dining) offers a relaxing atmosphere centered on shared dishes meant to stimulate the senses.
Dragonfly's guests are greeted by authentic imported kabuki masks, two sake walls filled with over 25 varieties from around the world, a flowing Japanese fortune tree elegantly covered in omikuji (fortune-telling paper strips), and a stunning replica of a Japanese cherry tree in full bloom. Stately, rough-cut wood, salvaged from an 80-foot European walnut tree, makes for a truly inviting sushi bar, perfect for unwinding from a long day. The Cucumber Compulsion, a refreshing mix of house-infused cucumber vodka, St. Germaine elderflower liqueur and fresh lemon, or the famed Sake Sampler will help with that too.
"At Dragonfly, we treat our guests like family," says house manager Michael Sharp. "We are a modern izakaya, a place you can come after work to unwind, pass dishes around and relax."
Begin your culinary journey with the soft and sweet Amberjack, flash seared with olive oil and served carpaccio-style with ginger, scallions and an Italian-inspired yuzu-soy vinaigrette. Then put any childhood notions aside and indulge in Dragonfly's signature Brussels sprouts, served in a savory balsamic sauce and topped with parmesan cheese and bonito fish flakes sliced so thinly they appear to be dancing in the steam rising from this warm dish.
Or try Dragonfly's most popular vegetarian dish, Crispy Tofu, served with a rich red miso glaze and flavorful bok choy and carrots. The Crispy U-10 Shrimp is another crowd pleaser with large portions of shrimp fried to perfection and topped with candied walnuts, jalapeño, cilantro, sesame seeds and a creamy garlic and citrus mousseline sauce. The Miso Black Cod filet, served over a banana leaf and garnished with daikon oroshi and hajikami ginger, will enlighten both your taste buds and your spirits.
"Dragonfly strives to balance three essential elements: sensual, spiritual and savory," says Sharp. Dragonfly is located at Via Dellagio Way and Sand Lake Road and boasts one of Central Florida's only true robata grills, which uses the finest imported binchotan charcoals heated to an incredible 1,000 degrees.
"By grilling fresh produce and proteins this quickly, we are able to capture the essence of the food, which enables you to experience exceptionally pure and natural flavors and amplified taste," says Sharp. Try the tender chicken thigh, savory rib eye and hearty bacon-wrapped enoki mushrooms, all served on wooden skewers alongside a trio of spicy miso, citrusy yuzu and sweet and tangy tare sauces.
Extraordinary sushi, maki and specialty rolls are on the menu at Dragonfly. Its signature Dragonfly roll features tuna and albacore artfully wrapped in seasonal white fish and then baked with spicy and eel sauces. Topped with fresh scallions, this creamy roll is pure enchantment.
Dragonfly's Cobra Kai is a definite "must try". This Mediterranean-inspired roll perfectly blends Alaskan snow crab, red onion and tomato with crunchy tempura flakes and lemon slices before expertly it is topped with Loch Duart salmon and a garlic-shiso pesto and aged balsamic sauce.
For dessert try the Tangerine pot de Crème with house-made ladyfinger cookies bathing in a decadent orange gastrique sauce and topped with sweet rinds. The Yuzu Lime Pie with toasted meringue and fried mint is perfectly balanced and refreshing.
If you and your guests are feeling adventurous, be sure to order omakase, which roughly means, "I'll leave it to you," or "Trust the chef," in Japanese. After a long day of decision-making, let Dragonfly surprise and delight you with an artistic culinary performance you will never forget.
"Relax and leave everything to us," says Sharp.