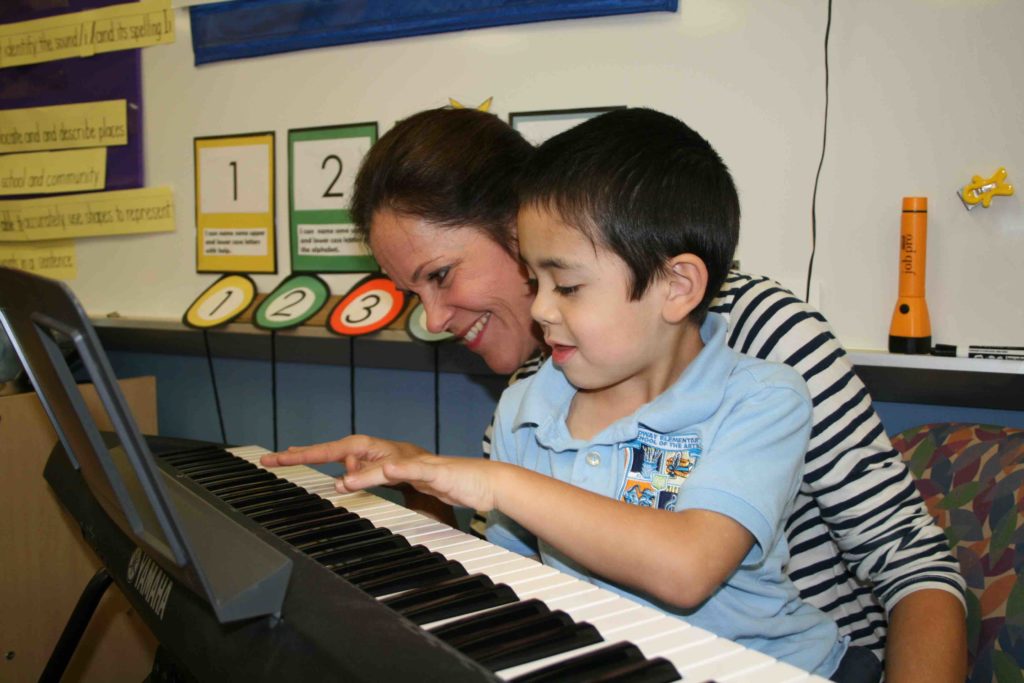 Orlando resident Dottie Clendenin discovered the joy of music as a child in small-town Georgia. "When I was five years old, my dad took me to performances by the Macon Symphony on Sundays, and that's when I fell in love with classical composers," she recalls. "Later on, our family spent many wonderful afternoons catching Broadway shows at the Macon Little Theater. Having these songs as the soundtrack to my childhood was an amazing opportunity."
Today, Clendenin is passionate about extending the same opportunity to the next generation. She's served more than 100 children and their parents over the last five years as a certified Musikgarten instructor at First Presbyterian Church of Orlando.
And as a longtime enthusiast and supporter of the Orlando Philharmonic Orchestra, she partners with the philharmonic's "Notes in Your Neighborhood" initiative (NIYN) – a free after-school music program for elementary students in Title 1 schools, including Rock Lake Elementary and Shingle Creek Elementary. Launched in 2010, NIYN pairs engaging musical activities with powerful mentor relationships. Each interactive lesson aims to build character and self-confidence, as well as instrumental skills.
"Introducing kids to orchestral music has many benefits emotionally, academically and socially," Clendenin explains. "Practicing an instrument builds discipline and allows them to express themselves in a healthy, positive way."
According to a 2007 study published in the Journal of Research in Music Education, students who participated in music programs scored significantly higher on English and math tests than their counterparts. Other studies have shown learning to play an instrument increases brain development, creativity and teamwork skills.
For Clendenin, all this adds up to a powerful case for supporting performing arts education. Her own artistic journey includes a year abroad at the London College of Music and various international solo recitals, including the Parish Church of St. Michael, Highgate, London, England and with the Seibu Group in Tokyo, Japan.
While a corporate career, marriage and motherhood shifted her priorities in the decades that followed, the music didn't stop for long. In 2012, she found her way back to the piano to record her first album "The Christmas Collection." She recently released her follow-up album "Cool Beans," an easy-listening collection of classics from the 1940s-1990s, including "Moon River," "Love Story" and "Over the Rainbow" as well as medleys from "Phantom of the Opera" and "Les Miserables."
"All of these songs have helped make me the person I am today," Clendenin explains. "Music plays a powerful role in forming our identities, and every child should have the opportunity to discover its joy and beauty for themselves."