Lobster Corn Dogs with Sweet Chili Aioli Courtesy of Executive Chef Mark Boor, Paddefish For the Corn Dogs Ingredients: 4 4-5 ounce lobster tails 2 cups all-purpose flour 2 cups corn meal Taste kosher salt Taste fresh ground pepper Directions: Remove the lobster tail meat from the shell and cut each tail into 4 equal […]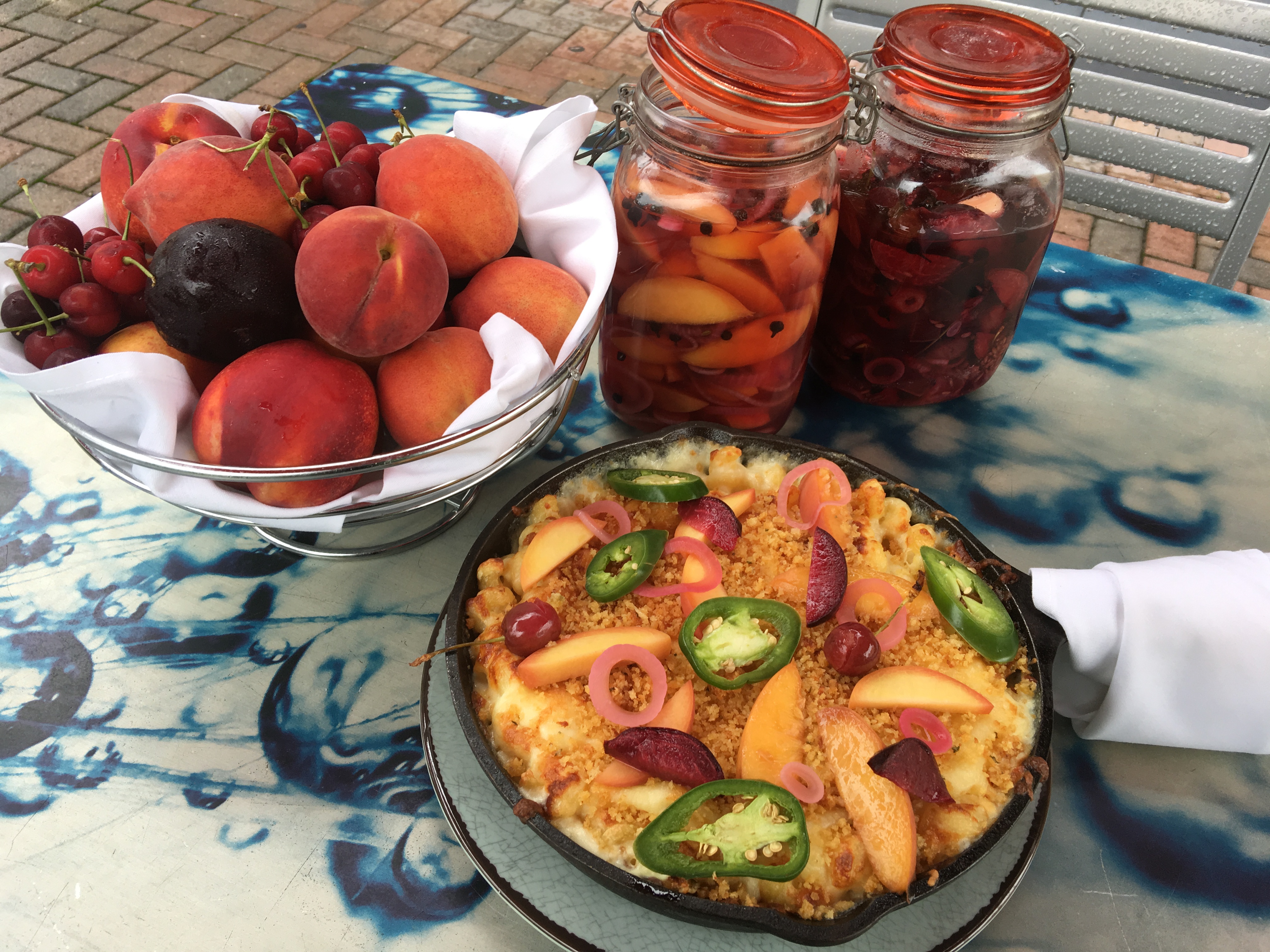 Lobster Corn Dogs with Sweet Chili Aioli
Courtesy of Executive Chef Mark Boor, Paddefish For the Corn Dogs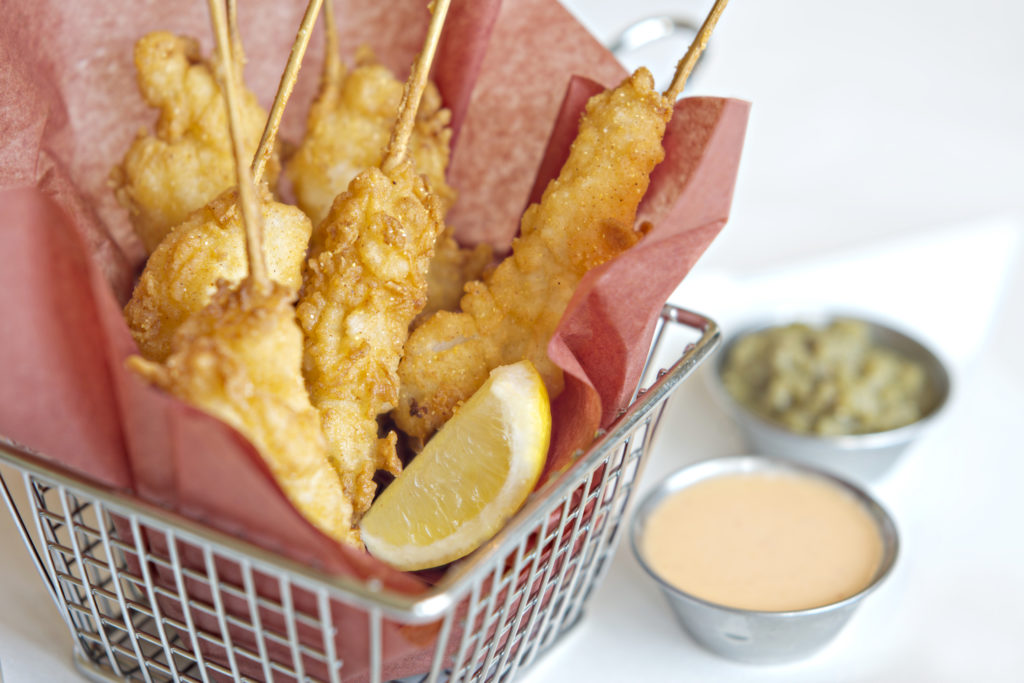 Ingredients:
4 4-5 ounce lobster tails

2 cups all-purpose flour
2 cups corn meal
Taste kosher salt
Taste fresh ground pepper
Directions:
Remove the lobster tail meat from the shell and cut each tail into 4 equal strips. Thread each strip of lobster onto the end of a six-inch wooden skewer. Repeat to prepare 16 skewers and hold under refrigeration. Season the flour and corn meal aggressively with salt and pepper. Hold each separately at room temperature.
For the Aioli
Ingredients:
1 cup mayonnaise

¾ cup sweet chili sauce
1 tablespoon sriracha sauce
Taste kosher salt
Taste fresh ground pepper
Directions:
Whisk all ingredients together in a mixing bowl until combined. Season with salt and pepper and store in the refrigerator.
Finish the Dish
Ingredients:
16 lobster skewers

2 cups seasoned flour
2 cups seasoned corn meal
1½ cups buttermilk
Vegetable oil
1 lemon, cut into wedges
Directions:
Heat oil in tabletop fryer to 350 degrees Fahrenheit following device instructions. Meanwhile, dredge lobster skewers in seasoned four. Shake off excess flour. Dip floured lobster skewers into buttermilk. Let excess buttermilk drip off. Dredge lobster skewers in seasoned cornmeal and shake off excess breading. Working in small batches, fry your corn dogs in pre-heated oil for approximately 3 minutes until crispy, golden brown and cooked through. Drain on paper towels and hold warm until ready to serve. Serve your corn dogs with a dish of the sweet chili dipping sauce and wedges of lemon.  
Sticky Florida Pork Ribs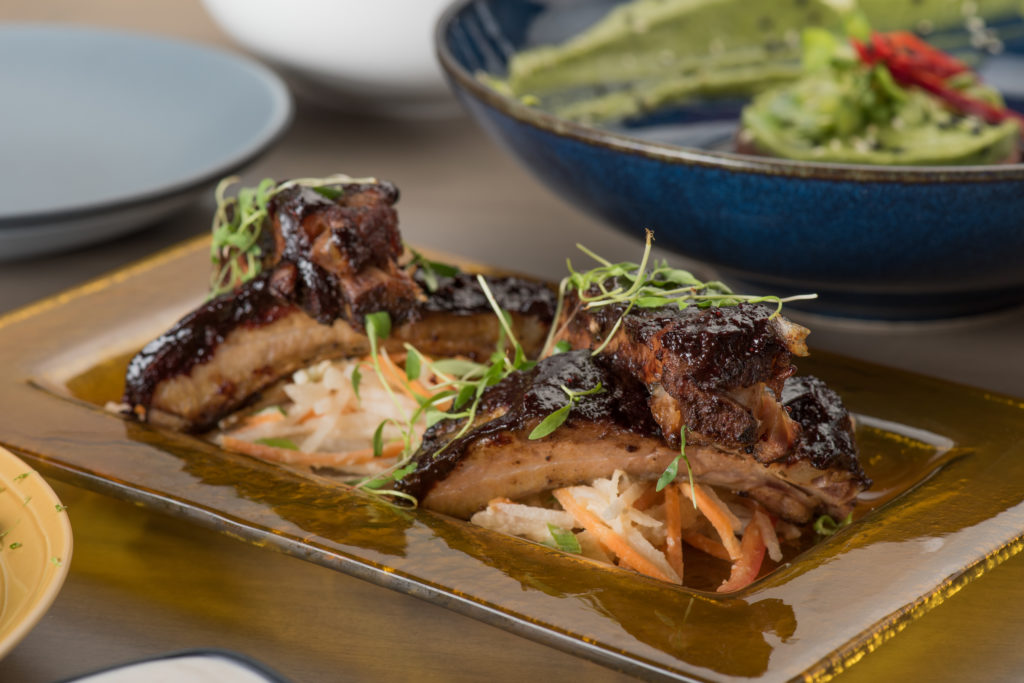 For the Blueberry Sauce
Ingredients:
2 pounds blueberries

½ cup red wine vinegar
½ cup brown sugar
3 each star anise
2 each cinnamon stick
8 each cardamom pods
2 teaspoon salt
½ each Serrano pepper
Directions:
Place blueberries, vinegar, brown sugar, salt and pepper in pot. Make sachet of star anise, cinnamon stick and cardamom pods. Bring pot to a simmer and cook 15 minutes. Remove sachet and blend.
For the Ribs
Ingredients:
8 pounds St. Louis pork ribs

1 cup brown sugar
1/8 cup salt
1/8 cup cumin
1/8 cup coriander
1/8 cup smoked paprika
1/8 cup granulated garlic
1/8 cup onion powder
1/8 cup black pepper
Directions:
Combine brown sugar, salt, cumin, coriander, smoked paprika, granulated garlic, onion powder and black pepper in a bowl. Mix spice rub and dry rub on front and back of ribs. Let sit overnight in refrigerator. Smoke at 165 degrees Fahrenheit for 6-8 hours, or until tender.
Finish the Dish
Ingredients:
20 pieces prepped pork ribs

5 ounces blueberry sauce
8 ounces jicama slaw
¼ cup micro cilantro
Directions:
Crisp ribs in oven and toss with sauce. Place two piles of slaw on a plate. Top each pile with two ribs. Top with micro cilantro.
Gruyere Mac and Cheese with Pickled Peaches & Jalapenos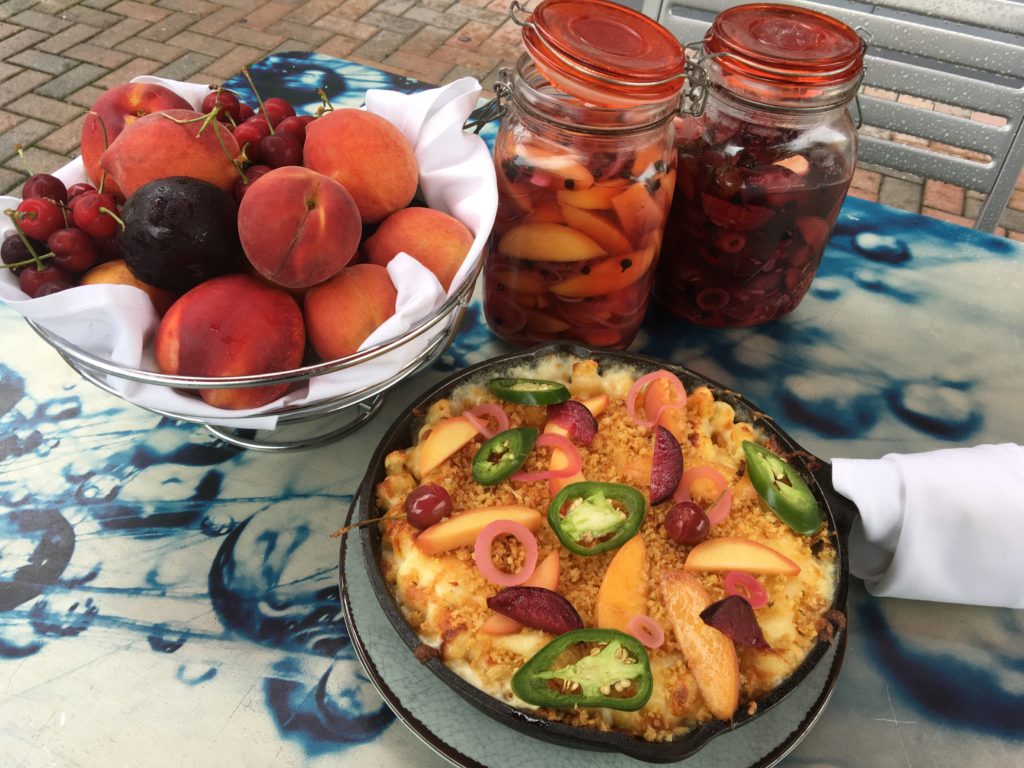 Ingredients:
4 ounces Gruyere cheese (shredded)

2 ounces Parmesan cheese (shredded)
4 ounces mozzarella (shredded)
1 quart heavy cream
4 tablespoons butter
2 tablespoons onion (brunoise)
1 teaspoon garlic (minced)
4 ounces white wine (chardonnay)
2 ounces flour
1 pound cavatappi pasta (or your favorite)
4 ounces panko breadcrumbs
2 ounces garlic butter
Directions:
Melt butter in a saucepot then add onions and garlic. Stir until cooked. Add flour and stir until incorporated. Add wine then cream and bring to a boil. Stir constantly, not letting it stick to the bottom of the pan. Once thickened, add Gruyere and Parmesan cheese, and season with salt and pepper. Boil pasta according to package directions. For the best mac and cheese, slightly undercook the pasta or cook it al dente. Preheat oven to 350 degrees. Toss the sauce and pasta together then top with mozzarella. Put mixture into a baking pan. Melt the garlic butter in a pan, toss in the breadcrumbs then top the mac and cheese with the breadcrumb mixture. Bake until the top is golden brown, 15-20 minutes. Once the cheese is bubbling and browned, garnish it with sliced pickled peaches and pickled red onion. Add some fresh jalapenos to spice it up.
Orange Surfboard
Courtesy of Rikki Tiki Tavern at the Cocoa Beach Pier
Ingredients:
2 oz. orange vodka

1 oz. coconut rum

1 oz. Triple Sec

3 oz. orange juice

Splash of cranberry juice
Directions:
Combine all ingredients with ice in a double-old-fashioned glass. Garnish with an orange slice.
Comments