Photo courtesy of UCF Athletics
The astonishing ascent of UCF Athletics reached another level on Sunday as the men's basketball program received its first at-large bid into the NCAA Tournament in program history. They have earned their berth into the field as conference champions on four other occasions, last doing so in 2005.
The Knights will be the 9 seed, another program record, in the East region. They will face the 8-seeded VCU Rams in the first round on Friday night at approximately 9:40 p.m. on CBS. A win over VCU would be another first in program history. The Knights, who have never been seeded higher than #14, are 0-4 all-time in the tournament.
A win would also give the Knights the first legitimate opportunity to slip on Cinderella's slipper, as the opponent in the second round would most likely be the tournament's top overall seed, the Duke Blue Devils. With enough storylines for a feature film, the potential for that match-up on Sunday would earn the most attention the tournament will receive all weekend long.
Dawkins vs. Krzyzewski
UCF head coach, Johnny Dawkins, played for current Duke head coach Mike Krzyzewski's first Final Four team at Duke in 1986. Dawkins' son, Aubrey, is currently a redshirt junior guard for the Knights.
Father vs. Son
Duke Athletic Director, Kevin White, is the father of current UCF Athletic Director, Danny White. Kevin's other son, Mike, is the head coach of the 10 seed in the West Region, the Florida Gators.
Tacko vs. Zion
The tournament's biggest player – UCF's 7'6'', Tacko Fall, would face the tournament's biggest name – Duke freshman phenom, Zion Williamson.
The Central Florida area will be well represented throughout the tournament regardless of the outcome for UCF. The area has a long list of talented local products who will now take center stage for their respective college programs.
| | | | |
| --- | --- | --- | --- |
| Player | College | High School | First Round matchup |
| RJ Barrett | #1 Duke | Monte Verde | vs. NC Central/North Dakota State – Fri. 7:10PM |
| BJ Taylor | #9 UCF | Boone | vs. VCU – Fri. 9:40PM |
| Tacko Fall | #9 UCF | Liberty Christian | vs. VCU – Fri. 9:40PM |
| Chad Brown | #9 UCF | Deltona | vs. VCU – Fri. 9:40PM |
| Kerry Blackshear Jr. | #4 Virginia Tech | Evans | vs. Saint Louis – Fri. 9:57PM |
| Fletcher Magee | #7 Wofford | The First Academy | vs. Seton Hall – Thu. 9:40PM |
| Nassir Little | #1 North Carolina | Orlando Christian Prep | vs. Iona – Fri. 9:20PM |
| Emmitt Williams | #3 LSU | Oak Ridge | vs. Yale – Thu. 12:40PM |
| Ronaldo Segu | #6 Buffalo | Orlando Christian Prep | vs. ASU/SJU – Fri. 4PM |
| Colin Castleton | #2 Michigan | Father Lopez | vs. Montana – Thu. 9:20PM |
| David Efianayi | #16 Gardner Webb | Ocoee | vs. Virginia – Fri. 3:10PM |
| Brandon Miller | #16 Gardner Webb | Orlando Christian Prep | vs. Virginia – Fri. 3:10PM |
---
JOIN OUR BRACKET CHALLENGE: Central Florida Lifestyle is hosting a Bracket Challenge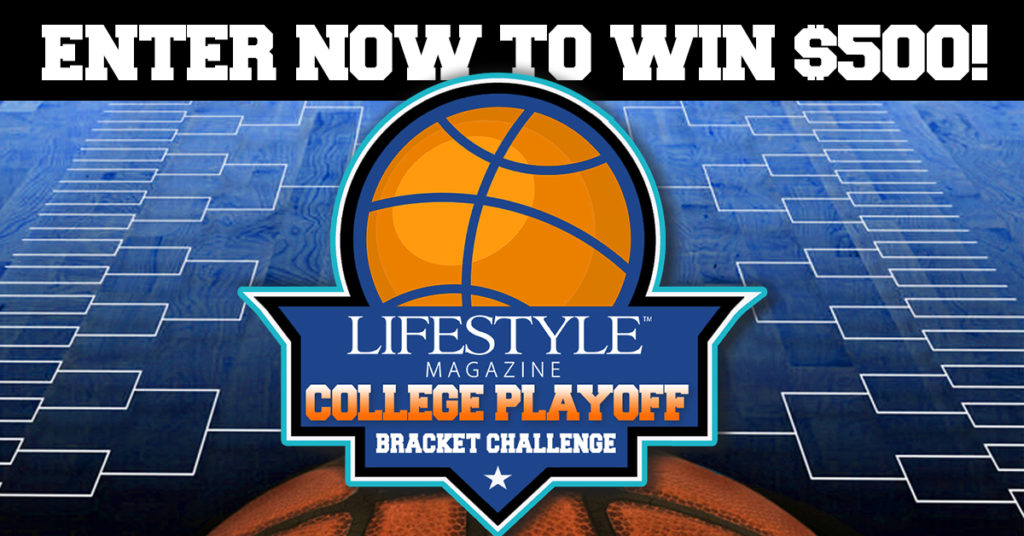 -FREE Entry
-$500 first place
-$250 2nd place
-$100 3rd place
JOIN NOW: https://lifestylemagazine.pooltracker.com/tourney/