25jun10:00 am2:00 pmThe Modiste MarketThe Modiste Market A Bridgerton-Themed Market
Event Details
at Lakeside Inn
The Modiste Market A Bridgerton-Themed Market
The Modiste Market Description:
Get ready to step into the enchanting world of Bridgerton as the vibrant city of Mount Dora hosts The Modiste Market this Sunday from 10 a.m. to 2 p.m. at the historic Lakeside Inn. Organized in collaboration with Orange Blossom Market Co., this indoor market promises a delightful experience for attendees and showcases the creativity and craftsmanship of 50 talented vendors.
Immerse yourself in the elegance and charm of the regency era while enjoying the modern pop instrumental tunes that will fill the air. The market will be adorned with vibrant flowers, and attendees are encouraged to dress in regency tea party attire to fully embrace the theme;..infused event with a fun-filled brunch experience, ensuring that guests have a truly memorable time.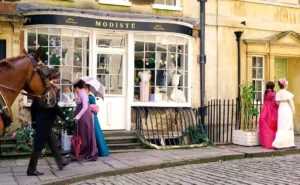 Event Details: 
Date: Sunday, June 25, 2023
Time: 10am-2pm
Location: 100 Alexander Street | Downtown Mount Dora
Visit links for more information: https://lakeandsumterstyle.com/bridgerton-themed-market-to-bring-regency-flair-to-mount-dora-on-sunday/?fbclid=IwAR2hD4MTlucjHMpmKSzxF9F6hi5MWwbEqGPYqlDtimQHmZXPvL52FPBA5JE_aem_th_Ad-CMJM_yqw7LhQx76rQdRccY2kKJIiqzB5T-lmdcs-rGauKJI-yC71X8rJOb9__7ks
https://www.facebook.com/events/s/the-modiste-market-at-lakeside/1344415866128492/
Time

(Sunday) 10:00 am - 2:00 pm
Location

Downtown Mount Dora

100 Alexander Street
Organizer
Orange Blossom Market Co.Sheena@orangeblossommarketco.com