AdventHealth proudly presents the Third Annual AdventHealth Golf Classic taking place on Friday, April 26, 2019 at ChampionsGate Golf Club. This elite tournament is hosted at Central Florida's premier 18-hole championship golf courses designed by accomplished architect and the winner of two majors, Greg Norman.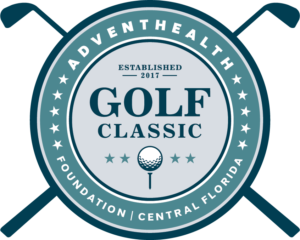 Join over 250 community partners and AdventHealth leaders in coming together for one purpose: to bring hope and healing to our community. Every swing, putt and step on the fairway can impact local mothers, fathers, children and friends through their health care journey.
Registration begins at 7:00 a.m. Upon arrival you will experience an executive gifting opportunity along with complimentary breakfast. The golfers will proceed with a shotgun start beginning at 8:30 a.m. Each team will receive a golf cart along with food and beverages throughout the course. The awards luncheon will start at 2:00 p.m. where attendees will experience live entertainment, donation draw opportunities and an awards presentation.
AdventHealth Foundation Central Florida events are a time for celebrating how one common purpose can bring people together to help heal and nourish the mind, body, and spirit. You're invited to join the celebration in transforming the landscape of health care to focus on whole-person wellness. AdventHealth events are perfect for friends and families, influential business leaders and companies looking to give back to people in need of hope and healing.
Your participation provides life-saving support to an area of your choice at AdventHealth. Many give to a cause where they personally or their family members have been affected. If you're not sure where you would like to donate, look at the areas to support on the tournament's sponsorship form. All sponsorship and individual golf slots must be received by March 20, 2019.
AdventHealth Foundation Central Florida, formerly Florida Hospital Foundation, supports programs and services at AdventHealth. Generosity has been part of the organization's legacy since it was founded in 1908. Partnerships allow you to experience how generosity heals at AdventHealth. AdventHealth is a faith-based institution focused on providing whole person care. It is one of the largest not-for-profit hospitals in the country, caring for over two million patient visits per year. This is more than any other hospital in the country, according to the American Hospital Association.
To schedule your tee-time and register for this event, please complete a sponsorship brochure at AdventHealth.com/Golf  
For more information, contact Carla Biermann at 407-303-9574 or Carla.Biermann@AdventHealth.com