Abrupt & Confusing
The tumultuous tenure of Jim McElwain as head football coach at the University of Florida came to an abrupt, yet predictable ending on Sunday.
University Athletic Director, Scott Stricklin, made the official announcement at a Sunday evening press conference after what was a strange and confusing day in Gainesville. Then again, strange and confusing pretty well sums up the entire McElwain era.
The strange, confusing tale has a bit of a "choose your own adventure" feel to it. If you want to support McElwain, you could point to the fact that his 22-12 record at Florida wasn't a good enough reason for this decision at this time. You could also point out Florida's consecutive SEC East titles in 2015 & 2016, something no other football coach in SEC history has accomplished in their first two seasons. You could further your support by pointing out that McElwain did not have the use of 10 scholarship players this season, after a university matter that remains unsolved to this day severely depleted a roster that was already a work in progress. And lastly, you could argue that McElwain was simply never given a fair shake at Florida, after he accepted the job from former Florida Athletic Director Jeremy Foley, who retired in the summer of 2016 and was replaced by the aforementioned Stricklin.
Those appear to be all valid points that could have earned McElwain at least one more season to try and stabilize institutional control, something that is outlined in every coaches job description but has been seemingly absent from the Gators football program since the days of Steve Spurrier.
[metaslider id=14142]
Engulfed In Controversy
If you want to support the administration's decision, you could choose from a slew of incidents in which McElwain brought national attention to the program, often times for all of the wrong reasons.
The incidents go back as far as his very first day on the job, where at his opening press conference McElwain declared he would not only fix the Gators recent offensive woes, but that it would be so simple he believed he could win games with his dog, Claribelle, playing quarterback. Just when it appeared McElwain had finally found a quarterback he didn't have to keep on a leash, a selfish decision by then Heisman trophy candidate, Will Grier, led to a six-game suspension for performance-enhancing drugs. The lapse in judgement by Griere was apparently egregious enough in McElwain's eyes to allow Grier to leave the Florida program after serving the suspension. This season, Grier is back in college football and leads the nation in touchdown passes at West Virginia University while Florida continues to try and fill the void left behind at the position.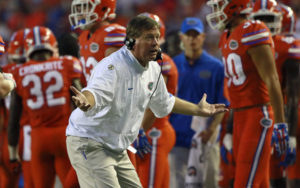 An on-field incident involving running back Kelvin Taylor occurred early in the 2015 season, in which McElwain was video taped from a few rows up in the crowd berating the star back for simply not doing what he was supposed to on a series of plays. Video of the incident went viral, and the nation-wide reaction seemingly changed McElwain's sideline demeanor for the remainder of his tenure, even though Taylor himself later supported his coach's actions and summed the whole thing up as a teachable moment for himself.
McElwain once again found himself the butt of jokes just prior to the 2017 season, when a viral photo of a nude man laying across a dead shark on a boat barred such a resemblance to him, he had to release an official statement denying any involvement with the shark. Although it is highly unlikely the shark photo factored into the administrations decision to let McElwain go on the heels of a 42-7 blowout loss to the Georgia Bulldogs this past Saturday, it may perhaps shed light into just how unmotivated he seemed to be to continue to hold such a prominent position within college football.
Death Threats the Final Straw?
The most recent and perhaps most influential incident that ultimately lead to this "mutual parting of ways" between McElwain and Florida came just one week ago, where at his regularly scheduled Monday morning press conference he hinted that death threats to families and players in college football were becoming a very serious issue. When school officials from Florida further pressed him for more information and asked if any specific threats had been levied toward members of his own family or players, he was unable to provide any further information, prompting the school to release the following statement.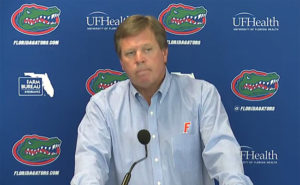 "The University Athletic Association takes the safety of our student-athletes, coaches, staff and families very seriously. Our administration met with Coach McElwain this afternoon and he offered no additional details."
Once again in the national spotlight for all the wrong reasons, McElwain and the Gators limped into Jacksonville and were destroyed by a Georgia team who appears to have returned to national prominence despite coaching changes, in roughly half of the time since McElwain first arrived in Gainesville just two and a half seasons ago. The decision to part ways halfway through a current season explains a lot about the breakdown in communication between McElwain and Florida administrators. A lot like a bad marriage, the two sides were very rarely on the same page, and at times used one another to make excuses as to why things were the way they were.
Now it's up to Florida's administration to prove itself. Former Defensive coordinator, Randy Shannon, will serve as the interim head coach for the remainder of the 2017 season, while the search for the next head coach will begin immediately.
Moving Forward
An early list of candidates is headlined by none other than Central Florida's Scott Frost, whose Golden Knights are torching school records week in and week out, are nationally ranked for the first time in years, and lead the nation in scoring offense. The young, energetic X' and O's genius would do more than enough to appease the 90,000+ seat "Swamp" full of hungry Gators who are starving for success, and scoring.
The Florida Gators travel to Columbia, Missouri on Saturday for a Noon ET kickoff against the Missouri Tigers.