The Bishop Moore Hornets Men's lacrosse team is looking to achieve their goals and exceed the expectations surrounding them this season. They'll do so "one day at a time" according to head coach, Reed Reynolds.
That, of course, will be easier said than done. The high expectations entering Tuesday's season opener versus the Lake Mary Rams were well earned. The Hornets finished last season as the state runner-up and return a majority of the talent that came up just short in the state championship game versus Jupiter High School.
At their core, the Hornets are a senior-laden team who have a long history of playing together. Some relationships date back as far as childhood participating in Orlando-area youth leagues.
Earlier this month three members of that core, senior attackman, Jake Kiefer (Utah), senior midfielder, Brett Heneghen (Wingate) and senior defenseman, Jackson Canfield (Vermont), inked National Letters of Intent to take their talents to the collegiate level.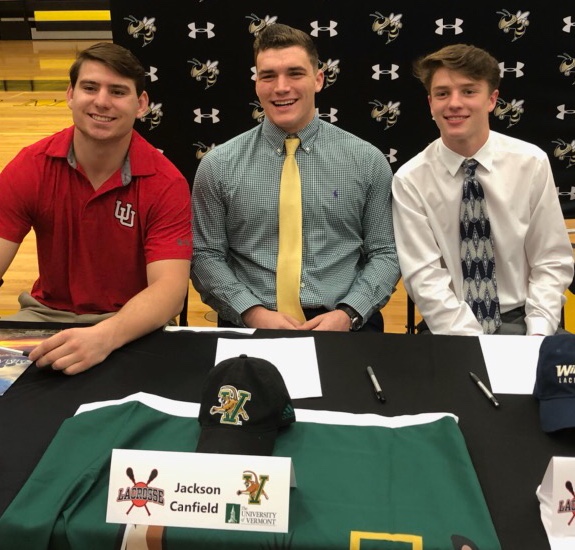 Those three also combined for five goals and two assists in Tuesday's 12-4 win over the Rams. Kiefer lead the team with four goals. He also added an assist to sophomore attackman, R.J. Sanfilippo, who added a hat trick of his own.
The Hornets were also brilliant defensively. They allowed just nine shots on goal and forcing 22 turnovers. Bishop Moore also converted on one of three extra man opportunities, as the Rams were whistled for four penalties, to the Hornets one.
The Hornets will return to action Friday night as they welcome Oxbridge Academy of Palm Beaches to College Park. They're looking to avenge one of their only regular-season losses from a year ago. Game time is set for 7:30PM.
Central Florida Lifestyle Sports will be following Bishop Moore lacrosse all throughout the 2019 season. If you have a story or would like in-depth coverage of your Central Florida high school sporting event, please contact Nick Moore at nick@karstmediagroup.com.
Photo credit: Dawn Kiefer