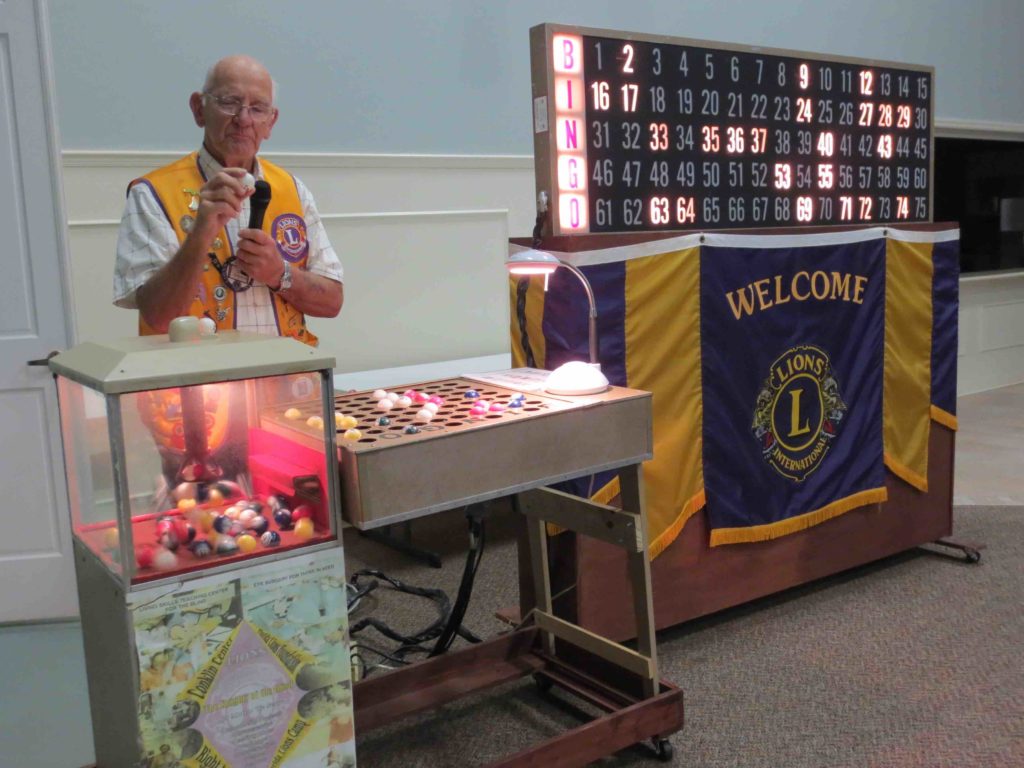 It is 5:30 p.m. on Thursday and cars are arriving in the parking lot of St. Albans Church. People get out and head to the door of the activities room. Early bird specials don't start until 6:45 p.m. but most people don't want to miss them. The yellow and purple vests identify the members of the Lions Club seated at the front table greeting guests and preparing to sell them their paper cards. There is a social ambience in the room already.
"Many of the players are regulars and know each other," says Charles Sheaves, who is the first member they see. Unlike many of the larger weekly games, this is a social outing that also gives players a chance to win cash prizes including several jackpots. But there are other benefits besides the prizes that are not offered by other bingos. Since the Lions Club is a service organization made up 100% of volunteers, proceeds from the bingo games and other fundraisers offer more to the community.
Anne Fernandez plays every week. She's been playing bingo for a long time and has no intention of stopping. As Cindy Spiro, a Lion volunteer, was calling numbers one evening, she noticed that Fernandez was watching the board before she covered the numbers. She was playing by sight, not by sound. "I suffered from a severe hearing loss during my life," says Fernandez. "I went to one place to buy hearing aids but they were too expensive for me on my limited income. My hearing was getting progressively worse so I watch the board and when a number lights up I cover it on my cards."
Spiro brought this to the attention of Sheaves, who was the chairman of the bingo committee at the time. "I know how difficult it can be to try to compensate," says Spiro, who also has a hearing impairment.
During the next meeting, Sheaves was reading the bingo report. He explained Fernandez' situation and recommended that the club provide funds to have her assessed by an audiologist. As a result, Fernandez received the services necessary to have hearing aids prescribed. Now she is able to not only hear the numbers being called, she's able to communicate with other players, friends and most importantly her family.
"The Lions Club is usually known for providing glasses and eye exams," says Pat Stamm, a Lions Club member. "But our scope of service goes well beyond what most people know." Stamm collects hygiene items and snack foods for American military troops abroad. "Many of the bingo players bring things to donate to the boxes I prepare and ship," she says. "We have a friendly mutual relationship and as a result, everybody wins."