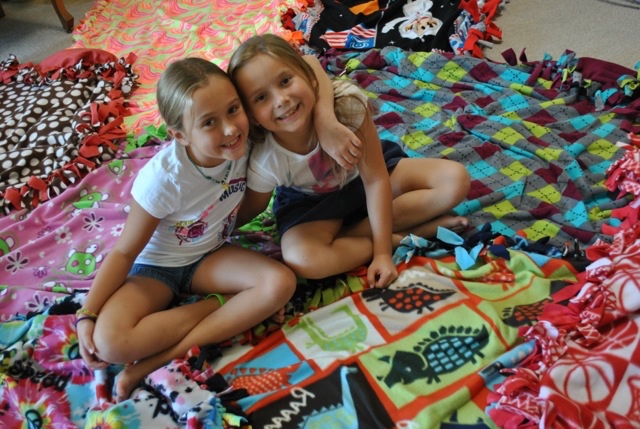 Any parent knows that every child could use a good snuggle. But it seems kids know this too. Two children from Winter Garden decided to share a snuggle with kids who otherwise may not be getting a lot of them.
When ten-year-old Cecilia Fulmer's parents, Zack and Kimberly, encouraged her to find a way to positively impact her community, the fourth grader knew she wanted to help children feel safe and special. Realizing she and her brothers were blessed with many comforts, Cecilia came up with the idea that every child should have something to hang on to and cover up with at night. Enlisting the help of her friend Addie Weeks, who is 11 years old and also lives in Winter Garden, the girls created their very own non-profit organization called Sweet Dreams with Love.
Through money, Joann's gift cards and material donations, the girls teamed up together to create cute and cozy fleece blankets. They enjoy trips to the craft store to pick out fun material that little girls and boys may enjoy. Once completed, the friends donate a Sweet Dream to orphans and homeless children in our community and beyond.
Blanketing the community with affection, Sweet Dreams with Love gifts finished products to places such as Matthew's Hope, the homeless ministry out of Winter Garden. Last summer, the organization enjoyed the opportunity to spread its passion across the world when Cecilia's aunt and grandma embarked on a mission trip to Panua, an orphanage in Zambia, Africa. "It was really cool that our blankets went to help orphans in Africa," says Cecilia.
As true leaders among their peer group, the girls took their non-profit on the road, so-to-speak, to share the message of helping others. Leading blanket-making sessions with area Girl Scout troops, they have mentored their peers and younger children in the importance of helping other kids. "I liked teaching the Brownie troop about Sweet Dreams with Love. Addie and I told them what we were doing and why. We prayed together for the child who would get the blanket. Then we taught them how to make the blankets. They were cute and did a really good job," Cecilia shares.
The organization is founded on 1 Corinthians 13:3, which indicates that giving not motivated by love amounts to nothing. With this principal in mind, the girls pray for the child who will receive each blanket they put together.
Thus far, Sweet Dreams with Love has donated more than 20 soft, fleece blankets in addition to several pillowcases and pillows. "Giving to other kids who don't even have a blanket to cover up with makes me feel good. I like that we can help others," Cecilia says.