Sun's out, what's in? Your guide to men's summer fashion 2022 is here! The Florida heat is no joke, so here is your guide to not only feeling cool but looking cool too.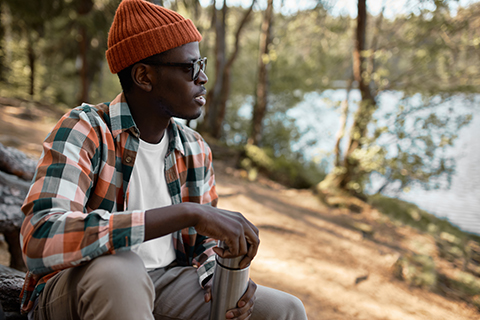 There are a few essentials you should have in your closet that can be incorporated into many different looks. A white T-shirt, a cotton button-down, a sensible pair of sneakers and an accessory or two of your choice. Accessories can be anything from a pair of sunglasses to a wristwatch to a bandana. Whatever suits your personal style.
Preppy and Work Leisure
There are many different summer fashion trends to look out for, starting out with "preppy" and "work leisure" styles. To accomplish these styles, throw on a pair of structured joggers or trousers with a thick T-shirt or cotton button-down. Don't be afraid to play with prints and earth toned colors. Micro florals and tropical prints are big players in this trend, so make sure to keep an eye out for those next time you buy clothes.
In the "work leisure" style, and in most of these trends, sensible shoe choice is a must. Throw out your flip-flops and grab yourself a pair of sneakers. Some sort of polished sneaker is ideal, and you can't go wrong with white or brown leather. This style can also be elevated for a night out with a pair of nice trousers, a belt, and a long-sleeve button-down.
Gorpcore
There's also a new trend that has been around for the winter and is going to be moving into the summer. I present you with "gorpcore." Stay with me. "Gorpcore" is a type of style that largely incorporates utility, hiking, and camping wear. It gets its name from a term for trail mix, "Good Ol' Raisins and Peanuts". To join in on the "gorpcore" trend, try wearing tees with nature graphics, cargo pants, hiking boots and earth tones. Stray away from denim and grab a pair of water-resistant shorts.
French T-shirt
To come up with trendy outfits in your style, a good recipe to follow is a french T-shirt tucked into pants or shorts. If you don't know what french tucking is, it's when you tuck your shirt into the front of your pants and leave the rest untucked. Pair it with a close-toed shoe and accessorize. This is the summer to accessorize with flashy sunglasses. If you've held onto a pair of sunglasses from the 90s, now's the time to break them out!
It's trendy to play with colors and prints, stray away from denim and wear a polished sneaker to look put together. This summer is all about having fun and making bold statements. Just make sure to wear breathable fabric, protect your skin with SPF and wear clothes that you feel confident in.