Interior design shows provide inspiration for creating beautiful spaces in your home, but the extravagant designs can sometimes come off as unattainable. Nothing is impossible though. You can still create a space in your home that has a Joanna Gaines vibe without the HGTV price tag, and we'll tell you how.
From man caves to reading rooms to glamorous closets, there is an opportunity with every area of your home to design a unique space that is all your own. DIY projects can save on costs if you have an eye for it! However, when you need a professional many have access to cost-effective materials that produce the same result.
"Most of these rooms can be done in a solid wood product, which can become very expensive," Brian Gruber from Closets by Design says. "We have the ability to use materials that are cost-effective and just as gorgeous to create the ambiance you want without the exceptionally high price tag."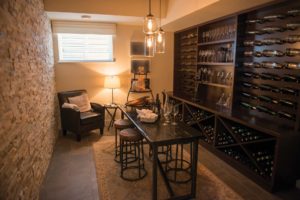 A wood-grained material called Brio provides an elegance to any type of built-in element. Whether it's a dark-hued storage space in a wine cellar or a lightened up shelving unit for the closet of your dreams, there is a variety of colors to match your style.
"What Brio does is it gives it almost a 3-dimensional, textured finish, which adds a lot of character to a room," Gruber says.
Gruber's own sports-themed man cave is an example of just how far you can take an idea without busting the budget. His custom-designed built-ins house multiple TVs and shelving units. These were installed to display all of his sports memorabilia. Add in small design elements, such as bourbon barrel tables and decanters, and the space has shifted to a bourbon or cigar room. Similarly, you can design a home office or a reading room using materials in lighter shades and seeded glass to create the relaxing feeling of a beach house.
"A cave is an experience," Gruber says. "A client comes into it with a particular theme in mind and we can give them that experience without an exceptional spend."
Closets by Design offers a base price for functionality and leaves it up to you to expand on it however you see fit. Closets by Design offers a menu of available upgrades. No matter what idea you have for your space, it's easy and affordable to create it with functionality and design in mind. Just don't be afraid to call on a professional to help you bring the space to life.