When you make an appointment with a physician at DNF Medical Centers, don't expect to walk into an ordinary medical practice. The elevator doors open to a modern, state-of-the-art facility with a soothing fountain in the lobby. Upon arrival, the friendly staff will not only welcome you, but they will make sure you're comfortable.
Executive Director Elliot Ghigliotty describes the level of care as checking into a hotel. "The quality of the service here, starting from the customer service, is second to none," he says. Between him and Practice Manager Odalsys Reyes, they ensure that the patient's experience is as unique as it comes.
Even more, becoming a patient at DNF Medical Centers means becoming a part of the family.
What DNF Can Do For You

DNF stands for Dr. Norberto Fleites, who is the Founder and Medical Director of the practice. Originally from Cuba, Dr. Fleites specialized in family medicine and provides high quality service in primary care.
"His dedication and the quality of his care has gotten him to a point where now we have a center with nine providers and a staff of almost 50 people," Ghigliotty says. "He has had an important impact on the Central Florida community."
The staff at DNF Medical Centers serves patients in a variety of ways. From primary care to x-rays and ultrasounds to minor procedures, the goal is to do everything in house so patients don't have to travel to fulfill their medical needs. Physicians perform lab tests and injections at the facility as well as echocardiograms and electrocardiograms. And when a DNF Medical Centers physician prescribes medication for their Medicare patients, there's no need to stop at the pharmacy on the way home. The prescription can be filled right there at the onsite dispensary for most of the maintenance medications needed.
Unlike other private clinics in the area, acupuncture is on the list of services at DNF Medical Centers. This special service is beneficial for pain management and is provided at no cost for Medicare patients; however, it is open for insurance-based patients as well.
Going Above and Beyond
The DNF Medical Centers staff noticed several years ago that their senior patients seemed lonely. "They would come to the office just to talk to someone – no real illness or follow-up needed – and they would stay in the office for several hours," Ghigliotty says.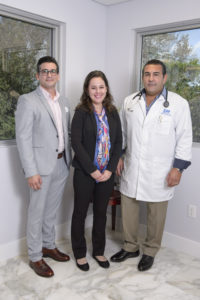 One such patient is a 90-year-old woman who visits DNF Medical Centers every week and stays for hours because she has to say hello to everyone on the team when she arrives and goodbye before she leaves. They recently made her an honorary employee, complete with a bouquet of flowers and a crown.
Dr. Fleites saw the need for compassionate care for seniors in the community, both inside and outside of the medical environment, so he did what he does best. He took action.
In addition to having a senior center next door, DNF Medical Centers offers free transportation for senior patients who may not have family or friends around to take them to and from appointments. There are also monthly birthday celebrations, senior proms and free outings to local attractions. The DNF Medical Centers marketing staff, composed of Sharon Aloyo, who is the team leader, as well as Milagros Rodriguez and Nilvania Malagon, also organize games like Dominos and Bingo at the facility and invite senior patients to attend. Their duties assure a healthier community both emotionally and socially.
"Health is not just about your physical health," according to DNF Medical Centers. "It's about emotional and mental health as well. When our seniors have something to do, they change entirely. They come to these special events, and they're happy that somebody is considering them."
Committed to the Community
DNF Medical Centers' dedication to elderly patients is just one instance of its commitment to the community it serves. Another is the value each staff member places on education surrounding health. The physicians' duties don't end when they have seen their last patient for the day. These medical professionals have a presence at medical expos across town to educate residents of all ages about the ways they can stay healthy and strong.
Philanthropy is also important to Dr. Fleites and his team. That's why there is a not-for-profit food pantry at the facility called DNF Food Bank. Next month, that food pantry will play a significant role in making sure local families are able to celebrate the Thanksgiving holiday together. There will be a food drive and turkeys will be distributed to families in need.
"We are very blessed to have the support of this community," Ghigliotty says. "Giving back is a small thing we can do."
For more information about how you can become part of the DNF Medical Centers family, contact the facility today. Doctors are available during convenient hours, seven days a week.
Put Your Best Face Forward
It's clear that DNF Medical Centers goes beyond your average medical practice. The facility even includes a med spa so patients can leave feeling relaxed and rejuvenated. Daphne Buznego, ARNP, and Medical Aesthetician Yasmin Ocasio perform the following aesthetic services:
Dermaplaning
Deep Pore Cleansing
Collagen-Induction Microneedling Therapy
Custom Clinical Facial
PCA Sensi Peel
Botox
Salicylic Acid Peel
Dermal Fillers
Glycolic Acid Peel
Mesotherapy
Hydra Facial
Vela Shape Body Contouring