From beer floats to BBQ brisket mac-n-cheese, guests can sample flavors from around the world at SeaWorld Orlando. The new Craft Beer Festival features over 100 craft beers on draft from Florida breweries, in addition to select domestic and international choices, to pair with over 20 food samples that can be found at 18 locations throughout the park. The festival began on Nov. 3 and Nov. 4 and concludes this weekend following events on Nov. 10 and Nov. 11.
The Craft Beer Festival is included in regular theme park admission. If you're interested in tasting the delicious festival offerings, you can purchase each item individually or get more bang for your buck with a sampler pass. There are two pass options for individuals 21 years or older and both include both beer and food samples. The 8-sample pass goes for $40 and the 12-sample pass costs $54.
Beer From Around The World
At 18 huts outside of major food shops located around the park, beers of all types will be available, from pale ales to hard ciders. Although there are some international and national favorites included in the long list of brews, some local options include Orlando Brewing Co., Crooked Can Brewing and Dead Lizard Brewing. Each of the 100+ beer selections come in a sample-sized glass, making it easier to taste beers you've never tried before. However, if you prefer to stick to the classics, familiar beers such as Yuengling and Stella Artois will be available during the festival as well.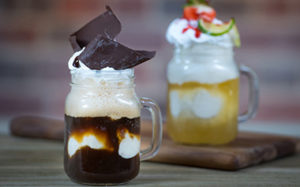 One of the most intriguing items on the Craft Beer Festival menu is the selection of Beer Floats at Sea Harbor Soft Serve Market. You can choose your brew and whether it's served over vanilla or chocolate ice cream. It is then dressed with whipped cream, a maraschino cherry and your choice of chocolate, nutter butter or caramel sauce. The beers at this Seaworld station include a small selection of rich and indulgent options that would also be delicious all on their own. They include D9 Brewing Brown Sugar Brown Cow Mocha Brown Ale, Brew Link Nutter Butter Cup Peanut Butter Porter, Accomplice Black Cherry Candy, Brekenridge Vanilla Porter, Dead Lizard Komodo "Koko" Dragon Chocolate Stout and Golden Road Tart Mango. These beer floats are easily the most unique items on SeaWorld Orlando's Craft Beer Festival menu, but that's what is making people interested in trying it out for themselves.
Countless Food Choices
The Craft Beer Festival isn't just about the beer though. There will be 20 food items at stands and shops scattered across the park to accompany the specific brews and offer a play on taste and texture. A classic Canadian Poutine comes complete with crispy fries, a deeply flavorful brown gravy and gooey cheese curds, and it can be found at the Shark's Kiosk along with a Bison Slider that is topped with a savory lager bacon onion jam and Minorcan mustard.
Standout food items include the BBQ Brisket Mac-N-Cheese, which is a mixture of jalapeno cheddar pepper jack cheese sauce, smokey bbq brisket, a spiked bbq sauce and Parmesan garlic crust, from the Waterway Bar and the Buffalo Burger Quesadilla from Flamecraft Bar, a spin on the classic cheeseburger that stuffs a burger patty, pepper jack/cheddar cheese blend, balsamic onions, baby arugula, creme fraiche and roasted tomato salsa between a tortilla. Additionally the Jumbo Chicken Wings from Flamecraft Bar are tossed in pilsner buffalo sauce and served with a tangy slaw to provide a familiar flavor with a beer twist.
Take a look at what some of Craft Beer Festival food items look like:
[huge_it_slider id="41″]
---
While You're There
In addition to this new festival, SeaWorld recently opened the highly anticipated river rapids ride, Infinity Falls™. When guests hop on, they will be taken through waterfalls and roaring rapids before being taken up an elevator and plunged down into choppy waters. Also at the park are other roller coasters, including Mako, Kraken Unleashed, Manta and Wild Arctic.