Upstairs at Pointe Orlando is a hidden gem that serves contemporary southern cuisine to the tune of nightly live music. Itta Bena, named after the birthplace of blues legend BB King, invites guests to come as they are for a comforting meal and southern hospitality.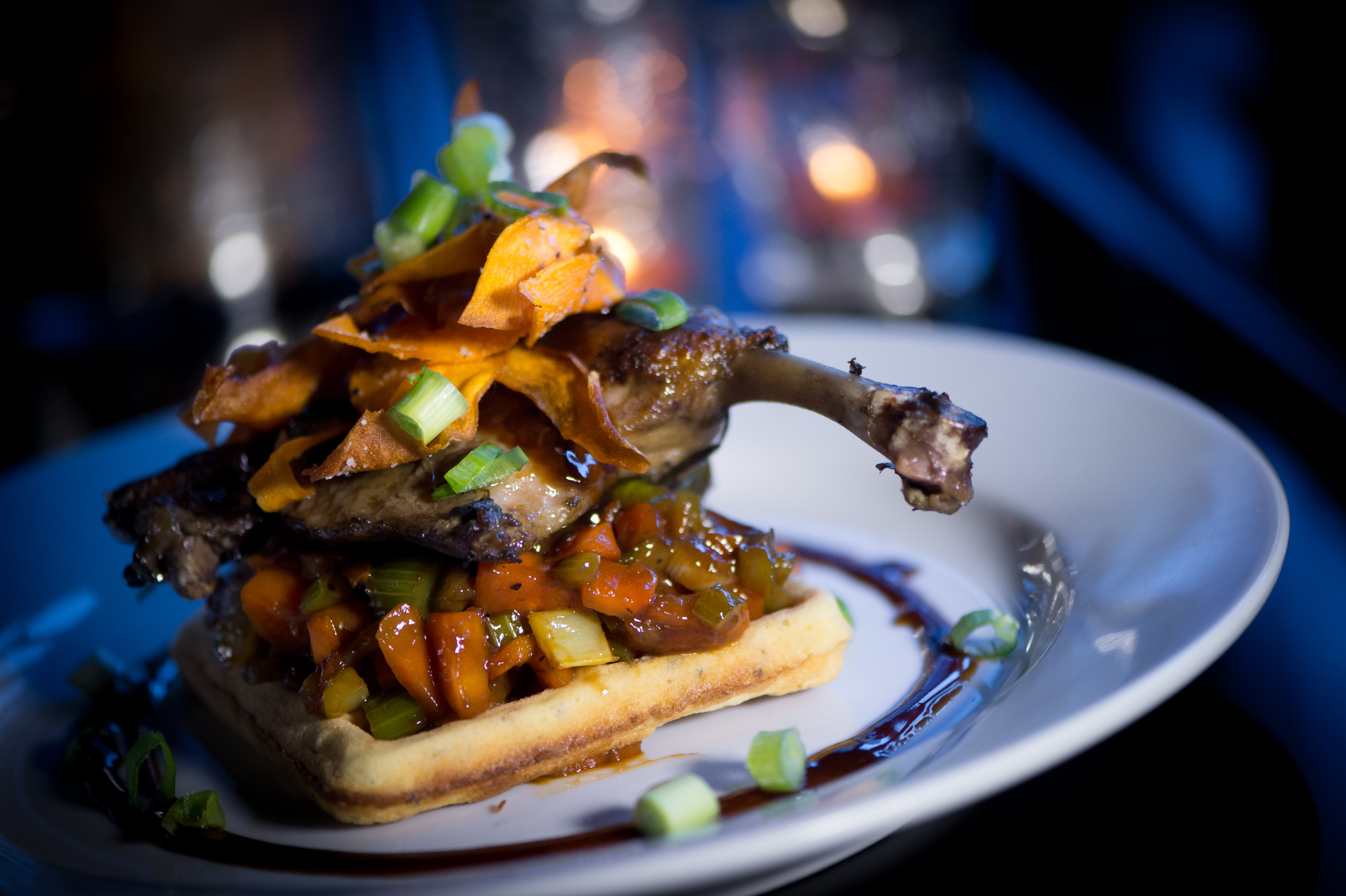 Pointe Orlando has seen many changes in the past year or so, steadily welcoming new entertainment venues and restaurants to its lineup. On the second floor, across from the new Lafayette's and adjacent to Pointe Orlando staple, BB King's Blues Club, is a steak and seafood restaurant called Itta Bena, complete with a rustic façade that includes an exposed brick entrance. And all three establishments are linked, as they were all developed by the same team.
Itta Bena isn't a typical name and leaves many to wonder what it means. Owner Tommy Peters says the restaurant is an ode to the late legend of blues, B.B. King, named after his birthplace in Mississippi. That's why you'll find contemporary southern cuisine with a side of soul behind Itta Bena's doors. As you dig into your meal, a feeling of being around a family table is present.
Since it was created in a speakeasy style, the only signage you'll find on the outside of the building is a logo at the top portion of an outside wall facing the movie theater. But don't worry; you don't need a password to enter. Once you find your way inside, you're welcome to pull up a seat at the copper bar or settle into a cozy table. The interior features dark wood, dim lighting with a blue hue and has no windows, secluding you from the bustle of International Drive and allowing you to immerse yourself in the entire experience – the sound of the live music from the restaurant's pianist, the sight of beautifully plated dishes coming from the kitchen, and the taste of that comforting southern cuisine.
The appetizer menu is anything but ordinary. Southern staples are reimagined in the Crispy Cornmeal Green Tomatoes, which are jazzed up with house remoulade and a helping of spicy sauteed shrimp. The Duck Confit Grilled Cheese puts a new twist on this classic comfort food with shredded duck confit, caramelized onions, hoisin sauce and goat cheese stuffed inside a French bread baguette. Items like the Fried Avocado Stuffed with Crab Meat Salad, served with warm remoulade and pico de gallo, encourage diners to step outside of the box, but the real star of the starters is the Abita BBQ Shrimp. Jumbo barbecued shrimp are served in a rich, savory broth that can be sopped up with a slightly sweet, house-made Abita beer bread that boasts unique flavors and a beautiful balance between sweet and salty.
Most everything you'll find on Itta Bena's menu is elevated with flavor profiles straight from the Mississippi Delta, a region that isn't so widely known on the foodie map but that packs a culinary punch. While some items have just a hint of it – the 16 oz. Bone-In Cowboy Ribeye is topped with Cajun herb butter and the Surf and Turf is served with an andouille hash – others just go for it. Unlike the traditional rice-based jambalaya, the Jambalaya Pasta combines chicken, shrimp, andouille sausage and angel hair pasta with a spicy cream sauce. The Jumbo Shrimp and Grits dish is layered with southern flavors as gruyere delta grind grits are topped with char-grilled shrimp, green tomato relish and lemon beurre blanc sauce. A play on the chicken and waffle craze, the Duck and Waffles is a modern take on a southern tradition with crispy duck confit topping a rice pilaf waffle and drizzled with a blueberry hoisin reduction.
For the less adventurous eaters, there are familiar dishes like Filet Oscar, a tender cut of beef topped with béarnaise and served with asparagus and garlic mashed potatoes, and Grilled Salmon Filet with wild rice pilaf, sauteed green beans and lemon caper cream sauce. But whether you're adventurous or not, the Signature She-Crab Soup here is one of a kind. A creamy base filled with huge chunks of jumbo lump crab meat; it's the way any meal at Itta Bena should begin.
The perfect ending to a down-home meal here is a sweet one. The cobbler of the day with warm, bubbly seasonal fruit and a crumbly topping is a traditionally southern dessert, as is the White Chocolate Bread Pudding with golden raisin rum caramel sauce. The menu shows that Peters' after-dinner drink recommendation is the Nuts and Berries cocktail, a mixture of Frangelico, Chambord and cream, a dessert all on its own.
While the atmosphere at Itta Bena has an essence of fine dining, you're welcome to come as you are to enjoy a comforting meal and some southern hospitality.
Comments