10jun(jun 10)12:00 pm02sep(sep 2)8:00 pmSUMMERTOBERFESTSUMMERTOBERFEST 2023 at Krush Brau Park
Event Details

SUMMERTOBERFEST 2023, at Krush Brau Park is the place to be every Saturday, this Summer!  Featuring a variety of Workshops and Contests each week. Enjoy Summer in Germany at Krush Brau Park's Portal Immersion Center!

JUNE 10-SEPTEMBER 2, 2023 (Every Saturday)

SUMMERTOBERFEST DESCRIPTION: 

Fun for everyone in your family!

Enjoy Food | Music | Beer
Keg Tapping Ceremony – Every Saturday at 5pm
Massgrugstemmen (Bier Stein Holding Contest) Every Saturday at 6pm
German Costume Contest on June 17th @ 4pm
Beer Coaster Painting on June 24th @ 2-4pm
Wurst Eating Contest on July 1st @ 2pm
Clay Pretzel Crafting Workshop on July 8th @ 2pm
"Grape" Stomping Contest on July 15th @ 2pm
Krush Brau Bier Games on July 22nd @ 2pm
Massgrugstemmen Regional Finals on July 29th @ 6pm
Schuhplattler Lessons and Contest on August 5th @ 6pm
Yodeling Contest on August 12th @ 6pm
Register for Workshops and Contests in advance.
EVENT DETAILS: 
Date: (Every Saturday) June 10-September 2
Time: 12-8pm
Location: 2198 Four Winds Blvd
Visit Link for Details and to Register Today!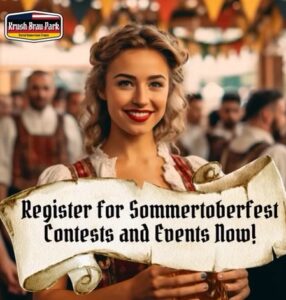 Time

June 10 (Saturday) 12:00 pm - September 2 (Saturday) 8:00 pm
Location

Krush Brau Park - Portal Immersion Center

2198 Four Winds Blvd.
Organizer