Photo Credit: IMBD IMBD
Film Credit: Adler and Associates Entertainment Inc
---
"A Gift of the Heart" by Andrew Heller follows the story of a young boy named Ali as his parents decide to make the journey from Cuba to America on a makeshift raft and then as his father his father struggles to raise him once they make it ashore without his mother. At the age of 12, Ali befriends a girl named Sydney, although their backgrounds are vastly different. It is later revealed that Ali has an incurable brain disease and Sydney has a life-threatening heart ailment that requires a transplant.
---
---
Throughout the book, there are themes of racial tension, social tension and financial tension as the families of Ali and Sydney cope with their diagnoses and try to figure out what to do next. This powerful story about friendship is told with a thoughtful approach while depicting the heartache of prejudices and the struggle of crossing racial boundaries, both situations that are all too familiar in today's world.
The book is currently being adapted into a feature film with director Dan Springen. It will star John Schneider, who is best known for his role as Bo Duke in "The Dukes of Hazzard," and Austin St. John, the original Red Ranger in the "Mighty Morphin Power Rangers" series. In November, the trailer for "A Gift of the Heart" was filmed at Valencia College.
[metaslider id=11269]
Heller was inspired to tell this story after losing his mother and several friends to cancer.
"There's a personal issue there because I lost my mother to cancer, and over the years I've lost so many people to cancer and have been touched by it to such a great extent," Heller says.
He hopes the book and the film will bring awareness to juvenile cancer and organ donation as well as encourage donor registrations.
"When I discovered how little money actually makes it to children with cancer, I was stunned," Heller says. That's why he is donating a percentage of the profits from the book and the movie to organizations supporting young transplant patients and their families who are in need of financial assistance.
Heller and his team are currently working toward raising the funds to produce "A Gift of the Heart" in full, and they are looking at locations across Central Florida to film it. So how can you help Heller tell the Sydney and Ali's story in film version?
"Just go directly to the website and hit the donate button and just donate towards the film," he says. "Once we reach out goal, our budget goal, we can go into production then we will start getting the film done, getting it out and then start siphoning off the money to different children's organizations.
Some of these organizations include Talia's Legacy, Brain Candy Project as well as BASE Camp, an Orlando-based organization that provides a year-round series of programs for children and families living with cancer and other life-threatening, hematology-related illnesses.
"These are organizations and people that we can help, and that's what I'm trying to do personally," Heller says.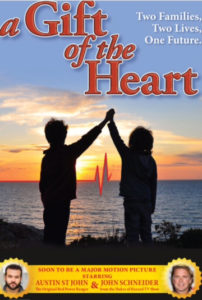 "A Gift of the Heart" is available for purchase in paperback and electronic versions worldwide including through Kindle, Nook, Amazon and Barnes and Noble.
Visit www.AGiftOfTheHeart.com to donate toward the film.
---
Signed copies are available for $19.99 plus shipping and handling at www.AGiftOfTheHeart.com.
---