This private, Christ-centered, college preparatory school serves students across the Orlando area. 
The First Academy golf teams are one of the top-ranked in the country. The girls team won the prestigious Honda Classic High School Invitational then took the district and regional titles by a landslide. Their sights are now on another state championship. The boys golf team are on par with their own district and regional titles with a state championship also on the horizon.
"We just have a really competitive team," Senior Captain Taylor Zeng explains. "We've known each other for years now because we started off at Junior Golf. I feel like we've already built that team dynamic, which is really important, and we are all super close."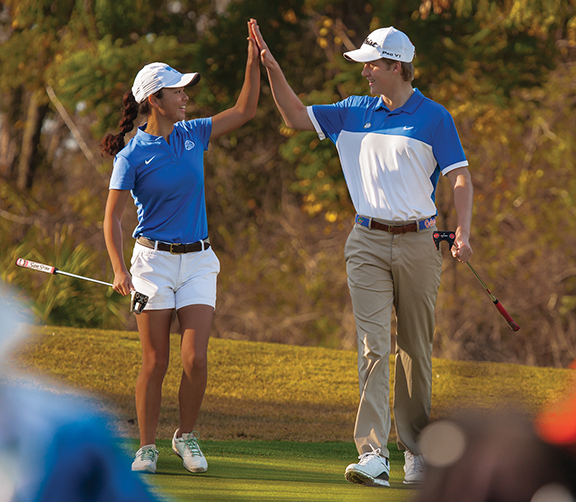 It's not just the championship golf that TFA families love. It's the whole Royal package that The First Academy has to offer. TFA provides the strongest balance of accelerated academics and student leadership. Students from preschool to 12th grade are elevated to their highest levels of achievement and have the opportunity to engage with award-winning arts and athletic programs, customized student pathways and inspirational teachers.
Parents choose and remain at TFA because of the safe environment, caring teachers and academic excellence their children receive. "They say it takes a village to raise children and we picked the right village," says Heather Howell, wife of professional golfer Charles Howell, whose children attend TFA's Lower School.
With a 100% college acceptance rate, the teachers are certainly doing their part. "My daughter is excited to come to school every single day because she is excited to see her teachers," says Laura Eitel, TFA Lower School parent. "She knows that her teachers love the Lord and she knows that they love her."
TFA is proud to serve families in Lake Nona and throughout Central Florida.
"We love The First Academy for so many reasons," says Dr. and Kim Adamson of Nemours Hospital. "Our girls are receiving a tremendous education in an incredibly caring, Christ-centered setting. We value the personalized attention and loving environment that surrounds the children while they are challenged academically and their interests broadened through a variety of fine arts and sports. There is great communication between the teachers and parents — our girls tell us often they couldn't imagine a better school!"
TFA families are also excited about the school's brand new Royal bus program, which makes it easy for students to get to and from campus. And as the Royal family grows in the Lake Nona area, so will more transportation opportunities to The First Academy campus.
"We love the TFA bus," says a TFA parent of a bus rider. "It has been so helpful to our family! The driver is very kind and attentive to the attendance and care of the kids. We are beyond pleased."