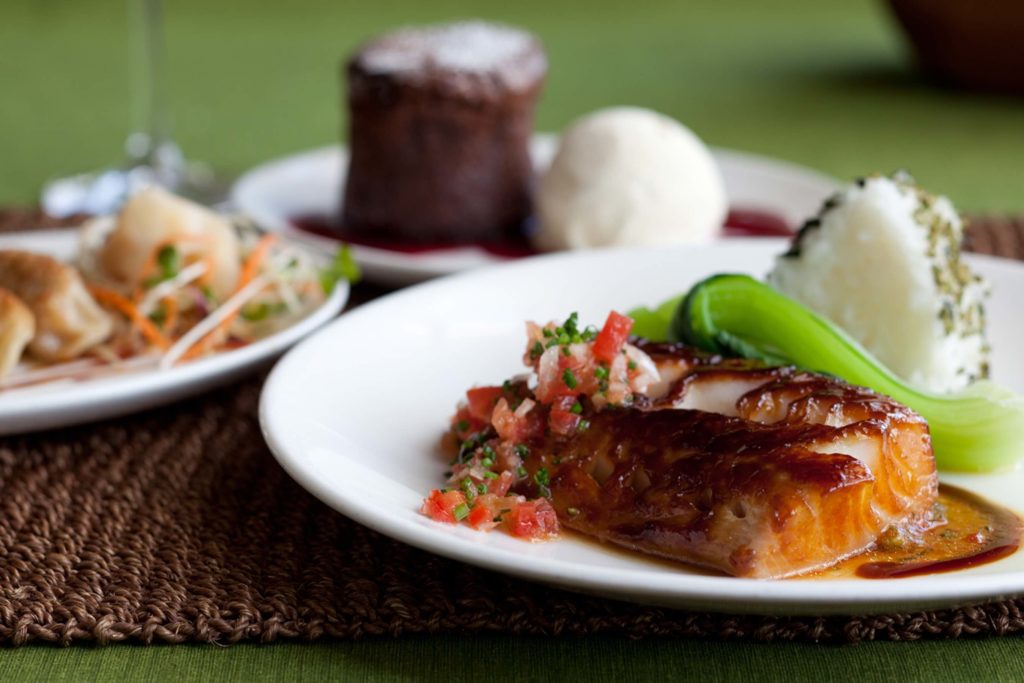 In the spirit of ohana (Hawaiian for family), Roy's welcomes you with its inviting décor, spacious dining rooms, convivial lounge area and its signature exhibition kitchen at the heart of it all.
In 1988, award-winning chef Roy Yamaguchi opened his first Roy's in Honolulu, Hawaii. Thirteen years later, Roy's fusion of heartfelt aloha style, Hawaiian hospitality, European cooking techniques, and Asian cuisine arrived in Orlando on Sand Lake Road. In addition to its already unique fine dining experience, Roy's offers distinctive family-style service, including personalized entree combinations and its popular "canoe" dishes overflowing with appetizers or desserts — perfect for sharing. And feel free to bring the kids, as young diners are always welcome.
After you're greeted with flavorful, seasoned edamame, head for one of Roy's bold and fun appetizers. A true crowd-pleaser, a bowl of Beef Short Rib Bi Bim Bap, filled with rice, tender vegetables, cuts of savory beef, and topped with a fried egg and a spicy/sweet Go Jhu Jang sauce, is big enough to share. The Flash Fried Oysters with Melted Brie are perfectly paired with garlic spinach and a light citrus white butter sauce.
A must try, the Island Style Ahi Poke, is a raw salad with meaty cuts of tuna served over Roy's signature sushi rice, mixed greens, Kukui nuts and an unforgettable truffled soy sauce. "The Island Style Ahi Poke is one of my all time favorites," says Local Chef Partner Mac Lynch. "The Kukui nuts really bring out the flavor of this traditional Hawaiian dish."
"I thought it was really a great combination of flavors," Kristin Mease of Winter Garden says of her first taste. "It made me definitely want more!"
It's the perfect complement to The Original Hawaiian Martini, a signature cocktail favorite with generous chucks of Maui pineapple drenched in SKYY Vodka, Stoli Vanil Vodka and Malibu Coconut Rum.
Sushi lovers will be delighted with Roy's creamy Big Island Ebi Roll, expertly filled with crunchy shrimp tempura, coconut, cream cheese, mango, and avocado. Rolled with soy paper to make it sweeter and Roy's signature sushi rice, a spicy habanero aioli and sweet nitsume sauce complete this complex union of flavors and textures.
Roy's entrees are equally impressive. The Misoyaki "Butterfish" is a beautiful Alaskan black cod fillet marinated for days in a sweet rice wine and then broiled to perfection for a melt-in-your-mouth texture. Served with furikake rice and a sizzling soy vinaigrette, it is "Butterfish" indeed. Or try Roy's classic Roasted Macadamia Nut Crusted Mahi Mahi in lobster cream sauce for a decadent main dish. A graduate of the University of Mississippi, Chef Mac showcases his Southern roots with his flat-top seared, Andouille Crusted Snapper, paired with tempura okra, baby bok choy and a deliciously creamy Louisiana-style hot butter sauce.
For dessert, Roy's decadent Melting Hot Chocolate Soufflé is simply irresistible with a creamy Belgian chocolate filling, raspberry coulis and a side of vanilla bean ice cream. Be sure to ask for this treat early in your dining experience. Since it takes time to bake, an early order will ensure it's fresh out of the oven when your entrée plates have been cleared. Pineapple Upside Down Cake, served a la mode with rum anglaise and toffee sauces, and the White Chocolate and Orange Crème Brûlée, with whipped cream and fresh berries, will have you at first bite.
For your next celebration, ask Roy's to bring a sophisticated, personal touch to your birthday, anniversary or other special occasion. You can be welcomed with fresh flowers and a personalized menu that can even include your own photos.
Open to everyone, Roy's also hosts cooking classes every second and last Wednesday of the month from 11:30 a.m. to 1 p.m. Cooking classes feature one savory and one sweet item and include a delicious lunch.