When you're ready to buy or sell a home, IRM (Investments, Real Estate & Management) is a one-stop shop for all of your real estate needs during every step of the process.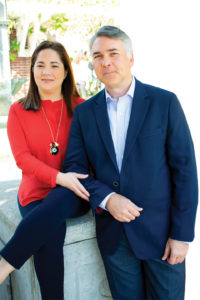 Agents specialize in new home sales, resales for residential properties and income-generating investment properties throughout Orange County. This includes Winter Garden, Windermere, Horizon West, Winter Park and Lake Nona. Using state-of-the-art applications that allow them to review, analyze and manage all of the data in a home's specific location, the agents are able to make the best possible decisions regarding every aspect of a home's sale. Social media is also utilized to provide more targeted exposure for their listings.
In addition, IRM has an in-house property management department. This department supports investors in renting hundreds of Orlando-area properties. The entire staff is professionally trained and operates under the National Association of Realtors Code of Ethics.
"Through the years we have had the opportunity to connect with the community we serve while building relationships with some of the area's most well-known home builders and contractors," says Gonzalo Senior, the active broker for IRM. "We've sold million-dollar homes to individuals in some of the largest-growing areas of Orange County, and many we have worked with again to resell."
These connections have helped IRM become an authority in the Central Florida real estate industry. Homeowners come back to work with them again and again because of the time and effort they dedicate to each client. They walk them through the home buying or selling process using a step-by-step approach that makes it seem less daunting.
IRM's knowledge of the Central Florida market makes them a go-to for individuals who are looking to purchase a home at a great price or get the best return on investment on a current property.
---
Expert Tip for Investing!
There is a lot to consider when purchasing an investment property and earning a good return on investment. Many details are involved with making the right decision, such as location, investment amount, builder negotiations and necessary design selections. "Many times, people don't understand that they don't know something until they get into it," Senior says. "Get into it with someone who does know."
Mention this article to receive two free months of property management from IRM with a minimum one-year agreement.
Expert Tip for Buyers!
Did you know that you should always use an experienced Realtor who is tied to an association when purchasing a new home? Realtors must abide by a specific Code of Ethics as they help you through each step of the process, from pre-qualification to negotiations.
If you're a doctor, IRM can help you get a 0% down loan for a limited time. Ask us how!
Expert Tip for Sellers!
It's important for a Realtor to know the neighborhood in order to get you the best price for your home. They have access to tools that allow them to compare pricing in the location you're looking to sell. This helps them to set the price accordingly.
Mention this article to receive a free comparative market analysis estimate on your home!