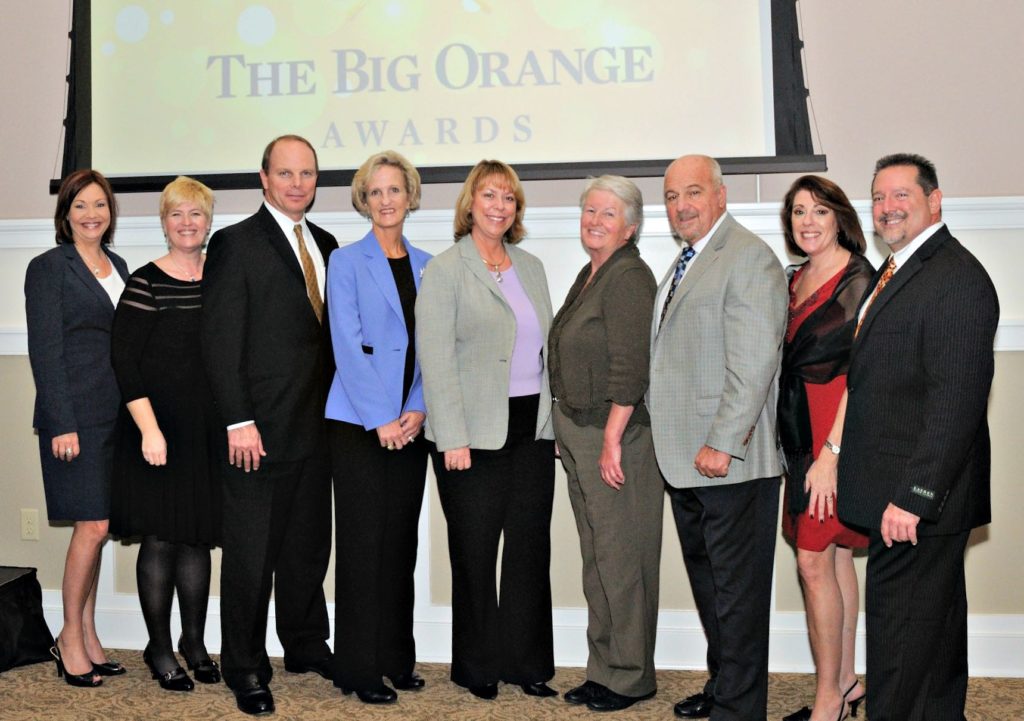 On February 6, the brand new Ocoee Lakeshore Center was filled to capacity with the best and brightest of West Orange County's business community at the West Orange Chamber's Annual Big Orange Awards, presented by Orlando Health. Event sponsors Duke Energy and the City of Ocoee, along with numerous local in-kind sponsors from the West Orange Chamber, truly showed how the West Orange area is a vibrant, eclectic and thriving business community. "The West Orange community is fortunate to boast so many selfless, hardworking people and organizations that continually give back to our community," says Stina D'Uva, President/CEO of the West Orange Chamber. "We are very proud to have them as members and be able to recognize them for their service."
We would like to congratulate the following outstanding citizens for their generous work and commitment to the West Orange Chamber and our community:
•Big Business Member of the Year – CenturyLink
•Small Business Member of the Year – Lake Apopka Natural Gas
•Business Member of the Year Finalists: The Digital CPA, MetroWest Golf Club, NeuroSpine Institute
•Rising Star Award – Expert Business Advice (Dr. Phillips)
•Bert Roper Award – Mona Phipps, Oakland Nature Preserve
•George Bailey Award – Julie Sanchez, First Source Residential & MetroWest Master Association
•The Mary VanDeventer "Spirit of West Orange" Award – Kay Cappleman, Winter Garden Heritage Foundation
•Sam Hovsepian Award – Tim Haberkamp, Hardee's (Pine Hills)
•Chairman's Award – Dorcas Dillard, Professional Opportunities for Students & Gosselin Realty (Ocoee)
•Ambassador of the Year- Lenny Stark, Best Cleaners (Windermere, Winter Garden, etc)
•Lifetime Ambassador – Father Tom Rutherford, Church of the Messiah
•Danniel J. Petro – The Bright Future of West Orange – Walter Toole, ACE Hardware (Winter Garden)
Upcoming Events:
March 20
Business After Hours
12 – 1:30pm
Budget U Pull It
881 S. 9th Street
Winter Garden, FL 34787
Chamber members: $5 in advance; $10 at the door
All non-member payments: $20
For more information, visit wochamber.com or email kcarney@wochamber.com.
April 10
Best Fest – A Taste of West Orange
Presented by Health Central & Orlando Health
5 – 8:30pm
Veranda Park
6696 Piazza Grande Avenue
Orlando, FL 32835
For more information on sponsorships and vendor registration, visit wochamber.com or email kcarney@wochamber.com.