The team at Associates in Dermatology has served the medical, surgical and cosmetic dermatology needs of Central Floridians for more than 25 years.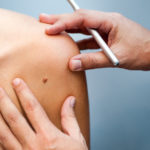 Medical Director Michael Steppie, MD, a board-certified physician with residencies in internal medicine, dermatology and dermatologic surgery, works continuously to spread the word about skin cancer risks, treatments and preventive measures. His practice reflects his combined focus on research and patient care. The professional staff of dedicated, board-certified dermatologists, physicians, physician assistants, nurse practitioners and paramedical clinical estheticians takes pride in exceeding patient expectations.
"Our major focus is on general dermatology and skin care," Dr. Steppie says. "Our Dr. Phillips and Ocoee locations are currently our 'centers of excellence' in skin cancer treatment. We are passionate about skin cancer diagnosis, treatment and prevention."
Caring Providers
This sentiment easily describes Associates in Dermatology's patient-first mentality, which is shared by every team member, from the receptionists who greet patients to the skilled professionals who identify and treat skin conditions of all kinds.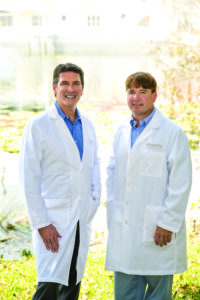 Associates in Dermatology has grown to 15 locations in six counties across Central Florida, including Ocoee, Dr. Phillips, Hunter's Creek and Celebration. To better serve patients, each center of excellence is equipped with advanced diagnostic and treatment technologies. Patients at every location will find an array of dermatologic and cosmetic services offered in a welcoming setting close to home.
The dedicated team of experienced clinicians includes providers such as Mario Monteleone, PA-C, MPAS. Monteleone, who has been part of Associates in Dermatology for nearly 20 years, specializes in treating skin cancer and diseases affecting the skin, hair and nails. His loyal patients appreciate his individualized approach and skilled, compassionate care.
Associates in Dermatology's comprehensive services include treatments for non-cancerous skin conditions such as psoriasis, acne, eczema, allergic dermatitis and diseases of the hair and nails. In addition to general dermatology for patients ranging from toddlers to older adults, Associates in Dermatology specializes in cutting-edge treatment for skin cancer.
One of the most effective cancer treatments in their armamentarium is MOHS micrographic surgery. This procedure has a documented cure rate of 99 percent for basal cell carcinoma, the most common form of skin cancer. Associates in Dermatology's experienced and skilled, board-certified plastic surgeon Michael McClure, MD specializes in reconstructive procedures and performs most MOHS surgery repairs as well as cosmetic procedures.
People want to have healthy skin, but there is also a growing demand for a youthful appearance. To satisfy this need, Associates in Dermatology is pleased to provide expert aesthetic services. Board-certified nurse practitioner Sarah Fellenz and physician assistant Aimee Davis offer rejuvenating procedures including Botox injections and fillers including Juvéderm and Radiesse. Fellenz, a former recognized world trainer in fractional laser therapy, is also passionate about laser procedures and sclerotherapy.
Advanced Research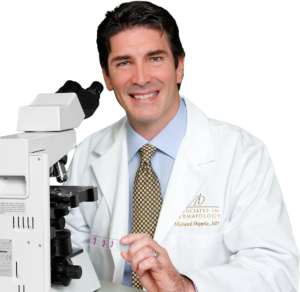 Beyond his involvement in the community, Dr. Steppie, who is also assistant professor of dermatology at the University of Central Florida and clinical assistant professor of dermatology at the Florida State University College of Medicine, is involved in cutting-edge scientific research to better understand the genetic, physiological and environmental factors that cause skin disease. In partnership with world-renowned Sanford Burnham Prebys Medical Discovery Institute at Lake Nona, Dr. Steppie investigated the molecular mechanisms that govern the development and progression of vitiligo. That study appeared in the Journal of Investigative Dermatology in September 2017.
"The promise of a treatment that cures vitiligo, rather than just dealing with the symptoms alone, is particularly exciting," Dr. Steppie says. "Partnering with Sanford Burnham is a unique opportunity to advance our knowledge of this frustrating disease."
Though he has been involved in many research endeavors, Dr. Steppie is most passionate about melanoma. His mission is not only to treat or prevent this disease, but also to identify its causes. His recent work on melanoma, also in collaboration with Sanford Burnham Prebys, suggests there may be hidden biomarkers that can help predict who will develop melanoma. These biomarkers could be used to develop earlier, more reliable diagnostics that could, in turn, reduce deaths from melanoma.
A Dedicated Local Business
As a practice that considers each patient a member of the family, Associates in Dermatology is dedicated to the community it serves. Last month, when Hurricane Irma shook Central Florida, the team provided assistance where they could, even if it just meant opening the doors to provide a sense of normalcy.
"Our team at Associates in Dermatology provided persistence and reliability that the local community could depend on," Dr. Steppie says. "We are committed to caring for Central Floridians through every circumstance life might throw at them."